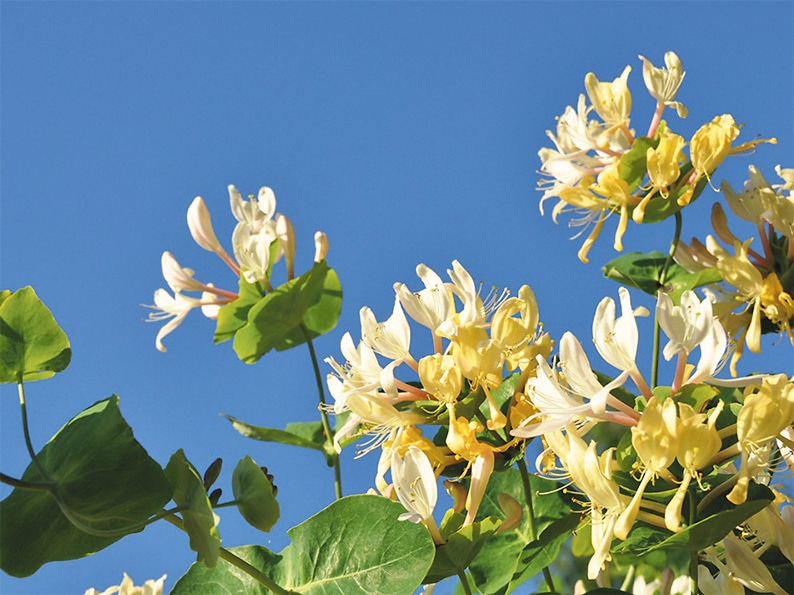 Honeysuckle /woodbine (Lonicera periclymenum) is spreading its glorious perfume among the hedgerows at present, and it is a really beautiful scent on a summer evening. Even though its early growth is soft and supple, it becomes hard with age and is very strong. In the 'Táin Bó Cúailnge', Cúchulainn tells Ferdia to cease fighting or "I will entwine you as a woodbine binds trees" Murphy, in his work on early Irish lyrics, mentions honeysuckle as a plant of beauty growing over the doorway of the hut of Marbán, the hermit. 
In times past it was common for children to suck the base of the flowers for their sweet nectar and this sweet nature explains why it is so attractive to bees.
The flowers are used medicinally to treat respiratory diseases and a syrup is made from the flowers to treat coughs, colds and asthma. In the past, this syrup was useful also in the treatment of TB and whooping cough. The advantage of a syrup is that, if properly made, it will keep well in a cool dark larder over the winter months. Honeysuckle's presence in our hedgerows this month is thus a timely reminder to prepare for the common illnesses that visit us during the cold dark days of winter and early spring.
A strong tea of both leaves and flowers may be used as a mouth wash and gargle for inflammation and mouth ulcers and this infusion is also useful in the treatment of thrush. Allen and Hatfield note this use, as recorded in Sligo, the Aran Islands, Wicklow and Wexford.
The flowers are antispasmodic, and a tea made from them may be useful in cramps, but the leaves are laxative, so a tea of same may bring on a bout of diarrhoea if one is not careful.
Unfortunately, there has been very little research carried out on our native honeysuckle, unlike 'lonicera japonica', which is used in traditional Chinese medicine, for fever, cold-related headache, cough, thirst, certain inflammation including sore throat, skin infection, and tumor necrosis. A compound, ioniflavone, in this herb is currently being investigated as a possible source of new drug development against SARs-CoV-2.