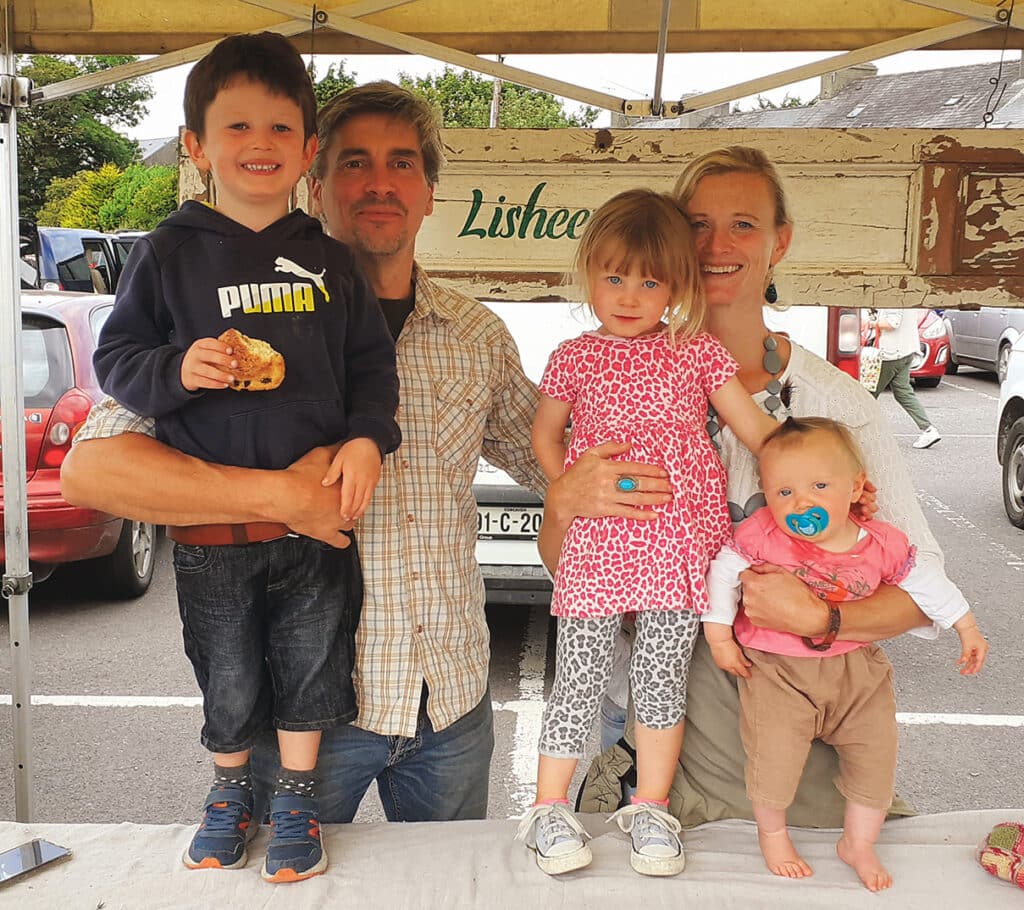 With this series of articles I am lucky enough to be meeting and interviewing people who are not only committed to growing good quality nourishing food, but also selling it to us directly in our local markets. Seasonal produce with no food miles, grown in a sustainable way, not wrapped in plastic; Brad and Dee from Lisheen Greens are all those things and more.
Brad was brought up in New Zealand and Australia and, after leaving home, he worked for 23-years in London. He had done a bit of landscape gardening but had no background in farming. He met Dee on a trip to Cork, which proved to be life-changing. Dee is a Marine Biologist and, as their relationship flourished, she agreed to move to London to be with Brad for a limited time while they decided on a permanent location in which to make their life together. Brad says that they started, almost immediately, to look for a property back in Ireland.
The couple were always looking for a rural life, maybe goat farming or even a campsite, but when the farm in Lisheen came up for sale, it seemed the ideal opportunity. While unsure if a life of growing was for them, they were more than willing to give it a go. Luckily there were well-established asparagus beds already on the farm to give them a head-start in their early days. Now four seasons on, they grow a range of seasonal crops from salads and leafy greens and herbs to delicious tomatoes, cucumbers, courgettes and so on, as well as the asparagus and other seasonal bits and pieces in between. Brad is the main grower, Dee works part time as a Marine Biologist based in Bantry, not to mention caring for the three small children they now have, and they make a great team.
When I ask about the future, Brad is very sure he is now where he wants to be. He is quite surprised how much he loves growing. He has learned a lot along the way, from friends and neighbours who have been really generous with their time and sometimes equipment, but also from actual experience. Getting his hands in the soil, working with the seasons and yes, sometimes making mistakes along the way. He has learned how to be more efficient with his time and learned new techniques for weed control, suitable vegetable varieties to grow and what equipment and tools he needs for optimum production. He loves chatting to his customers, getting to know them and what they need and like. He has decided now is a good time to put up two new tunnels. This will give him space to expand a bit and also give him time to refresh and renew his existing set up. He really seems to enjoy what he is doing and it shows.
Brad and Dee are very happy that they can bring up their family in this wonderful environment, where the children can run through the tunnels grazing and tasting what he's growing and learning from the nature that surrounds them.
Brad sees their future firmly grounded in Lisheen. He has come a long way in all respects and in his own words, would now be really disappointed if he wasn't getting out there each day, growing beautiful vegetables and living off the land.
You can meet Brad and Dee and buy their lovely produce in Skibbereen Farmers Market each Saturday and Schull Farmer's Market on Sundays through the summer months.