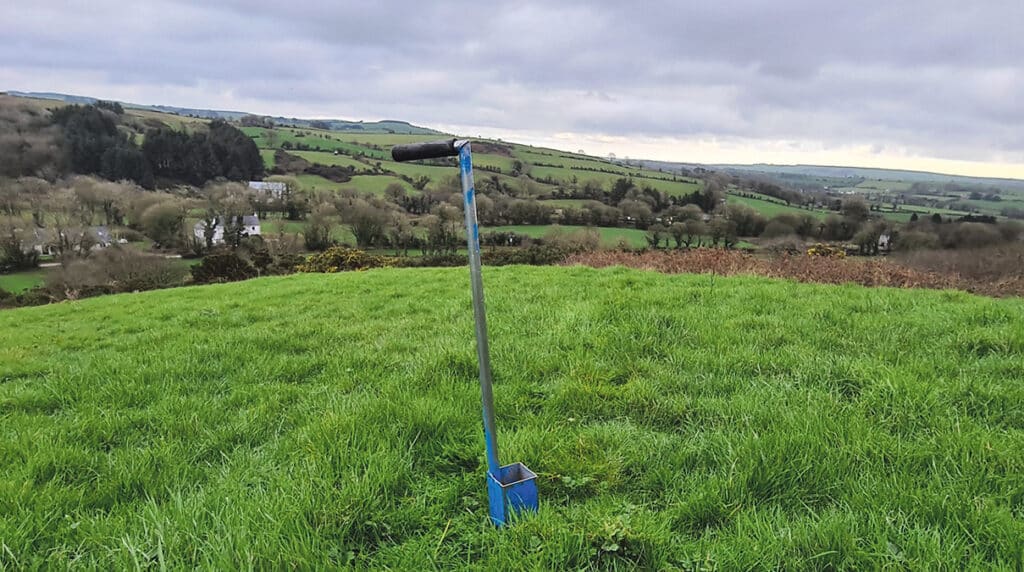 There's some good news on farm this month with a clear TB test this time out. There will be another test required 60 days from the latest one and if that is clear then restrictions on the herd will be lifted. The weather has been excellent too and, I hate to say it too loud, but perhaps it's been too good for the time of year. Weather has a habit of balancing itself out, so somewhere between now and May, we're likely to experience a more challenging spell regarding rainfall, temperature and wind. Between November 21 and January this year, the recorded rainfall at the Sherkin Island weather station is less than half what it was for the corresponding spell the year before. It's still early in the year but we haven't had a winter as such. It's something I'll be keeping to the back of my mind, as the farming year progresses. We've had a very cold beginnings to a number of Mays over the last decade, so anything is possible.
Fertiliser prices
Fertiliser prices are the main topic of concern on most prices. A tweet from the IFA South Leinster chairman, Francie Gorman, gave an insight to the fertiliser price challenge faced by many farmers. He tweeted a photo of an order of fertiliser that in 2021 cost him €9,360 and was put on the merchant account credit. The same order this year cost him €21,560 with payment upfront. Whatever people's views are on food production systems that is a serious change in both price and payment arrangements. Banks and credit unions have provided loans in order to cover this cost on a good share of farms.
Food prices
While it will affect farmers in the immediate term there is a strong possibility it will ultimately lead to a rise in food prices in an effort to cover costs. Other inputs such as diesel and some sprays have seen significant price rises too. Commodity prices for beef and milk have been going well of late with most base prices for milk for west Cork farmers running north of 37c/litre but input rises have jumped so much room for profit is slimmer. It's the same when it comes to construction costs.
Soil
Soil samples will have jumped up the list of priorities on the back of fertiliser prices and I got around to taking some in late January. This is later than I usually do it but, as I was accepted into the soil sampling scheme just before Christmas, I held off on doing my routine samples. With no word to when it will happen, I went off and sampled the half of the farm that was due to be done this year before any slurry or fertiliser is applied. This is in an effort to get a more accurate reflection on the nutrient levels that are in the soil. If it was taken after slurry was added for example, there is a likelihood of having a higher potassium level. Slurry was spread on the ground at the home farm but this was because that part of the farm was sampled last year.
Organic Farming Scheme
Farmers who wish to move away from artificial fertiliser may look to take part in the latest Organic Farming Scheme will opens for application in early February and remains open to applicants for two months. The total budget is €21m and the Department of Agriculture has implemented two major changes in an effort to entice more farmers into the scheme. The higher rate of payment will now be paid on up to 70ha, rising by 10ha on last year.
The second major change is regarding stocking rate. Previously the minimum stocking rate was 0.5LU/ha. Now the minimum is a stocking rate of 0.15LU/ha and this change could allow another 1m hectares potential to access the scheme.
Like previous organic schemes, priority will still be given to tillage, dairy and horticulture applications. However it's worth noting that, as the scheme was undersubscribed in 2021, all sectors gained entry to it.
News
Last year in the region of 1,700 farmers received a payment under the scheme. In other organic-related news, Ballincollig-based Irish Organic Feeds announced it was looking for 2,000t of Irish organic wheat and barley, as well as 800t of beans. The company plans to open a feed mill in 2023. So there's certainly an opening emerging for farmers considering making the switch.
I've considered it myself but it's not financially feasible due to the significant cost I'd have to undertake in converting my cattle housing to comply with the current organic certification. The lack of convenient and large enough market and the cost of building conversion are the two largest factors putting me off. The building issue isn't insurmountable but doesn't make financial sense to me as things stand.
I've come to the conclusion that I'd be better off to continue implementing organic practices where possible and save costs.
I could end up in a situation where I'm implementing a lot of organic practices on the farm such as no artificial fertiliser use, no sprays or parasite treatments but still be regarded as conventional. I'm not even sure if that is even the right term. After all, farming was almost all organic pre-1940.
There's certainly a lot to learn from it and I can see more farmers researching the topic and practices out of financial necessity this year. One sure thing about farming is you never stop learning and that's a good thing in my opinion.
---
Vanessa Kiely O'Connor: Women in Agriculture Stakeholders Group (WASG)
Interview by Tommy Moyles
First appearing in late summer, the Women in Agriculture Stakeholders Group (WASG) have had a significant impact since its inception. Comprising of members from across all the farm organisations, by October they had made a CAP submission, appeared before the Oireachtas agriculture committee, and achieved a 60 per cent TAMS grant (Targeted Agricultural Modernisation Schemes) for women aged under 55.
Now the stakeholder groups is linking up with the University of Limerick (UL) to launch the first national farm inclusivity survey.
Diversity and inclusivity are still major challenges for the agriculture sector with Central Statistics Office (CSO) figures showing that the number of women officially farming in their own right increased by just one per cent over the last ten years.
With the upcoming policy supports in the Common Agricultural Policy (CAP) 2023, the survey will help serve to benchmark the progress of the policy measures and provide an indication of the challenges faced by the farm community in terms of inclusivity.
"Just 13,000 women are 'officially' farming and in receipt of farm payments in Ireland, yet we also know from CSO figures that 70,000 women work on farms every day," chair of the WASG, Hannah Quinn-Mulligan said.
"The survey is completely anonymous and takes less than five minutes to complete. We hope that both men and women will take part because their input will be invaluable in helping to shape future policy."
The survey is being undertaken with the collaboration of Mary Curtin, a PhD scholar at the University of Limerick who is currently examining female farm ownership from a legal, financial, social and cultural standpoint. Mary also farms with her father and is passionate about ensuring the work of women on farms is recognised.
"I'm delighted to be working in collaboration with the Women in Agriculture Stakeholders Group in bringing about change," she said.
Someone who has been involved with the WASG from its early stages is Upton dairy farmer Vanessa Kiely O'Connor.
Vanessa, how did you get involved?
I'm a member of the ICMSA (Irish Creamery Milk Suppliers Association) and I'm currently vice-chairman of the ICMSA's National Business Committee. An EU requirement of the next CAP is that the Gender balance within agriculture needed to be addressed by each member state. The WASG is a stakeholder group composed of all the Farm Organisations, each Organisation put forward a representative to formulate a CAP submission together to focus on what we need do to address the gender balance here in Ireland. So ICMSA headquarters reached out to me to be the ICMSA's representative in the Women in Agriculture Stakeholder Group.
Has it exceeded your expectations?
No, all the issues highlighted and proposed solutions in our submission were blatantly obvious and overlooked for far too long. I think we have only started to address and highlight the obstacles that have hindered women engaging in Ag and the women who are currently farming with no recognition by the state. A lot has come to light since we've had access to statistics under the freedom of information act .We have had good interactions with the Department of Agriculture so far and they are supportive of the work we are doing.
Is there potential to have women only groups in West Cork ?
That was one of the many things put forward in the submission along with encouraging more mixed group participation. We proposed to create an opportunity for women who may not be comfortable about joining a mixed group or maybe women who want to learn how to develop their farm skills. That could be anything from admin to practical work. We ran a tractor driving course last year that was oversubscribed. We have reached out to others in the sector and a plan currently in action due to kick off in mid-2022 so West Cork women watch this space.
What's currently happening on your own farm at the moment?
Calving has kicked off, last season I selected easy calving dairy AI bulls and Angus beef bulls from the dairy to beef AI list and we have had lovely calves with no calving issues so far. As of January 28, there is a third of the herd calved. The cows are out at grass by day since January 21 and the weather has been fantastic, so it's happy cows and happy (but tired) farmer.