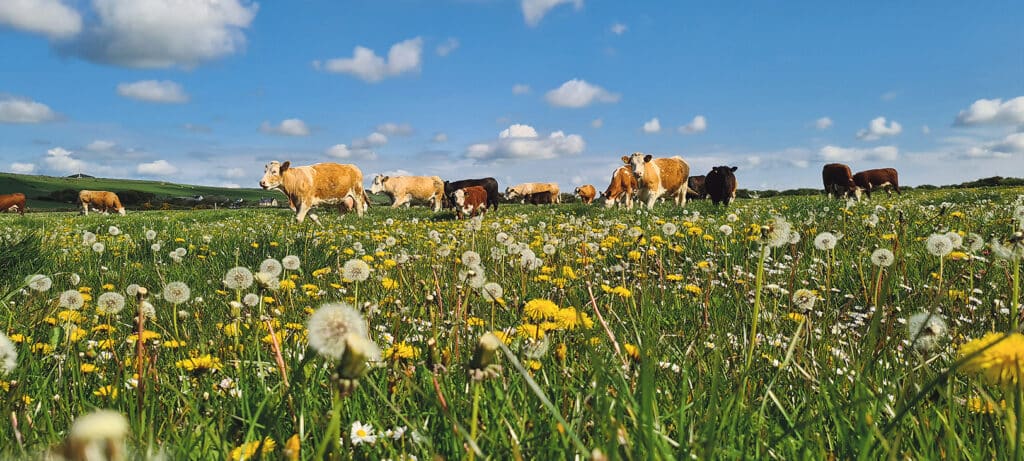 Calving finally came to an end on May 25 with the final cow deciding she'd wait three weeks after the rest. It was a mild inconvenience but it brought the curtain down on what I think was one of the more straightforward calving seasons I can recall. Only four needed assistance and for three of those only the ropes and a slight pull was required. The calving jack wasn't required until near the end and it needed cobwebs dusted off. The calf in question was coming backwards so a bit more effort was required than the rest. Most calves went out within a day or so of calving and within a short period of time had worked out where the sheltered spots were. It's amazing how quickly they find them. Whether it's just inside of a ditch, behind a furze bush or tucked in behind a hill or even on the sheltered side of a clump of nettles, they can snuff out the good spots very quickly. 
Observing them is interesting because they can show you what's useful around the place. In the past I might have cut back all bushes tight or there would be a wire fence without a hedge behind it. In recent years, I take advantage of these natural advantages that in my earlier farming career I wasn't as keen on tolerating. It's simply working with nature and possibly because of that I've been keeping an eye on the Citizens' Assembly on Biodiversity Loss since it began – a topic worth following up on.
Across society for farmers and non-farmers alike, there are a lot of easy wins in terms of curbing biodiversity loss. The effort to do good can be counter-productive at times. I'm sure I'm not the only one who has heard people say they have been out weeding so they can plant wild flowers instead. Just think of all that effort and toil, not to mention money wasted, when it makes more sense to do nothing. Overcoming the need to be busy and maintain everything neat and tidy will be among some of the main obstacles for society to overcome. It's worth remembering that nature rarely appears in straight lines.
I've been making more of an effort over the last few years to see what I can do to try and improve the biodiversity situation on the land I am responsible for. It's not straightforward, that's for sure.
Farming predominantly in a coastal area, some of which is very exposed, means that the 'plant more trees' option isn't always a runner. They will work in some places but not in others and the difference between whether a tree surviving could come down to what side of a ditch it's on, never mind if it's a plant that can survive in coastal conditions. Easier options for many farms are reducing unnecessary spray use, for example around yards, or reduce fertiliser to see what will develop in the fields. That's one I've been working on for years and, as boring as it sounds, it's been interesting to see how plants that I once considered weeds now have a formal role in the annual grazing plan. Plantain and dandelion would be the two that stand out for me in that regard. Dandelion especially, because in spring that provides one of the main sources of feed for pollinators before clover gets growing. Previously we attempted to spray it off, but by observing what went on, I realised the cows ate it anyway and, where it could take over a paddock in April, clover got the better of it from June onwards.
With more farmers likely to use less artificial fertiliser this year due to the extreme cost of it, there could be a lot of lessons learned from this year yet, both economically and in terms of biodiversity. Some farmers have been cushioned by the spike in input prices, as there are record prices for commodities such as milk and beef at the moment. Both Carbery and Dairygold are paying milk suppliers in excess of 50cent/litre and beef prices have reached €5/kg for the top grades of cows with prices for young stock further ahead of that. The unpredictability of weather means the heat and moisture of late May was great for growing grass but not so much for harvesting it. Until the last days of the month there was very few windows for the main crop of silage to be cut. The geography of West Cork with its hills, valleys and peninsulas allowed a few farmers to escape the rain and make a bit of progress but it has been a frustrating few weeks for contractors and farmers alike. I took a gamble and have my first cut wrapped, so it's a job off the list; and with calving finished, breeding got under way with the cows. The bull went with the heifers at the middle of May so the first calves should hit the ground from the last week of February onwards.
AI got underway with the cows on May 24 and will continue for a month, after which a bull will be added to the group to pick up any cows that may have been missed. When it comes to heat-detecting the cows, I try to have the fields closest the house and yard ear marked for grazing at this time. There's always handy ways to reduce the workload.