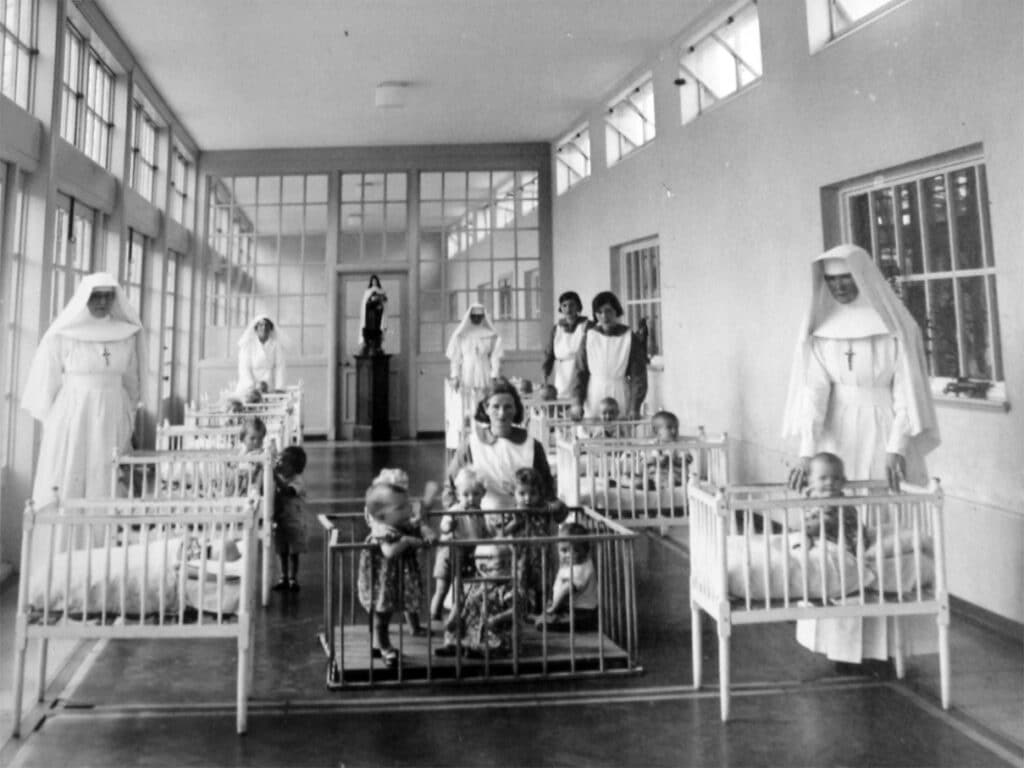 Imagine this. It's 1941 and despite the fact the world is plunged into the bloodiest conflict of mankind, tens of thousands of Irish men and women stream into the UK. The war economy is booming, and work is plentiful, despite the restrictions and dangers of working there. A young Irish girl away from home for the first time, no longer shielded by her family and culture, falls pregnant. 
The story she brings home is vague. The father – a soldier, maybe a sailor, was killed, and the young woman without any supports is forced to come home after she gives birth. Because of the social and cultural mores of the time maybe the story she tells will soften what must have been a horrendous decision to make. Knowing she will be shunned by her own parents, she is told take the child to her aunt Lizzy in the city. Lizzy will raise her. She is a kind woman with a family of her own, in a house where poverty always lurks at the door. It will be fifty years when mother and daughter see each other again.
There are many stories like this; it could be the story of countless young Irish woman in that era. This one however, is my mother's story. Fifteen years dead this month, taken by cancer at the age of sixty-four; there are so many things I would have loved to ask her that are now lost to me forever. The heroine of this story is my grandmother Elizabeth, or should I say my gran aunt 'Lizzy'. Without her intervention, I hate to imagine what would have happened to my mother, Philomena Doyle, and indeed my own fate. Yet looking at the fate of so many 'fallen' women of that era, I don't have to imagine too hard the alternative: An orphanage, an industrial school, a Magdalene laundry.
I was struck with some strange cosmic sense of timing, when on the week of her anniversary, the Seanad were debating a bill that the government are introducing. A bill that will seal from the public for thirty years, the findings of a commission into what happened to those poor woman and babies in the care of our state and religious orders.
Thankfully, my mother was spared the horrors of what so many women and children faced in independent Ireland inside those mother and baby homes. To call them that is an insult to the survivors' memories. It's a ridiculous name given the babies were taken and the women were incarcerated. This was not a home – it was a 'prison'. Since the last of them was closed in 1996 (yes that recent), more and more survivors and children have spoken about their experiences on the record, so a simple glance on the internet will allow anyone to see interviews, newspaper articles, even films, about these darkest days of our history. So what can the report commissioned in 2015, tell us that we don't already know? This 4,000 page report will no doubt offer us details about how entangled the state, religious orders and society were involved. But we will not know for thirty years because of an act that allows the Minister of Children and Youth Affairs, Roderic O Gorman, to seal the findings from the public. An Irish solution to an Irish problem!
Understandably, in order to get to the heart of the abuse, one of the terms of the commission stated that 'those who came forward were assured that they would not be named, nor would any institution.' While this makes sense on levels of privacy and the wish to protect a person's identity, one has to wonder why this 'term of reference' was not created on a basis of an opt-in or opt-out according to the person who volunteered the information? Regardless of the why and why not's, there has been a wave of calls from survivors and members of our communities, to make it public. Labour Senator Ivana Bacik has put forward two amendments to the government Bill that 'provide for access by affected individuals and families to records concerning them or their relatives, even if that means disapplying the 30 year sealing rule.' By the time this article comes to print, it may be too late and already sealed.
I'm conscious when writing about the Magdalene laundries, (operated by four religious orders The Sisters of Mercy, The Sisters of Our Lady of Charity, the Sisters of Charity, and the Good Shepherd Sisters), the natural tendency for many readers is to be despondent with religion. The reality is the religious orders were part of a jigsaw piece that involved all of society – from the Government to the Catholic Hierarchy and yes…our communities, businesses and hospitals. While there are many decent priests and nuns, some of which, are good friends of mine; institutions run by the religious, both Protestant and Catholic, have had to hold up their hands at the cruelty inflicted upon the 'fallen women'. It is well documented by survivor groups, the beatings, hunger, humiliation, degradation and loneliness they had to suffer. But we must take a hard look in the mirror at the type of Ireland that was complicate in their suffering.
History can be used to justify anything. It's too easy to say times were different and that we have different values today. Yet human decency should prevail through all eras. If the logic becomes, 'well people were not as enlightened as we are today', you can excuse every crime committed against humanity. Throughout history, some people stood up against slavery, anti-Semitism and the incarceration of these women, when it wasn't popular to do so, but never enough people to make it count. The government betrayed the very people they were committed to protect. Not only did they collude with the orders on a morality level, they supported the institutions with capital grants, while ignoring the educational needs of the women and children. The laundries processed uniforms sent by the Irish Defense Forces, table clothes for local business and soiled sheets for hospitals. The Garda Siochana returned any woman who was brave enough to run away. The brave thing wasn't even breaking out, it was facing into a society that shunned you, without skills, education, family and connections to make a decent go of life. Parents who bought into the system, signed their daughters over; communities ensured the girls were returned if caught outside, or certainly didn't give them a hand up. If it really was simply about morality, sin and the cultural mores of the time, why were the fathers of the 'illegitimate' children not incarcerated, humiliated, or punished for their 'sins'? No doubt there must have been some men heartbroken by the chance of never seeing their child or losing their lover, but the evidence overwhelming is about the suffering of the women. Hundreds of baby remains have been found on the grounds of these institutions, such as the ones in Tuam and Donnybrook. How many more are there like those? Do we have to wait thirty years to find out?
Thankfully, the English curriculum for Leaving Cert, for the last number of years has included a wonderful play called 'Eclipsed' by Patricia Brogan Burke. Burke was a former nun who witnessed the horrors of these laundries firsthand. She left the religious orders early in her vocation. It's easy to be brave when society is with you; Burke wrote this play in 1992, when the laundries were still running and Irish society was yet to emerge into a more forward-thinking and inclusive society. My English class, twenty-five years on since the last laundry closed, are now learning about what Ireland was like for people on the edges, and they are touched by Brogan Burkes' play. It's a great entry point if someone wants to investigate for themselves what happened to so many of our women and children.
The flag waving, drum beating of nationalism, focusing on the victory of our freedom fighters has drowned out the reality of the state we created when we were handed the reigns of power. It was sometimes ugly and often secretive. Now, as to emphasis that, we are locking up the secrets for another thirty years.