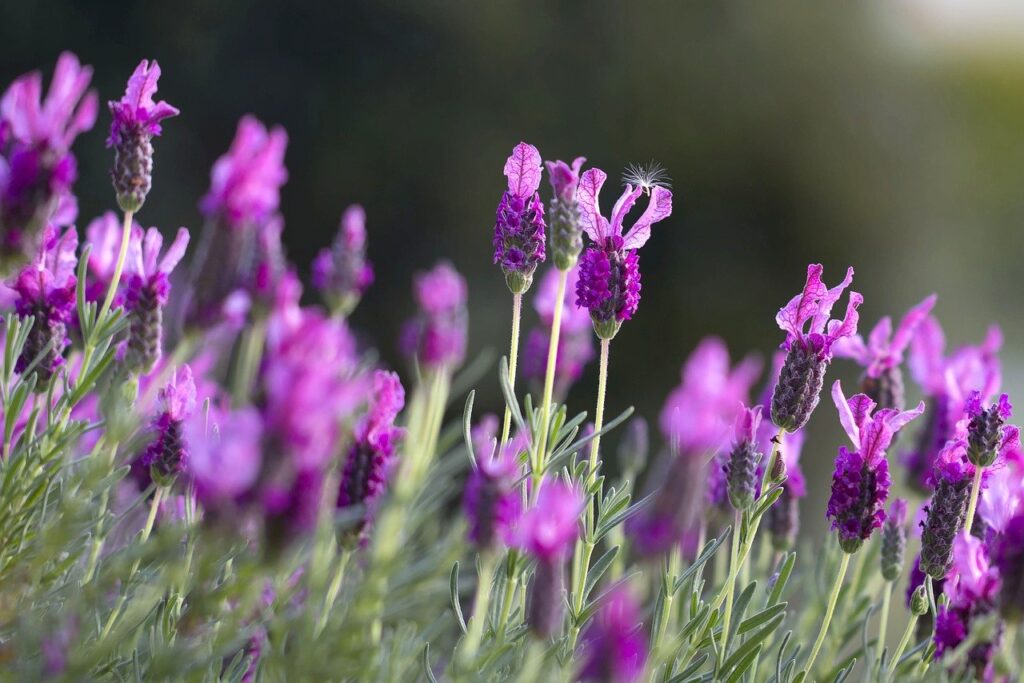 August or Lúghnasa is associated with games, festivals and the start of the grain harvest. August is called Lúghnasa after Lugh, the Irish sun god, and there is no herb that reminds us more of summer sun and languid days as lavender. Lavender perfume is well known and was even used by the Romans to perfume their baths. France is the epicentre of lavender production with over 80,000 kilos being grown and harvested each year. Growing lavender in West Cork can be tricky due to our usual 'soft' weather but I have found poor soil with lots of broken rock and gravel to be perfect for it. It does need the sun, but if you can introduce good drainage in a south-facing patch of the garden you will be rewarded with its heavenly scent from early July to mid-August. There are different varieties but Lavandula angustifolia is the one you need for that wonderful aroma. Lavandula Stoechas is easier to grow but its perfume is sharper and more akin to that of rosemary than the angustiflia or English variety. 
Lavender is easy to dry and is one herb that stores well for the winter, as long as it is kept away from any area with high humidity. Cut the stems and tie in bunches. Hang these in a sunny spot and when dry, not too brittle, rub them together to release the flower heads. Alternatively, just snip the flowers off the plant and spread them out on a sunny windowsill. They will be dry in a day or two. Fortunately, for people who do not have lavender growing, it is an easy herb to purchase, as most health food shops will stock not only the dried herb, but also the essential oil. When acquiring or buying lavender for cooking ensure it is food grade and the same principle applies to the essential oil. Some of the lavender used for pot pourri has a very synthetic and sharp scent and is not suitable for use in the kitchen or for first aid.
Lavender uses are many. Dried lavender can be wrapped in a handkerchief and placed among clothes to help keep away moths but the stoechas variety does a better job of this than the more refined angustifolia.
One needs to be very careful when using lavender in cooking, especially if it is dried, as it can easily overpower other flavours. Probably the easiest way to use it in sweet dishes is to first make a lavender syrup or glycerite. This will keep and is easily adjusted to suit a recipe. Syrups can be used to flavour sparkling water or sparkling wine and can be poured over dessert or cakes. For savoury dishes, lavender goes well with oregano, rosemary or thyme but use very sparingly and adjust gradually until you achieve the flavour you want. Again, the easiest way to start using it in savoury dishes and sauces is to make a tea (1oz dried lavender to one pint of water) of it first. Store this in the fridge and use as needed. Make sure it is kept well covered or the aroma will penetrate everything else.
As a home remedy lavender has many benefits. It is used by many people to resolve earache and the easiest and safest way to use it for this purpose is as follows: Soak some cotton wool in hot water and let cool. Add two drops of dilute essential oil of lavender (two drops of essential oil to 10 drops of a carrier oil) to the cotton wool and place loosely in the ear. Leave for a few hours and repeat if necessary.
Lavender is well known as a relaxing herb and heating it in an aromatherapy diffuser in a bedroom may help with insomnia as well as ensuring a better night's sleep for everyone. Used in this way is particularly beneficial as current research is showing its benefits not only in healthy students but also in people suffering from ischaemic heart disease. An oral lavender oil preparation has been shown to reduce anxiety and the insomnia that often accompanies this condition, but a regular massage or reflexology using a good quality lavender essential oil should also help. A warm footbath prepared with a strong tea of lavender or with a few drops of essential oil added to the water is another way the beneficial effects of lavender may be experienced.
Now that we are all working from home, Koulivand et al have reported that there "is an improvement of emotional state in the work environment following the use of the lavender oil burners. Using lavender oil in burners for a three-month period, nearly 90 per cent of respondents (a total of 66 subjects) believed that there had been an improvement in the work environment following the use of lavender oil."
Even though lavender is considered safe for short-term use, current research is still evaluating long-term effects. Research (human cell line) has shown that lavender has oestrogenic and anti-androgenic activity and some people are actually allergic to it. Therefore, like anything else, caution and care are needed. If the problem persists, discontinuing the use of lavender is to be recommended and a visit to a member of your health care team a priority.
This article contains general information only and is not intended as medical advice. It does not substitute for advice provided by your doctor or other health care professional.