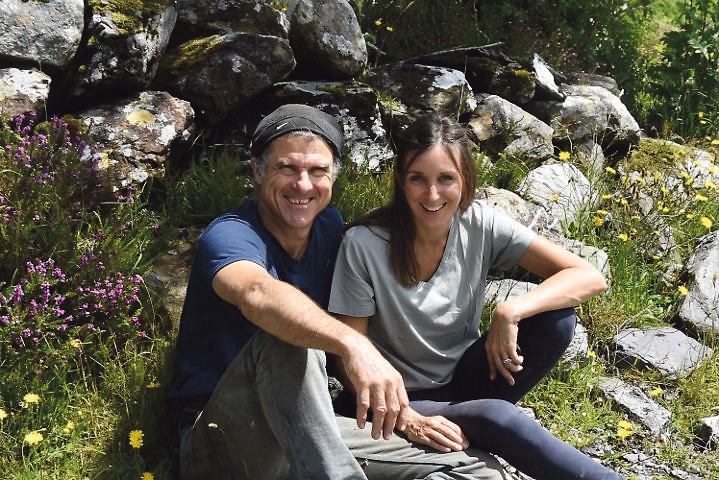 It's unusual to have world class producers of health foods on your doorstep but this month I want to highlight the fascinating work of Steve and Claire Collins of Derry Duff Farm, who are pioneering a really interesting product called Phytoberry which is an organic Aronia Berry Juice.
Steve is a veteran in the field of nutrition and is fascinating to talk to, as he is incredibly knowledgeable and experienced. He's both a medical doctor and a scientist with doctorates in nutrition and science and he operates an organic farm in the hills of West Cork, near us in Bantry. At Derry Duff, Steve has cultivated blueberries and aronia berries on what would otherwise be difficult land.
We love Derry Duff, as they supply Organico with the best organic blueberries all summer long! But more recently Steve has done a lot of work researching Polyphenols and antioxidant properties. Polyphenols, by the way, are a plant-based compound found in fruit and veg. They act as an antioxidant. They're one of the reasons that green tea is so good for you.
According to Steve we need to get more polyphenols in our diet because here in Ireland, we're not getting enough.The average adult in Ireland manages to consume about 550mg of polyphenols per day. But Steve says that you need around 700mg of polyphenols per day to be in the safe zone. Ideally, you'd want to be getting over 1000mg/day.
His research has led him to the conclusion that aronia juice is one of the best sources of polyphenols and luckily the marginal land in West Cork is particularly suited to growing Aronia Berry bushes. Steve and Claire have transformed their farm and created a new Aronia plantation to supply their new Phytoberry business. They grow and harvest the berries themselves.
What does aronia juice taste like? The juice is sugar-free, so at first I found it tart instead of sweet. Steve describes it as astringent and sharp, but palatable. It's a flavour that grows on you – the same as a good wine. In fact, you may want to approach aronia juice like a wine, because it tastes better if you sip and savour it rather than gulp it down. I find it very refreshing, particularly mixed with sparkling water.
We have been stocking it in Bantry for a few months, and so far it's been hugely popular. We have had some very interesting feedback – already it seems to be helping people with weight control, because it helps reduce cravings. Which made sense when we learned about how polyphenols help reduce the amount of glucose we absorb from our food.
Why are polyphenols so important to health? Because not getting enough can come with serious consequences. "We're facing a public health crisis," Steve told us when we went to visit him this summer. "Chronic illness is expected to shoot up in Ireland. We're looking at more obesity, diabetes, high blood pressure… it's going to be a huge burden on the economy as well as affecting everyone's quality of life."
Steve is particularly concerned about the rise in metabolic syndrome in Ireland. Metabolic syndrome is recognisable by the 'apple-shaped' body type. When there's a lot of fat around the centre, it indicates that fat is getting into your blood vessels. Once this happens, it starts to affect every aspect of your health. In fact, research is showing that metabolic syndrome could very well be the starting point for chronic ill health. So how do polyphenols fight metabolic syndrome?
Well, it's free radicals in the body that cause damage to the lining of the blood vessels, which allows fat to leak into places it shouldn't be: This turns into the development of metabolic syndrome. But polyphenols can destroy these free radicals before they do their damage, if you're getting enough of them. Polyphenols also have a major impact on metabolism, particularly glucose metabolism. Every time you eat a carbohydrate, it's broken down into glucose (primarily), as well as fructose.
Polyphenols have the ability to slow the digestive process down. They make sure the carbs you eat are broken down more slowly in your gut, and fewer of them are transported to your blood. Overall, polyphenols make it less likely your blood sugar will skyrocket after eating by: Increasing your sensitivity to insulin; Helping your body deal with glucose much faster; Protecting the pancreatic cells that produce insulin.
Polyphenols can also help keep your cholesterol in check and reduce inflammation all over the body. And since they're so good at destroying free radicals, polyphenols play a big role in protecting the body from unhealthy ageing. But, as Steve shared, maybe the most convincing case for upping your polyphenol intake comes from the PREDIMED study. This epidemiological study tracked 7000 adults over five years. It showed that those with the top 20 per cent polyphenol intake had 46 per cent fewer heart attacks and strokes and 37 per cent reduction in all cause mortality.
The takeaway? We'd all do well to get more polyphenols in our daily diets. But how do you (easily) up your intake of polyphenols? It's true that 'superfoods' like açaí and turmeric have impressive amounts of polyphenols. But you'd have to eat a mountain of these ingredients – every day – to get enough. Besides being difficult… it wouldn't be pleasant.
Which is why we are all excited about aronia Juice. How much aronia juice should you drink each day? Just a small 100ml serving each day will do you. That's just a shot glass's worth. This serving provides about 400mg of polyphenols. Enough to help: control blood sugar; improve blood flow; nourish the microbiota; and tip you well into the recommended range of daily intake of polyphenols.
Steve's juice is gently pasteurised so it retains a strong polyphenol content. He's even had tests done to confirm this.
You can find Phyterberry Aronia Juice in our shop in Bantry and online at www.organico.ie. We'd love for you to order your bottle, drink it over a few days while you're having a meal, and let us know what you think…What do you think of the flavour? And how do your digestion and energy levels feel following a meal enjoyed with aronia juice?
And in other news – we are hosting a live Menopause Event in November!
The Menopause Breakthrough with Dr Marilyn Glenville
We are very excited to have Dr Marilyn Glenville live in Bantry for the first time in three years giving a talk on the Menopause. Dr Marilyn Glenville is a best-selling author and the UK's leading nutritionist specialising in women's health and the menopause, and her talks are very inspiring. Come along to learn how to feel full of energy and life through the menopause.
She will be talking at The Maritime Hotel in Bantry on November 10 from 6.30-9pm, and there will be lots of chances to ask her your menopause-related questions.
Tickets are available through Organico and online from www. Organico.ie. See you there!