If you read about David and Jette – the two exceptional runners who were featured in my column the past two months – and they inspired you to start something new, complete a goal or make plans for a new one, I'd love to hear about it. 
To inspire and share knowledge about health and fitness, is why I write this column, so every month it's my hope, that just one person will lace up and go for a run, or try a few push ups or go to that zumba or thaiboxing class.
My December column is no different. I hope to inspire you dear reader, to take your fitness into your own hands and make it a priority.
Last year, I wrote nine suggestions that would add to a healthy lifestyle, throughout and after Christmas, including getting a good cookbook, sharp kitchen knifes, drinking a glass of water before each meal and making your own vitamin smoothies.
This year, I will make a fitness calendar with you. I've put together a calendar form, that you can easily adapt to your own liking and, if you're out of ideas, I have some to share as well.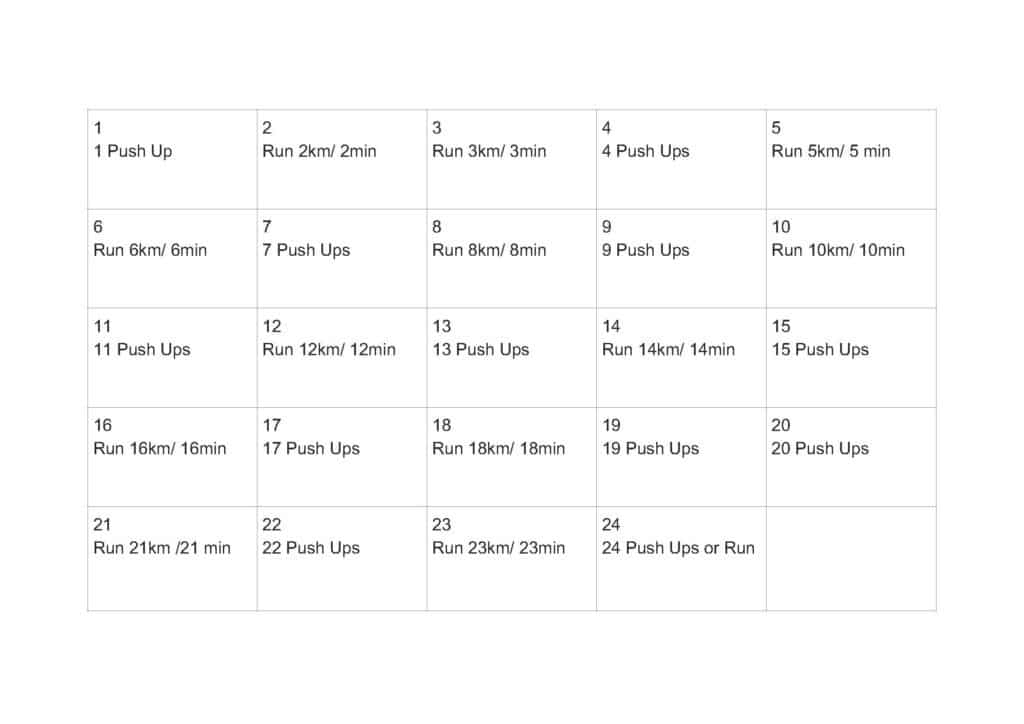 Let's start with the form: We have 24 days, which can translate into three categories of methods for your training: Time, distance and counts.
For example time: one minute to 24 minutes, or 1km to 24km or simply one to 24. (Since West Cork People won't be out on December 1, I propose to just start from the date you're reading this.)
The kind of training you put in can be anything from dancing, push ups, burpees, running or biking. Let me however, warn you against doing time and push ups/ burpees. It will hurt. Yes, one minute of push ups doesn't sound so bad, but just try four minutes of non-stop push ups and you'll think twice about going to the 24th. If you choose a combo like this, I'll advise to make it like a HIIT session: 20 sec on, 10 off, so you can catch your breath and live to do this again tomorrow.
For the best Fitmas calender, chose something you like doing. If dancing is your thing, then dance; if biking, running, walking is, then go ahead. Or choose something you would like to become good at. If you always wanted to be great at push ups, choose push ups for counts. Even it doesn't seem like a lot, once you reach 24, you'll be pretty efficient with your push ups. Just remember to use the correct form for each and every repetition during December.
My calendar will be a mix of running and doing push ups. They complement each other well, as a good runner needs a strong core and to perform perfect Push ups, you need a strong core.
For me, I'll be doing most of my push ups at the weekends, as I'm usually busy being mom from morning to night. Plus I also need a rest day or three from running, so my plan is to run three to five days a week and two to four days engaging core and backside and firing those arms. However since the kilometres are raking up towards the end, I'll suggest you either substitute with biking or alternate run/walk on the long days to avoid injuries.
If you wish to join me, I have two running models for you to choose from: Beginner runners, run the dates as minutes. On December 10, run for 10 minutes and either walk back or run/jog back. On December 11, add another minute.
Already running loads of kilometres, three to seven days a week? Run the dates as kilometres.
If your training is something you do in a class, which is only on two or three days a week, you could always take something from the class and add to your Fitmas calender at home. If you're into boxing/thaiboxing/kickboxing, you could do shadowboxing or train a specific combo for minutes. If you're in a step class, you can either memorise a part of a routine and do at home for minutes, or come up with a routine of your own. Lifting weights in your class? Squats and push ups can be your friends.
There's always a solution, don't be buggered down with things that are not aligning. Look at what you can do and chose.
And that leads me to the last part of my Christmas column for this year: As we seem to be in the fourth wave, I wish you the best Christmas ever. And I want to tell you – do indulge. Do have a taste of all the Christmas goodies you love, say cheers with loved ones and enjoy all Christmas has to offer of companionship and kindness, and remember to take good care of yourself and your body (maybe by following a Fitmas calender), so you'll get through this strong in both body, mind and spirit.
If you want to share your own fitness story or have a comment or question, please do reach out: taniaskitchenfitness@gmail.com or via Instagram @trainwithadane