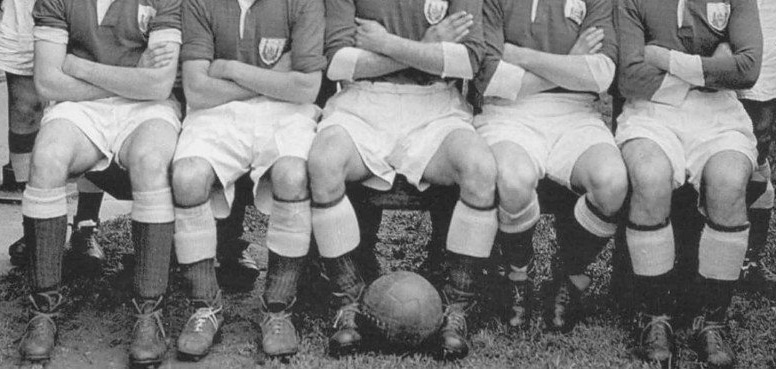 The vast majority of renowned historians and casual observers will rightly contend that the year 1922 was an eventful one. The assassination of Michael Collins in Béal na Bláth was the latest in a series of high profile but historically important incidents to take place in the West Cork area during the War of Independence and Civil War era. However, it is interesting to note that an ever-diminishing number of Cork soccer enthusiasts will view 1922 as the year in which the original darling of Cork soccer was born.
Before John Caulfield and Conor Hourihane, 'Big' Seanie McCarthy came into the world in January 1922, just outside the town of Dunmanway. By all accounts, Sean was lean and did not quite reach six feet in height. However, his teammates at Cork United in the early 1940s attached the 'Big' moniker to differentiate him from a smaller teammate who also happened to be called Sean McCarthy. Like many Dunmanway lads during the war years, Sean had to relocate to an urban setting to find work. Fortunately, he did not have to go too far. He settled in Cork and took to playing soccer in his spare time. He represented a plethora of youth and junior sides around Cork in the late 1930s with distinction.
Having gained a reputation as being the most talented centre forward on Cork's local soccer scene, Sean joined Cork United just prior to the commencement of the 1940/41 season. He found the net on his debut, in a very creditable 1-1 draw with a strong Shamrock Rovers side in Milltown. He would score a further thirteen league and cup goals as Cork United became the first non-Dublin side to secure a League and Cup double. The following season, McCarthy helped himself to 19 goals as Cork United retained their league crown, but failed to overcome a resolute Dundalk in the FAI Cup Final. A third league title followed in 1943, with McCarthy's 16 league goals ensuring that he led the league scoring charts for the first time in his career. Sean's status as the greatest League of Ireland centre forward of his era was seemingly confirmed when he finished as the leagues top scorer in each of the following two seasons. In doing so, he became the first player to top the League of Ireland goalscoring charts in three successive seasons. Incidentally, Cork United also managed to secure league silverware in 1945 placing them at the top of Cork's domestic football roll of honour.
'Big' Seanie McCarthy subsequently made a high profile move to high-flying Belfast Celtic in 1945. He amassed an incredible 56 goals in his first season up North. As well as winning a Gold Cup medal, Sean was capped by Northern Ireland's Irish League. The widespread uncertainty around international eligibility (which was rife in the 1940s) also meant that McCarthy received a full Northern Ireland cap in a victory International against England. After a phenomenal season in Belfast, Sean expressed a desire to return to Cork. With Paddy O'Leary established at centre forward, Sean reinvented himself as an inside right. He arrived just in time to contribute seven goals as Cork United secured the FAI Cup. He also subsequently topped the league of Ireland goalscoring charts in the 1947/8 season for the fourth time in his career.
The unfortunate demise of Cork United in 1948 saw a temporary cessation of League of Ireland football in Cork. Like many other proud Cork men, 'Big' Seanie McCarthy took up a position at the Ford factory in Dagenham, and commenced playing non league football for Dartford FC. He finished as the Southern League's top scorer with 21 goals, and his displays earned him a move to Bristol City. However, his one year stay at Bristol saw him struggle to establish himself in the first team, and he returned to Cork to sign for Evergreen United in 1950. His personal tally of 15 goals during the 1950/51 season helped Evergreen United to a fifth place finish in their maiden League of Ireland season. An appearance in 1952s all Cork FAI Cup final against Cork Athletic followed, but McCarthy finished on the losing side. As is the way with aging footballers, 'Big' Seanie McCarthy slowly drifted down the pecking order until he retired from professional football in 1956.
Upon retiring, Sean McCarthy relocated to London where he was to remain permanently. It is said that he attributed his success in the game to skill, football intelligence and a killer instinct when it came to finishing. Throughout his time in the league of Ireland, McCarthy is lauded for both the quality and quantity of his goal scoring exploits. It is said that he would almost certainly have received a full Republic of Ireland cap, were it not for the small matter of World War II.