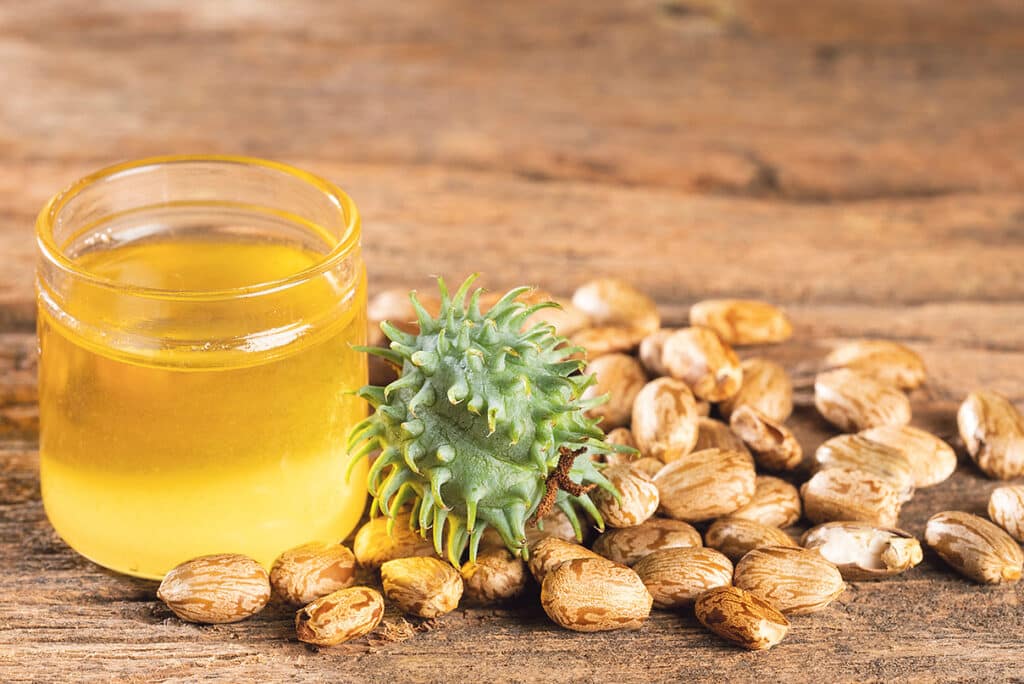 If you've been scrolling through your social media feeds this summer, you've likely come across the buzz surrounding castor oil. It seems this ancient remedy has made a remarkable comeback, touted for its multifaceted benefits, from promoting luscious eyebrows to potentially aiding in labour induction. In fact, the demand for castor oil, particularly in the United States, surged so dramatically that it temporarily vanished from our shelves. However, it's back in stock now, and the intriguing feedback on its uses has piqued my interest. This month I'm going to delve into the age-old secret of castor oil and uncover why it's become such a hot topic among health-conscious people in Ireland.
The historical roots of castor oil as a natural medicine and beauty product can be traced back over 3,500 years. The Egyptians prized castor oil for skincare and haircare and also used it to treat eye irritations. Castor oil also boasts a rich legacy in folk medicine, particularly in India, where it's celebrated for its skin-healing, digestive-soothing, and antibacterial properties. In Europe, it was historically employed as a natural laxative and, under medical guidance, for inducing labour in cases of overdue pregnancies. Spoonfuls of castor oil were given to children at the first sign of illness, as it was thought to have immune benefits and to speed up healing, and until recently it was recommended by the FDA in the United States as a natural laxative.
My own introduction to castor oil occurred roughly 25 years ago during my nutrition studies in London. Barbara Wren, a naturopath and author, recommended castor oil packs in her lectures as a key part of a health overhaul.
From Barbara's many years running a nutrition clinic, she was convinced that castor oil packs had many benefits including aiding digestion, supporting liver detoxification, alleviating menstrual pain, and enhancing overall well-being. She would prescribe them on a daily basis to her clients.
Derived from the seeds of the castor bean plant (Ricinus communis), castor oil is a thick, pale-coloured mildly scented oil with a high concentration of ricinoleic acid, a fatty acid rich in omega-9. Research shows that this omega-9 has pain relief and anti-inflammatory effects.
Today, castor oil has emerged as a go-to topical solution for various ailments. When I asked our community what people used it for, this is a selection of the responses:
"Great for growing nicer lashes and eyebrows!"
"Constipation, breaking underskin lumps, getting rid of skin tags and many more. It became very popular in recent years."
"Warm compress for detoxing liver and kidneys."
"On aching muscles, sore arthritic joints, unbelievable results, hadn't realised it was back in stock, I'll have to do another online order, and your box only arrived today."
From those comments, you can see that people are turning to it to soothe muscle aches, alleviate joint pains, encourage hair growth, and even address benign lumps and bumps, as well as a compress to stimulate detoxification.
From my research, it seems people are mainly using castor oil for the following:
1. Hair Health – Castor oil, prized as the world's oldest and most popular herbal remedy for hair oiling, is rich in fatty acids like ricinoleic acid, nourishing and moisturising hair. It's believed to coat hair shafts, reduce damage, and promote longer, stronger locks.
2. Hair Growth – Castor oil can potentially stimulate slow hair growth by improving blood circulation to hair follicles. It's not limited to the scalp and is used on eyebrows and eyelashes as well. Intriguingly, research suggests that ricinoleic acid, a key component of castor oil, may balance prostaglandin D2 (PGD2) production, which plays a role in hair loss, particularly in men.
3. Inflammation and Joint Pain Relief – Castor oil's anti-inflammatory properties make it a potentially good choice for managing arthritis pain, joint swelling, and inflammation. Observational studies suggest it may provide analgesic and anti-inflammatory effects when applied topically.
4. Skin Nourishment and Healing – This natural oil prevents water loss, making it an excellent moisturiser for dry or irritated skin. It's also known for its antimicrobial and antibacterial properties, aiding in wound healing and blemish treatment.
5. Immune and Lymphatic Support – Castor oil is known for its immune-enhancing effects, thanks to its positive impact on the lymphatic system. It aids in the removal of excess fluids, proteins, and waste materials, bolstering the body's natural defence mechanisms.
Since Castor oil is thick, people often mix it with other skin-friendly oils – like almond, olive, and coconut oil – to make an ultra-hydrating moisturiser. To use castor oil on your skin or hair, people mostly simply apply the oil (diluted or undiluted) directly, as applying castor oil to the skin is safe for most of us, though it's important to be aware that it can cause an allergic reaction in some people so for all topical treatments please remember to do a patch test before using.
For deeper internal benefits, you'll see a lot of people online talking about castor oil packs. A castor oil pack (also called a compress) is a piece of wool or a cloth soaked in castor oil so you can apply it on the skin. The cloth may be cotton flannel or other dense material that can soak up a lot of liquid, which you apply to your abdomen, followed by a layer of plastic (to stop the oil staining your clothing). You then lie down with a hot water bottle on top of the pack and read or rest for up to two hours to allow the oil to penetrate. When you're done, you can store the pack in the fridge and reuse it until you notice it changing colour or starting to smell different.
I love using castor oil packs. I found it particularly beneficial when I had period related cramps – it was incredibly soothing. In researching for this article I've started doing them again, and it feels good. I'm also rubbing castor oil on my sore arm, my son's GAA injuries, as well as my husband's sore neck. It's thick and does need to be rubbed in well, but I've had no complaints! If you are considering taking it internally please seek expert medical guidance as it may cause complications for some people and is not recommended for long term use as a laxative.
I think it's fair to say that whether you're looking to enhance your beauty routine, soothe sore muscles, or support your overall health, the age-old wisdom of castor oil could be worth a try. Be sure to buy the purest caster oil though so look out for organic, cold pressed oil, preferably from your local health food shop.
By the way – we are having our annual It's Your Birthday Discount Day in store on Thursday September 14, and online on September 26. Since we don't collect data on our customers we don't actually know when your birthday is, so we're offering 10pc off everything on these dates to wish everyone a Happy Birthday.
For the online discount you'll need to be signed up to our newsletter to get the secret code… email us if you have any difficulties.
Organico Shop Deli & Bakery is open from 9 – 6.30 Monday – Saturday, on Glengarriff Road in Bantry. Call us on 027 51391; email us on info@organico.ie and buy online from us on www.organico.ie.