How little we know. I had no idea that we'd still be in pandemic mode when I sat down to write my 2021 Christmas column. I was slowly starting to try and feel my way back to some semblance of pre-Covid normality, and it was working. Despite my reticence, going places and seeing people was starting to feel enjoyable again. We went on holiday to Sardinia. We went up to Dublin. We went to the cinema. I had a few old chats, sitting outside in a beer garden. We still masked. I got my booster. We still avoided large crowds. We sanitised our hands a dozen times a day, but we were trying to be optimistic. Things were going forward not backward.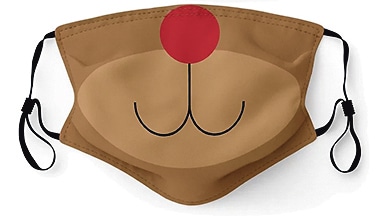 I even thought to myself how nice it would be to write a column and not mention Covid. I might write my Christmas column about the environment, or about local developments, or even just about Christmas. Alas, 'twas not to be. As I write we're all worried. The figures keep going up. Two of my daughters have caught Covid and had to isolate (They are both fine, so far.) We cancelled Thanksgiving, I'm in denial about a big birthday in two weeks, and Christmas is looking hazy. I don't want to even think about birthdays or Christmas. That's because I don't know what is going to happen. Restrictions? No restrictions, but it's not really safe to have a party? Pub packed, but closed at midnight because of Covid? I am worried and confused. Not the best way to get into the festive spirit.
I read my 2019 Christmas column to see what I was up to before the world changed. It was full of anticipation and Christmas cheer: "Nothing warms my heart more than to go into town on Christmas Eve. If you could bottle the Christmas spirit that one finds in the pubs, on the street, and in our homes – you'd make a fortune. Lucky for us, it's free for all to enjoy."
A year later we had been under Covid's yoke for eight months, and things were looking dodgy. In December 2020, I wrote: "There is little chance that my 2020 Christmas column will repeat anything I've written before. Christmas is about excess. Excess and pandemics do not mix. As I write, we are just coming out of a six-week lockdown. I should feel elated, and ready to jump into the mad swirl of the season, but the uncertainty of what exactly the situation will be makes looking forward to the holidays a bit difficult. The government has warned us that it will not be like other years. It has tried to comfort us by saying that we can still have a 'meaningful' Christmas. Whatever that means…"
We know what that means now. A quiet, more subdued event, grateful for family but missing friends. Missing the craic in town. Missing the spontaneity of the season. I remind myself that I should be happy. Others are missing loved ones that have passed.
Frankly, I'm sick of it. All of it: the masks, the hand sanitising, the sitting in a cold beer garden. I know that compared to some others, my Covid life has mostly been about inconvenience. It's still annoying. I am fully committed to following the guidelines. I think that it is our best line of defence. But that doesn't mean that I like it. It's been almost two years and I want to get back to feeling properly festive. Not knowing is making me grumpy and anxious, which is not a good combo. I call it 'granxious'.
We are all suffering it to various degrees. There is a lot to be anxious about and a lot to be grumpy about. Tempers are fraying. In the last few weeks, I have heard of arguments between friends and families that only makes things worse. We are all living in difficult times, and we've been doing it for almost two years. Let's cut each other some slack. Being 'granxious' feels cramped and tethered. Let's help each other unwind a bit.
I know it sounds obvious, but the best way to feel joy at Christmas is to spread some Christmas joy. Be kind. Be generous. Even when you have a difference of opinion. Remember that we're all fed up, for many different reasons, and that we all could use a bit of holiday cheer. So put on that Santa hat. Strap a red nose to the car. Sing along to the Carols behind your mask. Just wait a few weeks before hitting the joy button. Say until around December 8. Then let the jumpers loose, even if they must stay two metres away from each other. Wishing you and yours a merry Christmas and a happy, hopeful New Year.