Lisa Brinkmann is a Clinical Psychologist and Psychotherapist working in private practice in Clonakilty and is one of the core members of BROD. Lisa also has a degree in Sex Research and Forensic Psychiatry and works with clients with any psychological or mental health problem, but is also specialised in the area of sexuality and gender. Lisa is also a proud mother of two young girls and lives with her family in West Cork.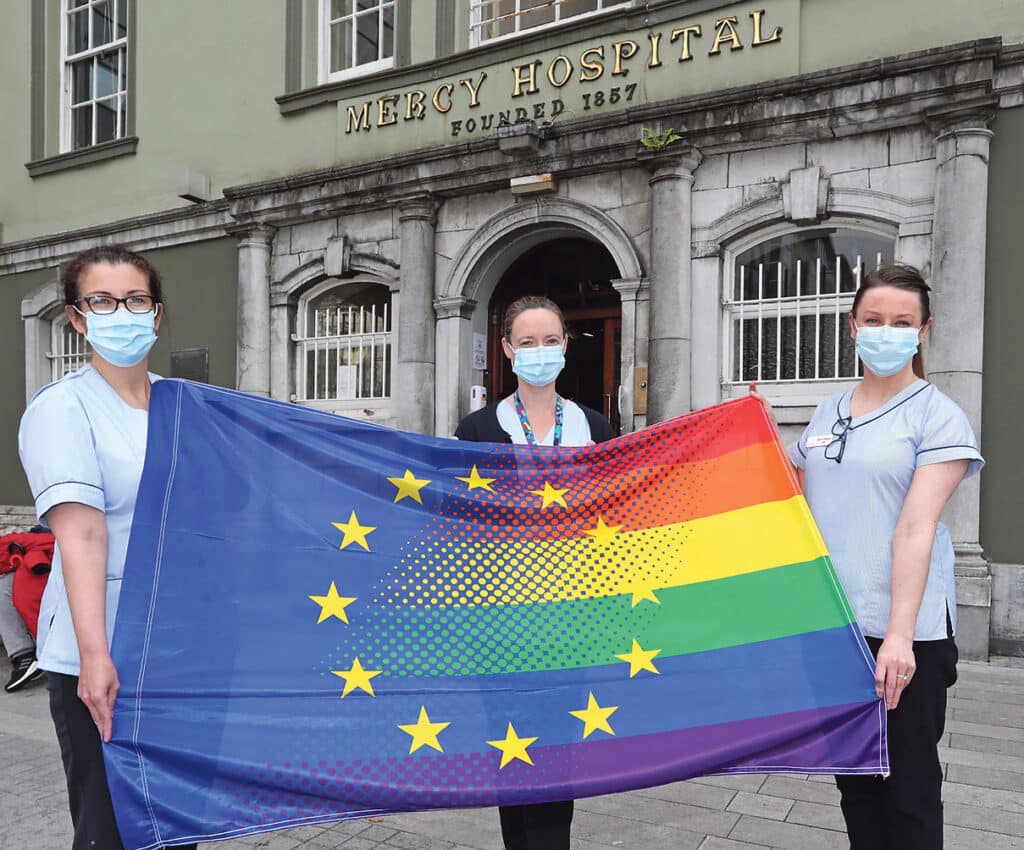 Last month saw the national LGBTQI+ awareness and inclusion week running from May 17-23. It was a wonderful week of people, organisations, businesses and councils raising the rainbow flag and signalling LGBTQ+ awareness and support. From Cork County Libraries having LGBTQI+ specific reading and book tables, the county mayor raising the rainbow flag in different places around Cork (including the City hall), the Irish Navy flying the rainbow flag at their naval base, nurses standing outside hospitals with rainbow flags, to our local Credit Union in Clonakilty wearing rainbow colours to show their support: All around the country support, acceptance and inclusion was celebrated and shared.
It is incredibly important that LGBTQ+ awareness weeks and days and events exist. It furthers the understanding of LGBTQ+ lives, realities and circumstances and creates more tolerance and acceptance. It is important that we keep raising this awareness and make the mainly cis-gendered and heterosexual world more informed, sensitised and supportive of LGBTQI+ lives and matters.
In this month's article however, I don't want to talk about LGBTQ awareness or how we can broaden our awareness in regard to LGBTQI+ in a classical sense. I far more want to use this opportunity to talk to you about the awareness that I have gained about myself and aspects of my life by being surrounded by people from the LGBTQI+ community. A gift and blessing I am forever grateful for.
In order to do this, I have to take you down memory lane with me and tell you a little about myself. So let me begin:
In 2004, nearly 20 years ago, I graduated from University as a Clinical Psychologist. My first position was as a Clinical Psychologist at the Institute for Sex Research and Forensic Psychiatry at the University Hospital Hamburg. Two weeks into my job as a freshly baked psychologist, my professor and boss at the time invited me to come along to a LGBTQI+ conference where she was invited to give a talk. This conference was organised by people from the LGBTQI+ community for the LGBTQI+ community in the heart of Berlin.
Nothing prepared me for what I experienced at the conference: From the moment I walked through the door my mind was blown. I saw drag queens, gays and queers in all sort of colours, transgender people at different stages of transitioning, beautiful women in suits and masculine men wearing dresses. Women proudly growing and showing off facial hair and people whose gender was a total mystery to me. The place was buzzing, and for the first time in my life I knew what it felt like to be in a minority.
As a cis-gendered, heterosexual woman, I was definitely in the minority. And I remember being hit like a lightening bolt with the awareness that 'this must be how these people feel every day of their lives, everywhere, except here'.
At times, I felt like an intruder, not sure if I had a right to be there. Sometimes I wondered if people could recognise that I wasn't LGBTQI+; maybe there was a certain look about me or way I behaved that might give away that I wasn't 'one of them', and I worried what they might make that mean…I felt a little insecure and overwhelmed. But equally in awe of every single human I saw.
I was amazed and in total awe of their courage to be their true self…exactly who they were and how they wanted to be.
Something that, as a 24-year-old, I was still grappling with…and even to this day, despite a dedicated practice of daily yoga, mindfulness and meditation, never mind the amount of therapy and self-development I have under my belt, I still aim towards. And these people seemed to already be there. Their true selves.
Another insight that struck me equally hard on that day, was how small and narrow-minded my cis-gendered and heterosexual world was. How limited my definitions of male and female were, how narrow-minded and limited my concept of heterosexuality was. I left the conference a different person. It definitely was a baptism of fire for the budding psychologist and sex researcher I was at the time and, looking back on it now, I can see that this might have been the full intention of my boss at the time.
It was a push into the deep end of the pool, and I stayed swimming in that deep end ever since, spearheading research on transgender health care and intersexuality in Germany. And later continuing my work in Ireland where I have been working with and supporting people from the LGBTQI community for over 14 years.
And I have learned so much: About myself, my definitions of gender and sexual orientation and how that impacts my own sense of self.
After the conference my mind was literally blown. And I came home questioning so many things, that until then I hadn't even perceived as being questionable. It made me think about my own definition of femininity and masculinity, sexual orientation, gender and sex.
As a cis-gendered woman, it felt so liberating to extend my definitions and boundaries of my own femininity. I remember getting a very short pixie haircut at the time and really enjoying expressing myself in different ways. Without that having to mean anything.
Since then, I have been on a wonderful journey of bursting through gender stereotypes and freeing myself from limiting beliefs and conceptions I have held around my own womanhood. If I had to put a name on it, I think I would label myself as a cis-gendered feminine tomboy (But don't hold me to it, it may be subject to change). And that doesn't take anything away from me being a woman. If anything, it adds!
And the same holds true for my sexual identity. Only because I have been exclusively in monogamous relationships with men, my 'heterosexuality' does not need to confine me to just solely finding men sexually attractive. Once I freed myself from limiting definitions, I found myself seeing attractive humans everywhere. Males, Females, effeminate gays, butch lesbians, transgender people, just to name a few. What a liberation!
I could go on and on and make countless more examples as to how my own sense of self, gender and sexual identity has expanded, liberated and changed and made my life for the better. And I would have never found this awareness within 'my' cis-gendered, heterosexual community.
I am so grateful to each and every member of the LGBTQI+ community for being such an incredible teacher to me and bringing so much awareness to my life.
So when we are celebrating LGBTQI+ awareness week, I am of course celebrating bringing awareness to LGBTQI+ matters. But on a very personal level, LGBTQI+ awareness week to me means celebrating all the awareness I have received on my own personal journey through the LGBTQI+ community. And for that I am forever grateful.