The sunshine is here and we've been gardening like mad people. A little bit of heat and everything takes off. All the seedlings that were set earlier in the spring are jostling for attention and need transplanting out. This is a very satisfying occupation, it's like creating an instant garden. Rows of beans, beetroots and salads, patches of courgettes, sweetcorn and pumpkins all in situ, everything is looking very happy. I have my fingers crossed that no wild winds will arrive to burn them this year. All going well we will have a feast when they all ripen.
Meanwhile there's a bit of a wait whilst it all comes to fruition so this month's recipe uses onions and a can of tomatoes!
Pissaladière is a recipe from the south of France, originally made with dough but often made as a tart. It works well either way as it's all about the topping and it makes the perfect summer food. Fresh, tasty and portable.
The curious name comes from the ancient ingredient pissalat. Pissalat is a puree of salted baby sardines and anchovies, a relative of garum, which is a fish sauce that's been around since the Romans. This stinky ingredient is no longer on the ingredient list but the name has stayed. Anchovies do however feature but for a vegetarian version we usually use chevre, a fresh goats cheese.
The ingredients are very simple; onions, black olives, tomatoes and then to finish the tart, anchovies or goats cheese. The base can be either pizza dough, short crust pastry or puff pastry. Puff pastry is the easiest as that can be bought but we have always used short crust pastry which makes a deeper tart that holds more filling. Dough is delicious too. The choice is yours.
Once the topping is made you can spread or fill whichever option you choose.
You will need more onions than you can imagine to make this recipe as whilst cooking they will melt down and caramelise, so don't take fright whilst slicing them and crying. You need an enormous mound. You will end up with about 25pc volume when the onions are cooked.
The filling takes time to cook, it's not something to be rushed if you want to achieve the deep sweetness that this tart is all about. However it does not need a lot of attention, just the odd stir to prevent it from sticking to the pan so you can multi task whilst preparing it, just don't disappear off and do something else.
Pissaladière is delicious for lunch or dinner, all that's needed is some salad on the side.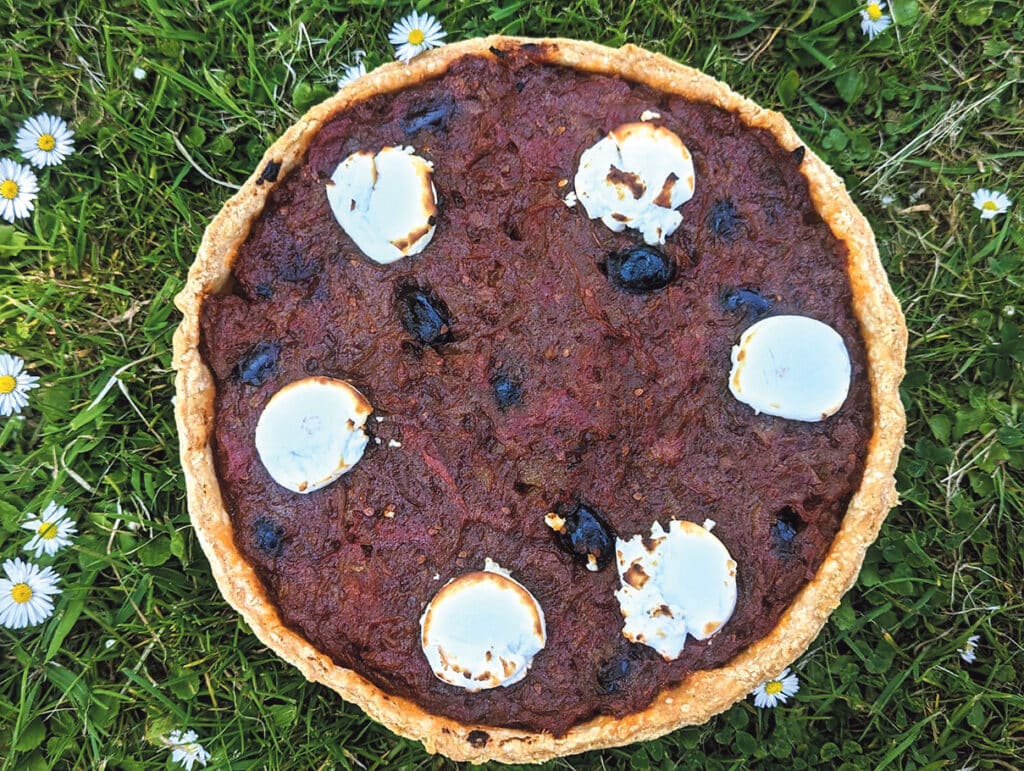 Pissaladière
Ingredients:
• 7-8 large onions
• 75mls olive oil
• 1 x 400g an tomatoes
• 100g stoned black olives
• 100g goats cheese or one can anchovies
• Salt and black pepper
• 1 pre-baked tart shell
Method:
Peel the onions, cut in half then thinly slice. Heat a large frying pan and add the olive oil and the onions. Give them a good stir and season with a little salt. When you can hear the onions sizzling, turn the heat down. Cook for about one hour giving the occasional stir to prevent sticking until they are totally soft and golden. At this stage the onions should be sweet.
Chop the tomatoes and stir into the onions together with the olives and cook on medium heat for a further 20 minutes, until the liquid from the tomatoes has reduced and the mixture is thick. Season with salt and pepper.
Tip the mix into a pre baked tart shell, or onto a piece of rolled out puff pastry or dough. Spread the mix evenly .
If you are using goats cheese cut it into thin slices and place around the perimeter of the tart. If you are using anchovies drain the oil then arrange on the tart like hands on a clock.
Bake for about 20 minutes or until the cheese looks toasty.
For the tart shell
Ingredients:
• 250g flour
• 125g butter – chilled and diced
• Salt
• 80 -100mls iced cold water
Method:
Put the flour and butter into a food processor then pulse buzz until the flour resembles crumbs – this won't take long. Slowly add the water until the dough begins to come together – but not altogether, just beginning to come together. It will be very bitty, that's okay, as when you tip the mix out you will be able to bring it together with your hands. Do this quickly and do not knead the pastry, as soon as it becomes one piece stop handling it and put it into the fridge to chill.
Roll the pastry out on a lightly floured surface to fit the tart shell. Trim the edges leaving a little extra at the top as pastry shrinks a little whilst cooking. Any extra pastry can be put in the fridge for later use. It will keep for a couple of days without spoiling.
Chill the tart shell once more, this will help the tart to cook without collapsing.
Preheat the oven 180c
Bake the tart until lightly golden. Keep an eye on it, especially at the beginning, to make sure the sides don't collapse. If this happens take the shell out of the oven and gently press the sides back into position.
Here's a happy birthday to all the Junes out there!
Karen
Lettercollum Kitchen Project,
Timoleague
info@lettercollum.ie
www.lettercollum.ie
0238846251