When are we too old to move? As life starts and we learn to stand, sit, walk and run, a whole world of movement opens up to us. Most of us have childhood memories of running around outside, being monkeys on the playground, biking, climbing and everything in-between. But at some point most of us stop. Life becomes more sedentary. We walk to the car, drive to school or work. More or less sit down most of the day, drive back home, sit and relax and go to lie down in bed. Gone are the days of climbing trees, biking fearless downhill, running in the sand dunes, playing football on the lawn or taking the board out in the surf. By the time we are grown up, have homes and families, the body becomes an afterthought and movement a memory.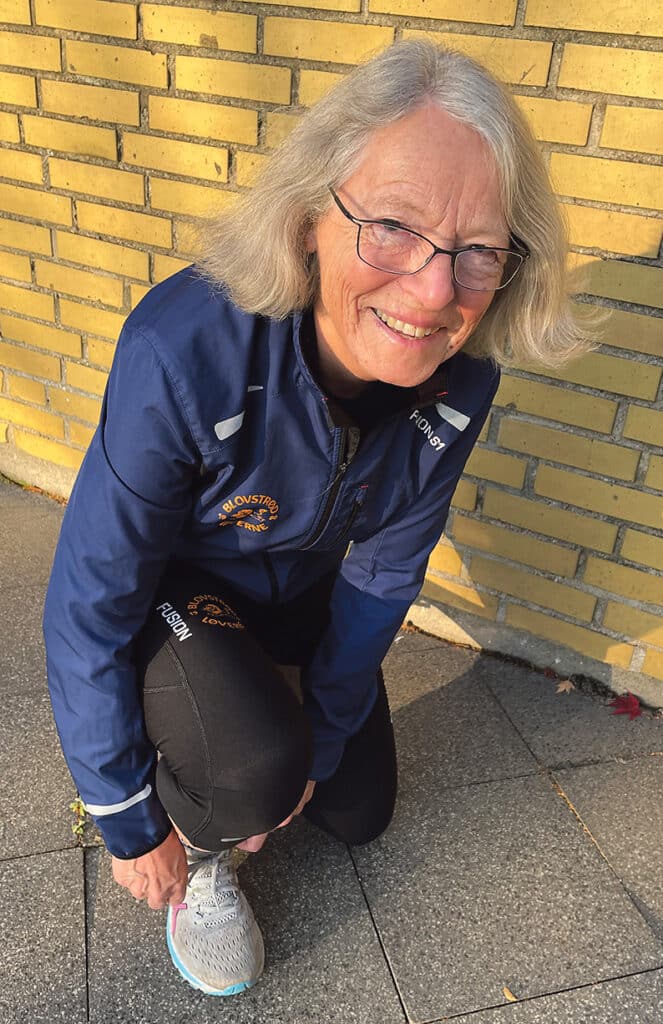 It's true that it's hard to get started on any type of training, however it is also true that it's hard to lose your mobility and muscles, which is what happens to our bodies in the autumn of our life. The good news is that it's never too late to start to move again.
Nina is an amazing 72-year-old lady, who only took up sport after her children became teenagers. Today she is still running track races in her local running club. I met Nina for the first time three years ago on her way to a local 10km race.
"I picked up running when I was 40. Before this I did a bit of yoga and played badminton but up until a friend asked me to go running with her to lose some weight, running was just a sport that I was fascinated by," shares Nina.
Nina and her friend started out slowly, going from couch to 5km. "First we ran 100 metres and little by little we got up to 5km. We ran the same route, in the same pace for four years. Then we joined the local athletic club and our training became a bit more structured and I started to participate in races. I joined my current running club six years ago and I really enjoy the community."
Nina developed a love for racing after she ran her first marathon just six years after she started running with her friend. In total she has run an astounding 19 marathons.
"My best marathon was probably at age 50, where I ran the 42.2km in three hours and 42 minutes, but otherwise the NYC Marathon is my best marathon memory. It was such a special feeling running through the different boroughs. Putting the race-number on my shirt and the buzz of being a part of a bigger race. For years I did two or three big marathons a year and enjoyed the competition that's involved with racing.'
Like many of her fellow runners, Nina has experienced a devastating injury, which kept her sidelined and, at 59, it would have been easy to give up and throw in the towel. "Two years after NYC Marathon I got a really bad injury, which kept my feet off the road for about two years. I gave away all my running gear, I didn't think I would come back and couldn't stand to see other people running. I was devastated. Slowly by nurturing my injuries and eating pretty healthy, I have been able to work my way back to running and today I have a better knowledge of my limitations, the dos and don'ts. I am grateful I can still run today."
Nina still competes, chasing the club record for her age category (70-74-years-old) on the track and also still entering local shorter races. However her main objective has taken a more social angle. "Running today is more about the social aspect for me and less about competing. I really enjoy the runs with my club. We talk, share stories, problems big and small, and simply enjoy the sense of community you find with likeminded people. Running is uplifting for both mind and spirit and I can't recommend it enough."
Nina's best advice for people, regardless of age, who want to pick up running, is to take it slow. "Take it step by step. Don't rush yourself into harder, faster workouts than your body can handle. You need to build your base slowly. Also find people who are running the same pace as yourself and go out together. It's often easier to get up and out and more enjoyable with company."
Nina runs about 30km a week.
So if you are reading this and wondering if you can pick up a sport – any sport – as a 40, 50, 60 or 70 year-old, then the answer is yes. You can always start training. Take it one step at the time, go slow and don't push too hard and your body will thank you for it. You will start to feel physically better and stronger, mentally more confident and fresh. These benefits come at any age, but in the autumn of our lives it becomes even more important to keep our muscles, ligaments and tendons strong and working. They let us be healthy, mobile and independent long into our senior years and that is worth spending time on.
I hope you will take Nina's inspirational story with training and start writing yours, if you haven't already. Training is not just for kids and the Instagram/ Social media generation. It is important and beneficial at all ages, and perhaps even more in the autumn season.
Comments and questions are as always welcome at @trainwithadane on Instagram or taniaskitchenfitness@gmail.com