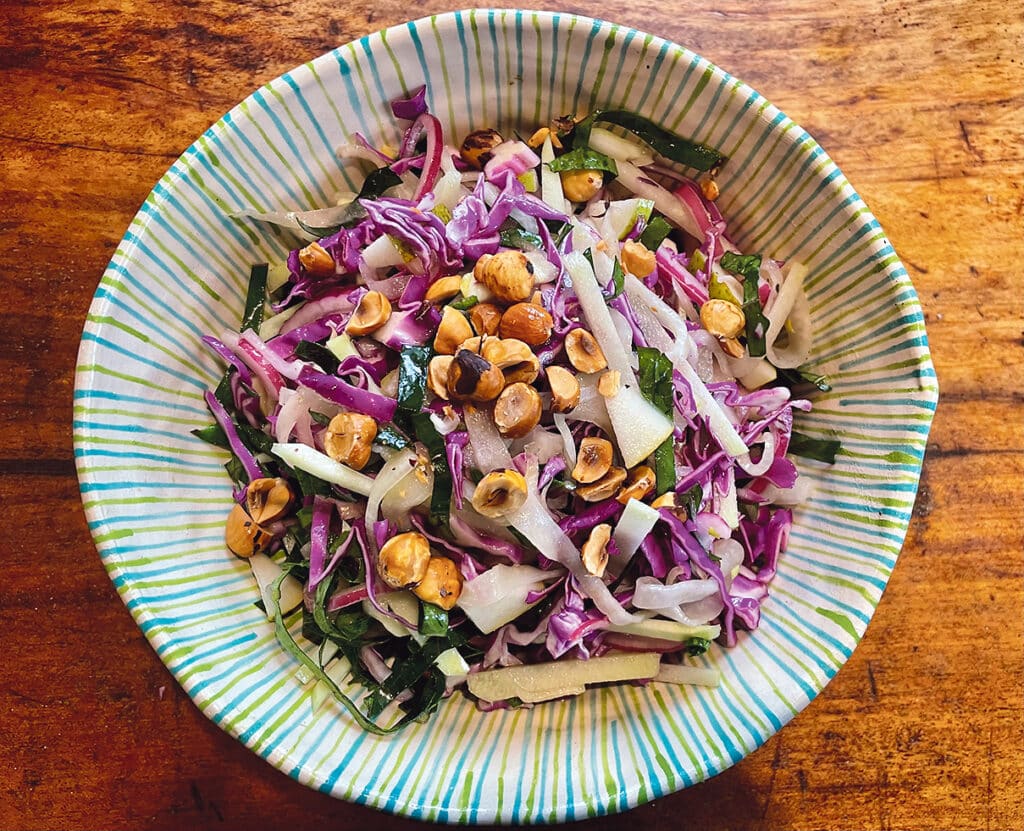 We grew kohlrabi for the first time last year and I'm happy to report they are no problem at all to grow. These extraordinary purple, and sometimes green, knobbly turnip-like vegetables have a crown of upright leaves poking out around them and look very healthy, both to look at and to eat. We now have about forty to consume. Luckily they hold well, so not too much pressure, but all the same I have made myself a list of ideas so that we can get through them – roasted, stir fried, gratins, fritters and salads….
Kohlrabi translates from German as 'cabbage turnip', which is pretty apt, although they don't have a strong cabbage flavour. They are crunchy, juicy and crisp, so ideal for salads where both the bulb and the leaves can be used
After a month of what can only be described as manky weather – cold, wet and very muddy, a crispy salad is always a treat for the immune system and, in this case, it's also going to give our final red cabbage a good home.
Our cabbage patch is emptying out rapidly, with some extra help from the birds. It had been protected by a bird cage but when one of the Christmas storms caved in one end we stupidly took it down. This had the brief advantage of easy access to the sprouts but it also gave great access to the hungry birds who've had themselves a party and decimated the once healthy cabbages and kales. Fortunately the birds aren't attracted to red cabbages so they were left there, like lonely purple orbs.
Winter salads and slaws can be made from a variety of seasonal vegetables that grow here. Cabbages – white, green or red, carrots, turnips, celeriac, fennel, kohlrabi…they all enjoy being sliced/grated and dressed. Add to whatever melange you decide upon – toasted nuts and seeds for extra crunch and protein and maybe chopped apples or pears for a little crisp sweetness and you'll have a nutritious life-enhancing bowl to chomp your way through whilst we wait for the spring to arrive!
Here's a recipe for a slaw incorporating both kohlrabi and red cabbage but it's really just a guide. Use whatever vegetables that you have at hand but pay attention to the preparation tricks (salting the veg etc) and the dressing and you're guaranteed to be pleased with the result.
Winter Slaw
Ingredients:
• Quarter head of red cabbage
• 1 small kohlrabi
• Handful kale or kohlrabi leaves
• 1 head fennel
• 1 red onion
• 1tsp sugar
• 2tbs white balsamic or white wine vinegar
• 1tsp Dijon mustard
• 1 crisp apple or pear
• 75g toasted hazelnuts, roughly chopped
• 75mls olive oil
• 75mls rape seed or sunflower oil
• salt
Method:
Trim the fennel, then cut in half lengthwise. Remove some of the core by cutting a v out of the base then slice the fennel finely. Put the fennel into a bowl and sprinkle with half a tsp salt. Toss to mix well then leave aside for 15 minutes. The fennel will sweat and soften. Tip the fennel onto a clean, dry t-towel, pat dry then roll up and give a little squeeze.
Remove the leaves from the kohlrabi – if they are still on it. If the leaves are in good condition roll them up into a cigar shape then slice into skinny ribbons. Peel the kohlrabi bulb and slice thinly. Stack the slices then cut into matchsticks. If you prefer you could grate the kohlrabi but I think the matchsticks add a better crunch.
Peel the red onion, cut it in half then slice finely. Sprinkle over a little salt, give it a rub to separate the rings. Put the sugar and vinegar into a bowl, stir to dissolve then add in the sliced onion and mix well. Leave aside to soften
Remove the core of the red cabbage by cutting out a V at the stem then slice finely.
Wash the apple or pear, remove the core and dice finely – there's no need to peel the fruit.
Reserve the juice from the onion then put the onion into the salad bowl together with the dried fennel, sliced cabbage, julienned kohlrabi and diced apple or pear.
Make the vinaigrette in a small bowl. Whisk the onion juice and Dijon together then slowly drizzle in the oils whisking continuously to emulsify. Taste to check, if it needs brightening up add a little more vinegar and/or salt.
Pour the vinaigrette over the vegetables then toss everything together and scatter the hazelnuts over the top.
Here's to more daylight, Roll on spring!
Karen
Lettercollum Kitchen Project,
Timoleague
info@lettercollum.ie
www.lettercollum.ie
0238846251
PS: There are a few places free on the gluten-free baking class on February 11, so if you would like to know how to make the best g/f bread, sweet and savoury pastry, muffins, cakes etc give me a shout. Includes a large lunch!