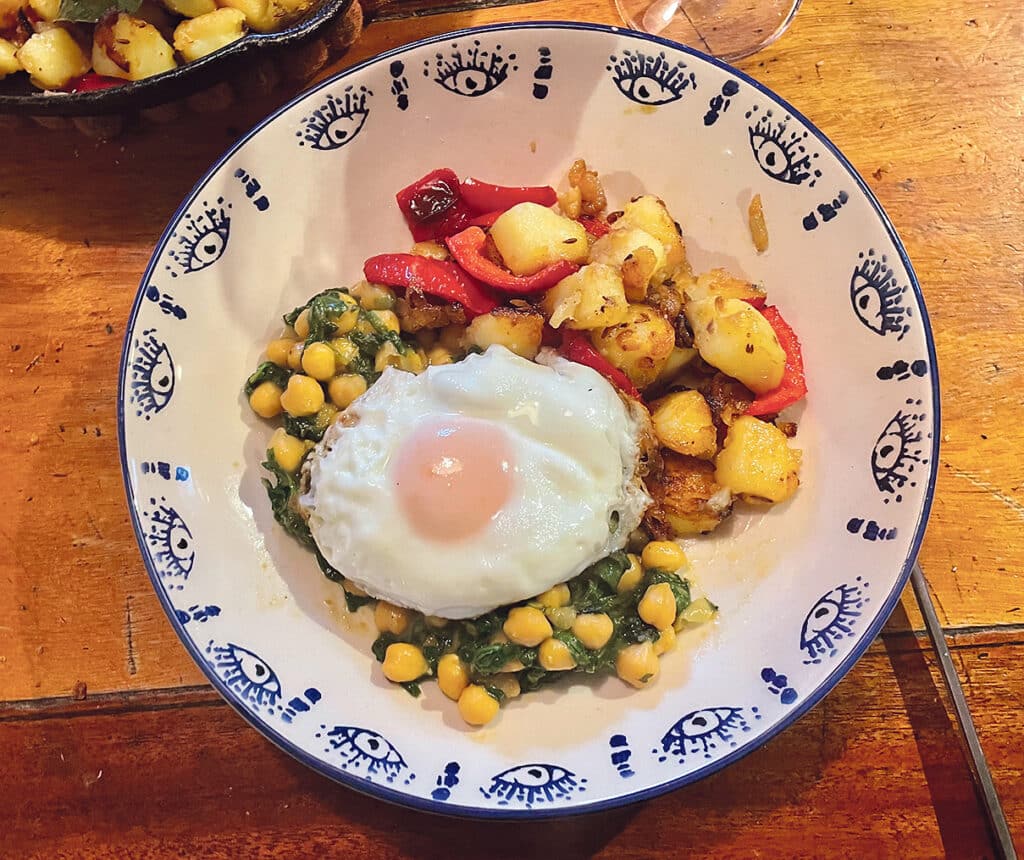 April and May are known as the hungry gap in the gardening world but not in our garden where we're consuming colonies of cauliflowers and infinite amounts of spinach and kale. The spinach and kale are giving their last ditch effort before reaching for the sky and going to seed; they are both are crops that have an incredibly long life cycle. We're still eating the same crops that we began growing last spring. They have produced buckets and buckets of leaves that used to go to the shop – remember all those spinach tarts and kale salads?. We're not quite sure what we will do with our crops this growing season as although we are scaling back we have never grown on a domestic level and we'll probably be tripping over produce – it was the reason that we opened the shop in the first place! 
Spinach and kale love the climate here, they thrive with rain, wind and sunshine and are incredibly easy to grow. Five or six perpetual spinach plants or a couple of kale plants would provide you with a continuous supply if you look after them. Imagine, a few seeds and you'll get a years' supply of food. It's well worth doing.
Spinach, combined with chickpeas, produces the Spanish classic Espinacas con Garbanzos, literally spinach with chickpeas. This makes a delicious budget dinner, especially when it's topped with a fried egg which is the best combo in my mind.
The chickpeas can be cooked from scratch or made with the chickpeas in cans or jars. Jarred chickpeas are always my preference as they seem to be bigger and fatter which is a good thing but cans are fine. I do also cook chickpeas from dried, it is the cheapest option, it just takes a little time. If I am cooking chickpeas from dried, I always make more than I need and stash the remainder in the freezer for another time.
Chickpeas with spinach
Ingredients:
• 250g chickpeas, soaked overnight and cooked or 2 cans chickpeas.
• 500g spinach
• 3-4 cloves garlic – peeled and chopped
• 1 tsp cumin seeds
• 1/4 tsp crushed chilli flakes
• 75g stale white bread
• olive oil
• 1.5 tbs red wine vinegar
• a good pinch of saffron
• 1 tsp smoked paprika
Method:
If you are using dried chickpeas soak them overnight in cold water, drain, then put into a saucepan then cover with fresh water. Bring to the boil then cover with a lid and simmer for 40 minutes to 1 ½ or even 2 hours until tender. Drain and reserve cooking liquid.
Put the saffron into a small bowl and cover with some boiling water – approx. 50mls, then put aside to infuse.
If you are using canned or jarred chickpeas drain the chickpeas and rinse.
Rinse the spinach, chop roughly then sautee in a little olive oil until it wilts down and is just cooked. You'll have to add the spinach bit by bit, adding more as the spinach wilts down. Season with salt.
Cut the bread into cubes and fry in a pan with a little olive oil until lightly browned then add the cumin seeds and chilli, cook for a minute then add the chopped garlic. Cook gently for a minute. Don't let the garlic burn.
Transfer this mix to a food processor and blend to a paste. Add the vinegar and saffron.
Put a pan on the heat and cook the bread mix and chickpeas together thinning with a little reserved chickpea cooking liquid or some water. Cook gently for a few minutes to allow the flavours to develop then stir in the spinach. Cook for a few minutes more until spinach is heated through, check seasoning, stir in a teaspoon smoked paprika then serve.
Delicious with a fried egg on top!
Here's hoping for sunshine in May.
Lettercollum Kitchen Project,
Timoleague
info@lettercollum.ie
www.lettercollum.ie
0238846251