Our glasshouse is bursting at the seams. There are crowds of seedlings waiting to move to a more spacious location to continue growing. We have just re-covered the tunnel that was destroyed in one of the winter storms so the tomatoes can relocate and the other tunnel is full of infant spinach, chard, herbs and baby beans. The potatoes are peeping up and the fruit trees are in blossom. It's such an exciting time of the year in a garden yet the pickings are fairly slim, as last year's green crops shoot for the sky and go to seed and the new ones aren't quite ready to be picked.
One vegetable that's coming into season is Irish asparagus. Sadly we don't have any in our garden anymore – I dug it up in frustration. After several years of nursing the plants and trying to keep them weed-free, then only getting a couple of spears at a time, I finally gave up. I should have researched growing asparagus before wasting so much time, as I have discovered that not only do the seedlings need three years on a weed-free bed, it also hates slugs and needs warmth and sunshine – a minimum of eight hours sunshine a day!
I take my hat off to the Irish growers who supply us with this seasonal treat, as it takes so much time and effort and ideally a tunnel or covered growing area that is designated to this use.
The Irish asparagus season is short – there are six weeks in May-June when these plants do their thing, growing up to 18cms in a day and funnily enough it's the male plants that shoot up the spears, the female plants provide the seeds – kind of reverse to humans.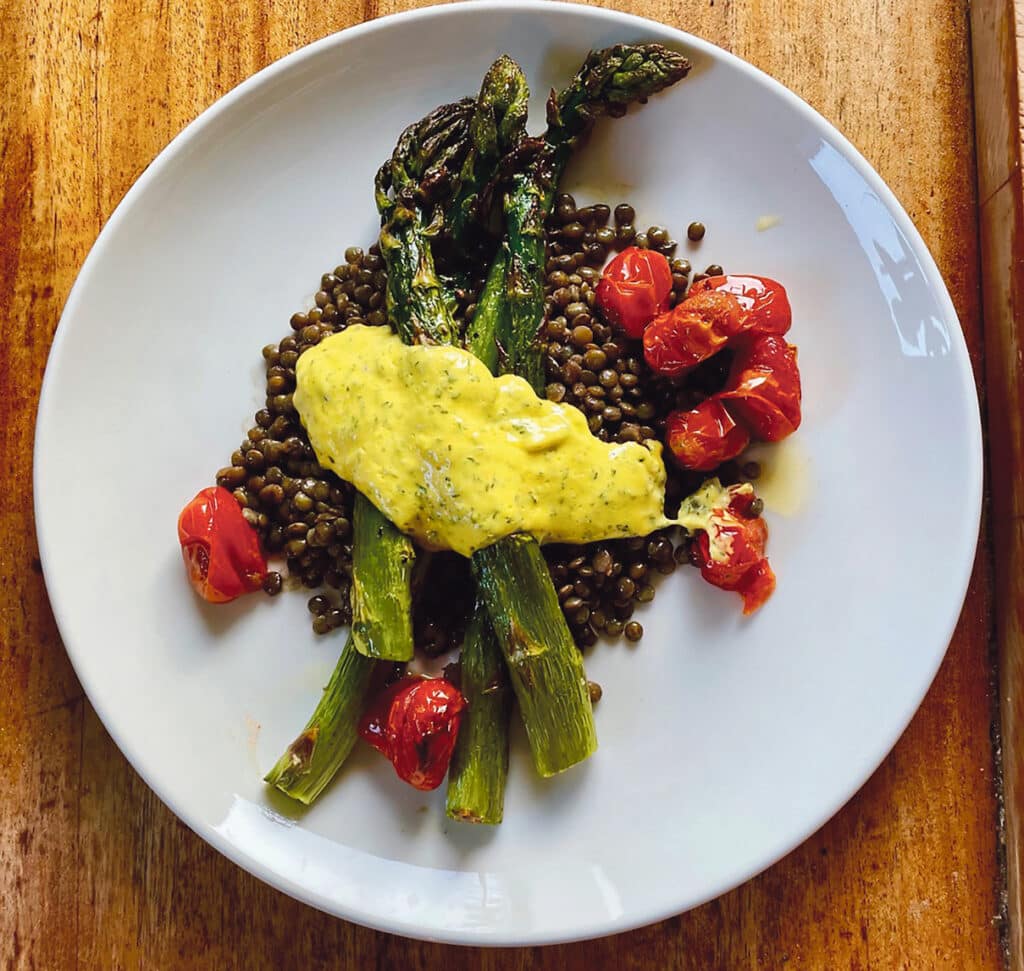 I always enjoy the asparagus when it's in season here in Ireland. It's such a seasonal treat and one of the most nutritionally balanced vegetables packed with vitamins and antioxidants.
It's best cooked simply. My favourite way is grilling on a cast iron pan but I have also discovered roasting in a very hot oven can produce a similar result. The heat seals in the flavours and the asparagus still has a little bite.
We have plenty of fresh eggs and a big bunch of Dunworley asparagus at hand so this month's recipe is a plate of roasted asparagus over Puy lentils with herb hollandaise. The lentils are simply cooked then seasoned with salt and dressed with the best olive oil and a splash of balsamic vinegar to brighten them up.
Sublime! It's very easy to prepare and well worth seeking out the local asparagus for, infinitely superior to asparagus that has been flown half way round the world and sold for next to nothing.
Help save the planet, buy local!
Roasted Asparagus with Puy Lentils and Herb Hollandaise
Serves 3-4
Ingredients:
1 bunch asparagus – 4 spears per person
200g ripe cherry tomatoes
200g Puy lentils
200g butter
2 egg yolks
Juice of half a juicy lemon
A handful of fresh soft herbs – chives, basil and/or chervil
Salt and cracked black pepper
Extra virgin olive oil
Balsamic vinegar
Pre-heat the oven 220c
Method:
Put the lentils into a saucepan and cover with at least twice as much water. Bring to the boil, turn to simmer then cook for 20 minutes. Check them by tasting a couple and if they are still a little hard cook for one to two minutes longer but be careful as they should be just done. Drain the lentils, rinse with hot water then dress with a drizzle of extra virgin olive oil, a splash of balsamic vinegar and a little salt. Put the lid back on to keep them warm and put aside.
Whilst the lentils are cooking prepare the asparagus. Wash the spears then trim the woody end. You could snap them but I usually lightly run a sharp knife over the stem working from the stalk up and the knife cuts like butter as soon as you pass the woody bit. Line a baking tray that's big enough to accommodate the asparagus in one layer with parchment paper. Dry the spears then put them in the tray and drizzle over olive oil. Sprinkle over a little salt and cracked pepper then roll them about so they are all lightly dressed,
Wash the tomatoes and dry then put them into a baking tray with a drizzle of olive oil and a sprinkle of salt.
Put the tomatoes and asparagus into the oven and set the timer for seven minutes, toss both then cook for a further five minutes.
The Hollandaise is made using a held blender, which is a clever trick – no whisking over a bain-marie, just instant Hollandaise.
Put the egg yolks into the beaker or a jug with the lemon juice.
Gently melt the butter and heat until hot.
Chop the herbs finely
Put the blender into the beaker and buzz the yolks and lemon juice together. Add the hot butter in a slow steady stream. When it has emulsified season with salt and pepper and stir in the chopped herbs. If it is too thick, thin with a little warm water. If you are not ready to serve you can keep the sauce warm by putting the jug into a bowl of hot water.
To assemble the dinner put a big spoonful of lentils onto each plate, lay the asparagus on top and pour a little hollandaise across. Put the roasted tomatoes around the sides.
Our shop has re-opened and we're delighted to be back in the swing of things so do pass by and pick up some tasty treats. We have plenty to offer from coffees and cakes to lunch, picnics and dinner. We're open Tuesday to Saturday from 9am – 4pm.
Now that we can move about, enjoy the freedom of May!