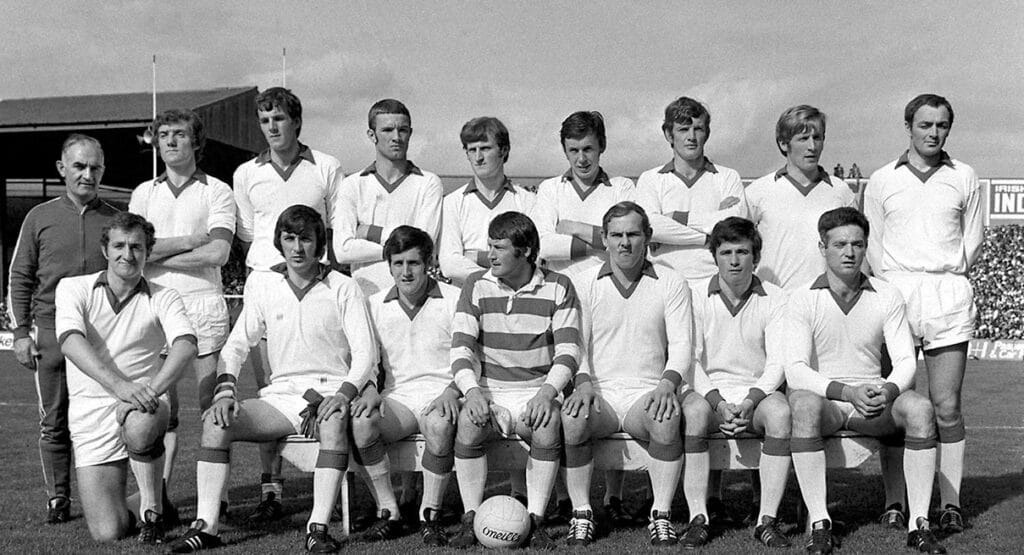 Despite the illustrious nature of the shortlist, it will come as no surprise to any follower of Cork football that the winner of our poll to determine West Cork's greatest ever sportsperson was the mercurial Declan Barron. He won with just under 45 per cent of the vote, with honourable mentions going to his 1973 All Ireland winning team mate Kevin Jer O'Sullivan and Skibbereen based rowing heroes Gary and Paul O'Donovan.
The Bantry Blues clubman first broke into the Cork senior football team in 1971, arriving on to the scene with two All Ireland minor medals, and two All Ireland U21 medals to his name. Unsurprisingly, he quickly became a key player within the group and alternated between the midfield and centre forward positions for much of the following decade. The undoubted high point of his intercounty career occurred quite early on for Barron, when he played a pivotal role in helping Cork to secure the 1973 All Ireland title. He was joined on the panel by his Bantry Blues club mate Donal Hunt. Barron would go on to showcase his versatility and adaptability on the grandest stage in Gaelic Football. Following an injury to Millstreet's John Coleman, Barron seamlessly transitioned to the role of centre back (a position that he had not played at since his underage days with Bantry Blues). He delivered a typically impeccable performance in unfamiliar territory, and his aerial dominance in the last quarter saw Cork through against a plucky Galway outfit. The remainder of Declan Barron's inter county career would coincide with a frustrating period for Cork's football faithful as Mick O'Dwyer's Kerry and Heffo's Army (Dublin) would assert their dominance at intercounty level and stifle Cork's hopes of an another All Ireland win. Although, O'Dwyer's Kerry would win eight successive Munster Championships from 1975 to 1982, their 1976 final in Páirc Úi Chaoimh left Cork wondering what might have been. The rebels were left incredulous after a perfect, fisted goal from Declan Barron in the closing seconds was disallowed. This occurred after Declan's team mate, Brian Murphy had earlier been incorrectly adjudged to have caught the ball behind the goal line earlier in the half. There would be mild consolation for Barron and his teammates in 1980, when they defeated Kerry to win the National Football League title. His second half performance when switched to midfield is said to be amongst his best ever in a Cork jersey. Unfortunately, there would be no further success for Barron in Cork colours thereafter, and he departed the intercounty scene in 1982.
At club level, Declan Barron was an integral part of Bantry Blues' rapid ascension from Junior to Senior ranks in the 1970s. Bantry's rivalry with the great Bandon team of the late 1960s and early 1970s saw both teams dominate the Carbery division. In 1972, they faced off in a tense divisional semi final in Skibbereen (having both won two titles a piece in the previous four years). With his team trailing by two points, Barron found the net in dramatic fashion with a last minute 21 yard free kick. This proved to be a pivotal moment in their season and Bantry went on to win the county junior title that year. The Blues subsequently secured the county intermediate title in 1975 by defeating their West Cork neighbours Naomh Abán. Barron's Bantry quickly acclimatised to the rigours of competing at senior level. Unfortunately, despite reaching a senior county semi final in 1976 and a senior county final in 1981, success in the senior grade would prove to be elusive for Barron in Bantry colours. However, being a key member of the Carbery divisional team that secured the 1971 senior title saw Declan Barron complete a rare feat in securing county championship honours at junior, intermediate and senior level.
Declan Barron is widely regarded as the greatest ever fielder of a football to don Cork colours at any level. Fielding is a difficult skill to execute, and this is highlighted by the dearth of natural fielders of the ball in the modern game and the ensuing rule changes that have been brought in to address the decline of one of football's core skills. Standing at an even six feet tall, he certainly would have given away a few inches to many of his contemporaries in the half back, midfield and half forward lines of the 1970's. However, Declan Barron made soaring high to pluck balls out of the sky look easy. His tough, no nonsense style won him a host of admirers all over the country. The sheer esteem in which he is held is cemented by his inclusion in both the Cork Football Team Of The Century (at Centre Forward) and the Cork Football Team Of The Millenium (at midfield). On a national level, he received two All Star awards (both in the centre forward position) in 1974 and 1978 during a period in which big names from iconic Kerry and Dublin teams dominated the Gaelic Football landscape. In an area dominated by one sport, Declan Barron's exploits with the big ball see him rightly regarded as a living legend in West Cork.