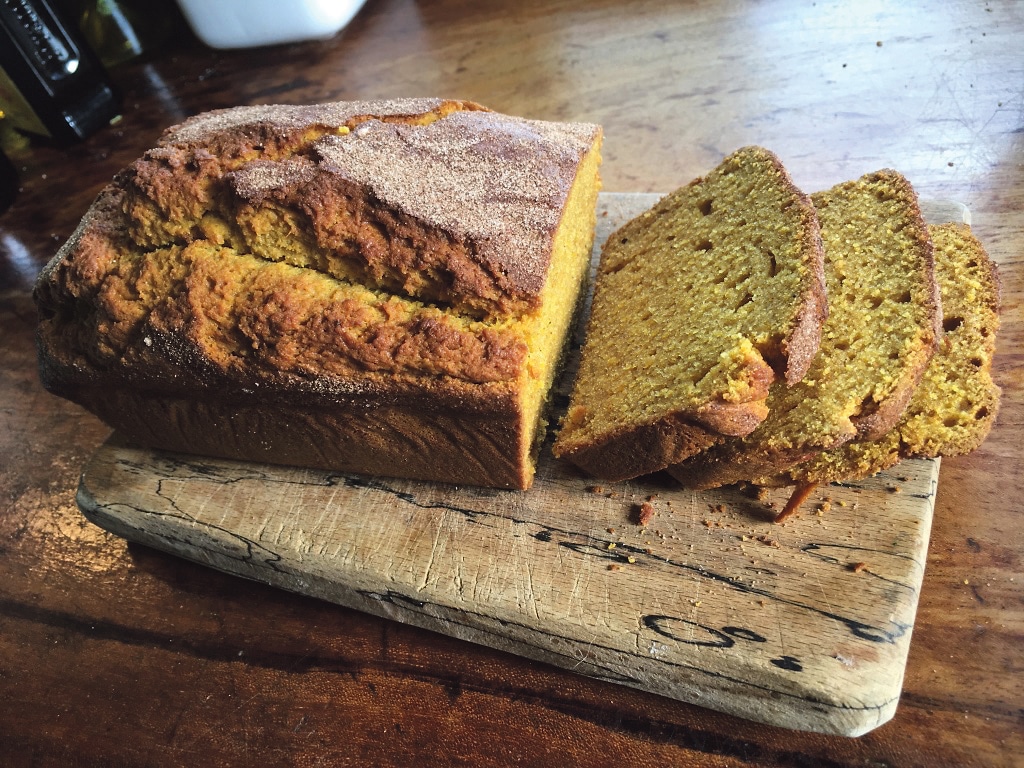 The new lockdown is a blow we could have all done without. This lockdown is at the opposite end of the year when the days are becoming shorter and darker rather than sunnier and lighter, I reckon we could do with all the support that we can muster to keep ourselves upbeat and well. 
Looking for a recipe with this in mind I started off down the route of feelgood and health-enhancing foods. There's a wealth of stuff out there. Everything from chocolate, which not only makes you feel good – well possibly if you ignore the guilt factor – to all bright antioxidant rich fruit and vegetables.
I came across lots of sweet potato recipes which are autumnal, but they don't grow here, before realising I was on the wrong track. Pumpkins are the one!
We had a good harvest and have them stored for the winter and while I do realise everyone is not as fortunate, they are available to buy now in the farmer's markets and some shops
Pumpkins are very versatile; they're great in soups, curries, roasted, pies, mashed, you name it, you can probably make it. I recommend finding yourself a proper pumpkin – not the Halloween type but a proper blue or grey skinned one and having some culinary fun – if you can't find one butternut squash will make a good substitute.
In the last lockdown everyone seemed to go baking mad, there were even flour shortages. Baking is a great activity, alone or shared. And if you have children it will keep them entertained as well as providing some mental gymnastics. Think of all that fun – measuring, mixing, stirring, making a mess and the final satisfaction of eating something that you have created yourself.
This recipe is easy – easy-to-find ingredients and very easy-to-put-together. You could fling all the ingredients in a food processor but I'd use an old fashioned bowl and spoon or whisk. It'll be much more satisfying and won't create any more washing up.
So here you go, Pumpkin Loaf, the new Banana Bread – plenty of antioxidants and delicious spread with butter. One of the ultimate comfort foods!
To make the pumpkin puree, peel and dice the pumpkin then steam, roast or cook gently in boiling water until tender – drain well. Buzz or mash to a smooth puree
Pumpkin Loaf
Ingredients:
• 250g pumpkin puree
• 120g melted butter or olive oil
• 2tbs sour cream, crème fraiche or natural yoghurt
• 2 large eggs
• 1 tsp vanilla essence
• 220g sugar
• 250g plain flour
• 1 level tsp ground cloves
• 1 level tsp ground cinnamon
• 1 level tsp ground ginger
• half tsp salt
• 1/ tsp baking powder
• 1 tsp baking soda
To sprinkle on top;
• 1 tsp cinnamon
• 1 dsp caster sugar
Method:
Pre heat the oven 180c.
Line a 2lb loaf tin (a big one) with parchment paper or greaseproof paper. Google 'How to line a loaf tin' if you're not sure how to do this.
Put the flour, spices, baking soda and baking powder together in a large bowl then stir to combine.
Put the pumpkin puree, eggs, melted butter, crème fraiche/sour cream/yoghurt, vanilla essence and sugar into another bowl and whisk or stir well to make a smooth puree.
Stir in the flour and spices and mix until combined – don't over mix.
Pour the batter into the prepared tin then smooth the surface to level out.
Mix the sugar and cinnamon for the topping together then sprinkle over the top of the loaf.
Bake in the oven for 55-60 minutes. Test to see if it's done by poking a small sharp knife into the centre of the loaf. If it comes out clean it's cooked. Moist is okay, but the knife should be clean.
Happy Baking!
Karen
Lettercollum Kitchen Project
22 Connolly Street
Clonakilty
www.lettercollum.ie
karen@lettercollum.ie
Our team in the kitchen will continue to cook fresh food daily (except Sunday and Monday). Please check our website, Instagram and facebook for menu updates
We are happy to take orders by email or over the phone. Our new yellow awning is proving to be the best giant umbrella so you can keep dry if you need to wait. We're also happy to pass food outside if you don't want to come in. Unfortunately we can't deliver but we have joined up with 'Neighbourfood' in Timoleague where there is a depot if you prefer to pick up there.