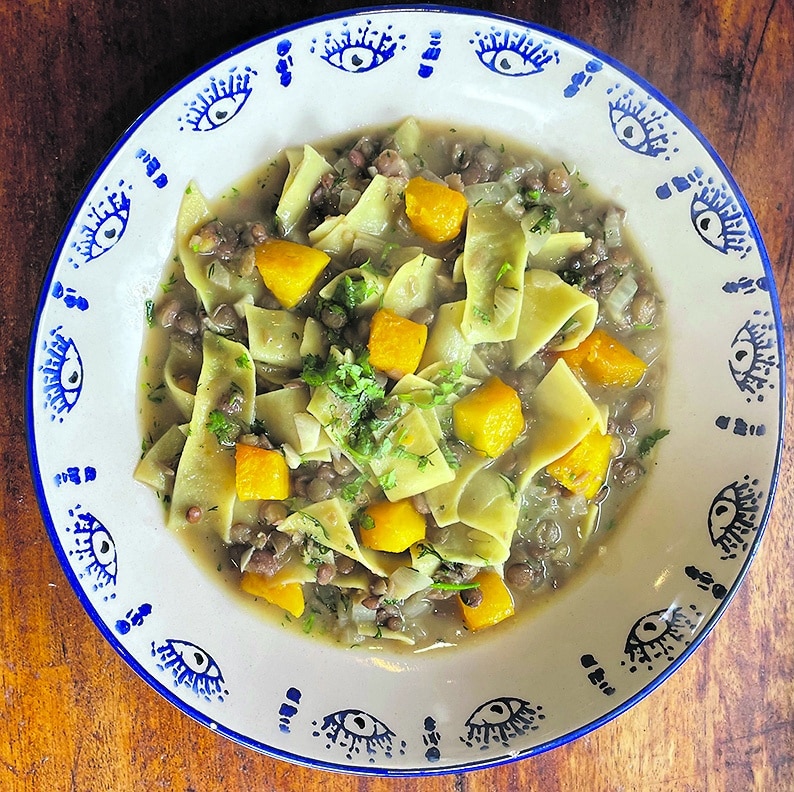 It's without a doubt that we are in the soup and stew season. So much rain! We came home from Spain – 24 days without wearing a raincoat – which was glorious, and back to the rain and it's hardly been off since. It didn't take long to put the socks, boots and jeans on and reorientate to winter mode.
To avoid talking about the weather and the terrible state of the world we're going to talk lentils. The fast food of the legume world and perfect for this time of the year.
Lentils are a great source of plant based protein and fibre, full of phytochemicals which protect us against chronic diseases and inflammation. They make a slow burn, sate your appetite for longer and don't cause sugar spikes
Lentils have been around for along time. These edible legumes originated in Asia and North Africa. They grow in pods – two lentils in each of the pods when I tried growing them – and a cousin of peas. Growing lentils in Ireland can be successful, up to a point. I grew an experimental patch of beluga lentils but the yield was not great – apart from the aforementioned two lentils in each pod, it was difficult to dry them and shucking them took hours. We harvested enough velvety fresh lentils for one dinner which was satisfying and delicious, but I certainly wouldn't make a career out of it. Fortunately they are very affordable and a kilo goes a long way.
The beauty of cooking lentils is that you don't have to think ahead. There's no need to soak them, they can be cooked directly from dry and only take between ten and twenty five minutes depending which lentil you are using.
Lentils come in various colours and varieties – yellow, red, green, brown, beluga, Puy and each has it's own best use.
Red lentils are great for soups and dals, perfect for family members that say they don't like them as they actually disappear into an attractive orangey soup.
Brown, Puy, beluga and green hold their shape to varying degrees.
The brown and green lentils turn up a lot in Greek and middle eastern recipes and yellow lentils are used to make dals, fava and pease pudding. Puy and beluga are prized for their pertness and popular in salads as they can tossed with other ingredients without losing their definition.
This month's recipe uses green lentils and comes from the Lebanon. It's a comforting combo of gently spiced lentils and pasta which could be lunch or dinner. I couldn't resist adding roasted pumpkin to the original recipe which you could leave out but it adds another layer of flavour and improves the colour scheme which is a good thing as we eat with our eyes as well as our bellies!
Rishta –
Lebanese Lentil and Pasta Soup with Pumpkin
Ingredients:
• 300g pumpkin or butternut
• 150g green lentils
• 1 large onion
• 75mls olive oil
• 800mls vegetable stock
• 100g broken ribbon pasta, ie pappardelle or tagliatelle
• 2-3 cloves garlic
• 1 tsp salt
• 25g butter
• A good handful chopped fresh coriander
• 3tsp ground coriander
• 1 tsp ground cumin
Method:
Put the lentils into a pot and cover with 450mls water. Bring to the boil, reduce the heat, cover then simmer for 15-20 minutes or until they are tender. Drain the lentils.
Pre heat the oven 180°c.
Peel and dice the pumpkin or butternut squash into 1-2cm cubes. Toss with a little olive oil and salt then roast on a tray for 15-20 minutes or until tender. Put aside.
Peel and chop the onion. Heat a medium-large saucepan, add enough olive oil to cover the bottom and the chopped onions. As soon as the onions are sizzling away reduce the heat and cook for five minutes or until the onions are translucent. Add the lentils to the onions, mix well, cook for a minute or two then stir in the stock. When the pot comes to the boil add the pasta and some salt. Check the cooking time for the pasta and time accordingly. Usually around six minutes.
Peel and chop the garlic. Melt the butter in a small pan then stir in the garlic. Cook it gently for a minute then stir in the ground coriander, chopped coriander (save a little for garnish) and the ground cumin, cook gently for a couple of minutes then take off the heat. When the pasta is cooked stir in the spice mix and the roasted pumpkin. Check the seasoning and serve.
This soup thickens as it stands so you might need to thin it a little with some more vegetable stock or water.
NB: if you want to make this vegan just swop out the butter for olive oil.
The cooking classes are fully booked at the moment but if you would like to go on the mailing list please let me know.
Happy November!
Karen
Lettercollum Kitchen Project,
Timoleague
info@lettercollum.ie
www.lettercollum.ie
0238846251