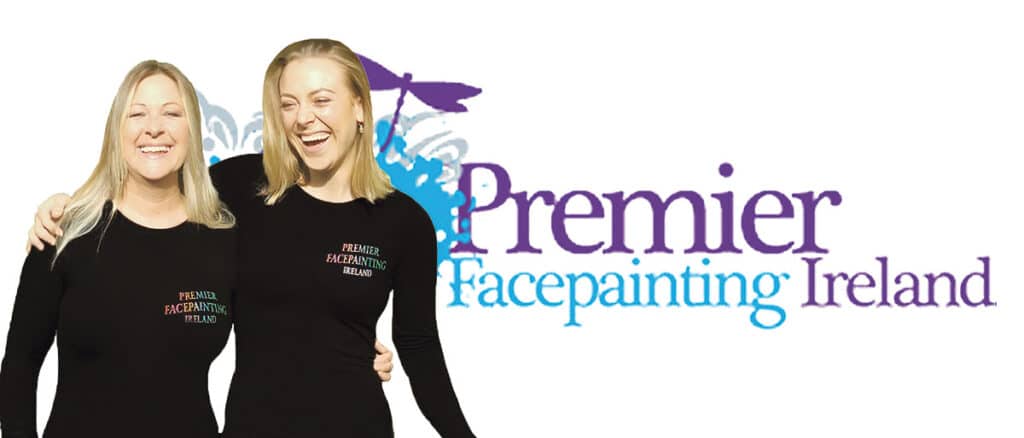 Premier Face Painting Ireland based in Bantry has been awarded 'Best Professional Face Painting and entertainment company Company' in the Irish Enterprise Awards 2021. The face behind this colourful enterprise is Bantry native Selena Cassidy, who shares that while she may have started the business on a wing and a prayer, all of her hard work and determination eventually paid off and the business is now reaping those rewards. Selena also gives credit to the supportive people around her. "Without my amazing staff and the support of my husband Jason, the business wouldn't be what it is today," she says.
Premier Face Painting specialises in providing high quality face painting and other entertainment at events all over Ireland. While the pandemic has taken a toll on the business, Selena has turned the unexpected time off into an opportunity, writing a series of children's picture books with her talented daughter and illustrator Rosie. Mother and daughter up-skilled in design programs Adobe Photoshop and Illustrator and have completed two out of the series of four books, which are based around a little girl who gets face painted and turns into the face painted creation, enjoying adventures in magical lands and bringing back messages on how to love and protect our world. The books have already received interest from publishers.
After leaving school, Selena travelled and worked her way around the world, picking up invaluable skills and life experience along the way. Coming from an artistic background (both her parents are artists), she naturally followed that path in life; her very first job was as a sign writer. She trained as a makeup artist later in life and completed a business course with the help of her Local Enterprise Board. In 2013, Premier Face Painting Ireland was born, over time spreading its wings from fledgling idea to successful enterprise.
"Our first event was an absolute flop, as we hadn't done our research before starting the business and the make-up market was saturated," explains Selena. However it was at this first event that she noticed a small group of extremely busy face painters. Selena decided to chance her arm at it and booked into the Westport music festival pretending she was a world-class face painter! "I spent a day practicing face painting with my 14-year-old daughter and her friend. None of us had done it before and I had no idea if it would work," she explains laughing. They were the busiest stall at the festival and Selena hasn't looked back since. For the next few years, she worked hard, visiting all of the large festivals and events, trading on a pay per face basis. Her Facebook page, where she posted pictures of clients, soon gained a large following and the bookings started flying in. Premier Facepainting was suddenly in demand with Ireland's main event organisers, corporate and promotional companies and city councils. In 2017, Selena decided to leave the adult festival circuit and concentrate on private clients. "We still do some of our favourite family festivals – Rose of Tralee, Laya, Riverfest, The Summer Show and a few others but now the work is mostly booked privately."
Over the years, the Local Enterprise Board has provided immeasurable support to Selena and her business. With their assistance, she completed a business course and a number of marketing and social media seminars and networking events. "I learned a lot about advertising and how to streamline the business and focused on presentation and up-skilling both myself and my staff," she says.
Selena runs the company from her home in Bantry; taking bookings, meeting clients, organising equipment and training up and organising the team of entertainers, who are based in Dublin, Cork, Limerick and Bantry. For the 'Lapland' season and any work abroad, the staff have to be skilled on-flight entertainers, as well as understanding how to interact with large groups of people in a fun, professional and calm manner.
"Seeing people's reactions and bringing fun and joy to people is the best part of this job," says Selena smiling.
Her aim now is to build the business back up after Covid and be in a position where one of the team can help run it. "This was something we were in the process of before the pandemic," she explains "and it would give my husband and I time to do some humanitarian work, which is something we love and want to do more of."
Her advice to anyone starting out in business and looking to succeed is to do a business and marketing course first. "Learning those skills gave us a backbone to the creative side of our company," she explains. "Before I did this, we were floating in the wind, having lots of fun and experiences, but not earning any money. I didn't understand how much you have to put in to a business before you get a return!"
She also understands the importance of a good work-life balance and when she has time off, Selena spends it relaxing with friends and family and fishing with her husband Jason. In ten years time, she'll be celebrating her 60th birthday, so this face painter's ambition is to have the business scaled up to a position that allows her even more time off to go fishing!
premierfacepaintingireland.com