Cork County Council's Local Enterprise Office North and West is delighted to welcome the return of the Southwest's National Women's Enterprise Day Regional Event to Cork for 2023.  Taking place on Thursday, October 19, at the Dunmore House Hotel in Clonakilty, National Women's Enterprise Day is Ireland's largest female enterprise event.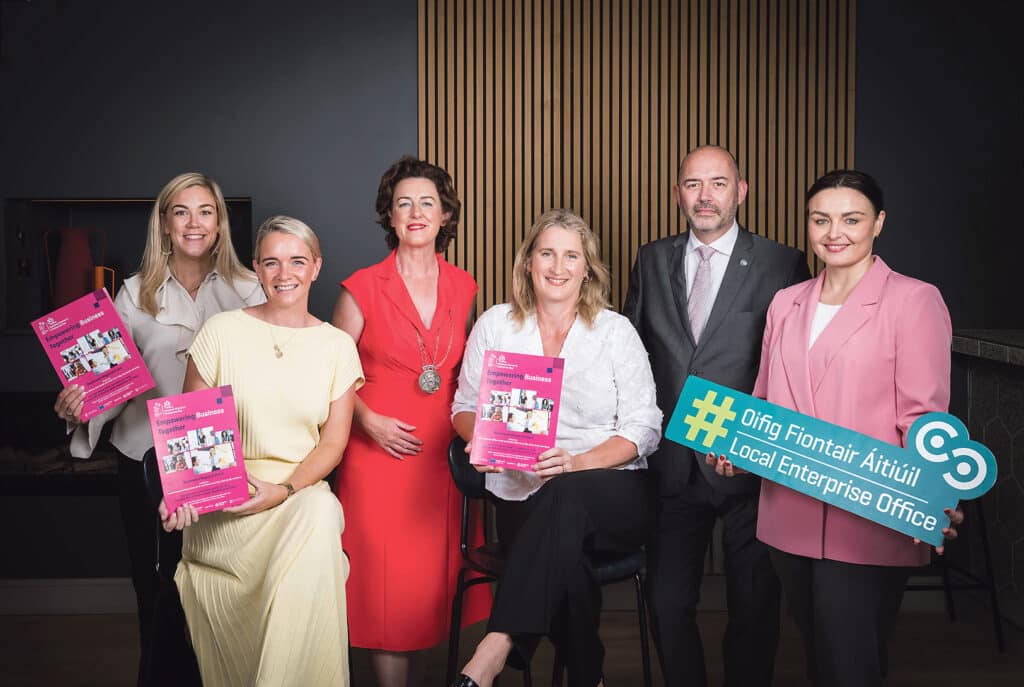 Covering the Cork and Kerry region, this full day programme is designed and led by women to promote and encourage female entrepreneurship across Ireland. Now in its 17th year, National Women's Enterprise Day shines the spotlight on female entrepreneurship, opens the prospect of entrepreneurship to women who may not have considered it before and highlights what supports are available. Regional events also provide valuable networking opportunities to connect with industry experts together with acknowledging the achievements of women in enterprise.
Deputising for the Mayor of the County of Cork and former Mayor, Cllr Gillian Coughlan said, "National Women's Enterprise Day continues to highlight female entrepreneurs, encouraging them to build their community, share their successes and inspire others to follow their paths. I wholeheartedly encourage women in business from across Cork County to register to attend, and to embrace the theme of 'Empowering Business Together' through networking, knowledge sharing and following the journeys of real-life entrepreneurs with four Leading Light Client companies speaking on the day. Cork County Council is delighted to welcome this event back to Cork this year, and to continue to collaborate with our Local Enterprise Office colleagues across Cork and Kerry."
The Southwest National Women's Enterprise Day Regional Event will feature a welcome address by Sharon Corcoran, Cork County Council's Director of Services, Economic Development, Enterprise and Tourism. Cork based Amy Jane Keating, Host and Creator of the 'Go Do You' podcast will be the days host and facilitator, which will include Guest Speaker Pat Kane. Award-winning Sustainability Strategist, Founder of Reuzi.ie and Co-founder of Good Better Best, Pat will speak to attendees on building a future-proof business, touching on her own entrepreneurial journey, whilst highlighting small ways businesses can improve their sustainable practices. The day will also include a panel discussion with Cork and Kerry Leading Lights, followed by Keynote Speaker Laura Dowling, Fabulous Pharmacist and Founder and CEO of fabÜ Wellness.
Event Ambassador and Leading Light representing LEO Cork North and West at this year's event is Caroline Murphy of West Cork Eggs. Caroline's story is of city chic to country chick. Originally from London, Caroline married a dairy farmer and in 2009 bought her first four hens, a decision that was to change her life. Fast forward to today and Caroline now has 3,500 free range hens on the family farm near Rosscarbery. West Cork Eggs is part of the Supervalu Food Academy family and Guaranteed Irish. They supply their delicious free-range eggs into most of the county's Supervalu Stores, as well as numerous hotels, cafes, restaurants, and independent outlets. West Cork Eggs is a family business with three members of staff, and they manage all their own deliveries. Their motto is 'Today's eggs are on the shelf tomorrow'.
Caroline says she is looking forward to "meeting other women at whatever stage of their business they are at and sharing stories. I always love a good panel discussion, which I know this one will be and just spending a day getting motivated by the content and those there. I always come away from NWED invigorated and inspired."
She continues: "It is hugely important to encourage and support women into business because we have so many innovative ideas and skills to bring to business. It's not easy but it's always worth it and I would encourage anyone with an idea to at least explore it. We have so much to give and we owe it to ourselves (and our daughters!) to at least give it a go. Often our biggest obstacle is ourselves and we listen to the voice that tells us we are not good enough or I'm not made for business or what would the kids/husband/friends think. Who cares! If you want to do it give it a go and avail of all the supports out there."
This initiative is led by the 31 Local Enterprise Offices nationwide, and funded by the Government of Ireland, in partnership with Enterprise Ireland and Local Authorities. To book your place for the Cork and Kerry event please visit www.localenterprise.ie.