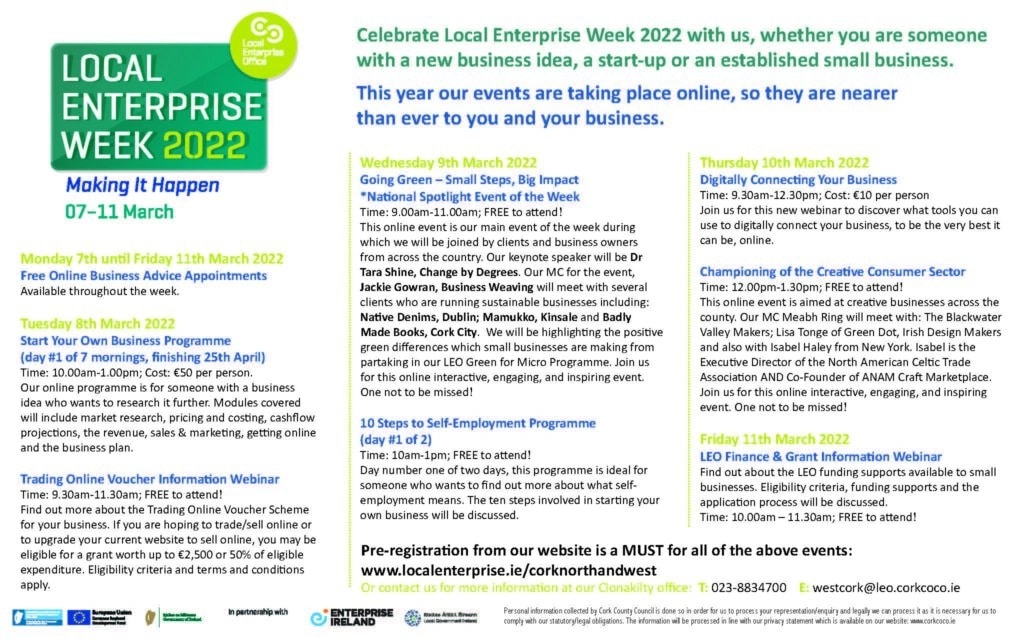 Local Enterprise Week 2022 with the LEO Cork North and West, promises to be an exciting week this March (7-11). The team at the LEO is busy planning a schedule of training and events for clients across all sectors, whether they are at start-up or an established, growing stage. Training and events are all online this year and pre-registration is essential for every event. This year the LEO Cork North and West are taking the lead on one of the National Spotlight events for Local Enterprise Week. It is envisaged that hundreds of clients from around the country will log into the event on Wednesday, March 9. The online green event entitled: 'Going Green – Small Steps, Big Impact' will be MC'd by Jackie Gowran, Business Weaving. Keynote speaker will be Dr Tara Shine, Change by Degrees. Tara's passion for and knowledge of climate change, the environment and development issues has taken her across the seven continents of the world in many different capacities. Whether she is on a podium, on air or on a panel she is committed to highlighting and addressing the difficult truths about our impact as human beings on the planet and on each other.
Also joining LEO for the event will be Susan Owens of Native Denims, which is a Dublin based company, in the heart of the city, who opened their doors in 2018 at the Chocolate Factory due to a demand for quality and sustainable garments. They are proud to be rekindling what was once a thriving industry but sadly began to diminish from the early eighties due to 'fast fashion' where price was valued over quality. These garments were and still are being sourced from places such as North Africa and Asia where fairtrade does not exist. They produce slow denim fashion for a sustainable future. nativedenims.com
Kinsale based Attila Magyar of Mamukko is also going to be speaking at the event. Mamukko is a brand of upcycled lifestyle bags and accessories. They are husband and wife team, Nora, a seamstress, and Attila sixth generation leather worker. They use local materials, as well as ocean-race sails, decommissioned rubber life rafts and airplane parts combining with upcycled or top quality Italian veg tan leather. Mamukko has pioneered the re-use of natural rubber life rafts since 2014. Their handcrafted, small-batch range of sustainable lifestlye bags are produced in their Kinsale workshop. mamukko.ie
Cork city based Sean O'Sullivan of Badly Made Books will also speak at the event. In their workshop, located in Cork city centre, they manufacture and distribute recycled paper books all over Ireland and internationally. badlymadebooks.com
Speaking on the event, Kevin Curran, Head of Enterprise, LEO Cork North and West commented: "We are really looking forward to hosting this National event as part of Local Enterprise Week 2022. We have a fantastic line up of speakers with amazing stories to tell. I have no doubt that regardless of what sector a business owner comes from, that they will learn from this event. As well as meeting with our keynote speaker and sustainable business owners, we will also be discussing the LEO Green for Micro Programme. We will learn what differences those who took part in the programme made a result. The event is online this year and this means we can reach out to an even bigger audience nationally".
Bookings and pre-registration: www.localenterprise.ie/corknorthandwest