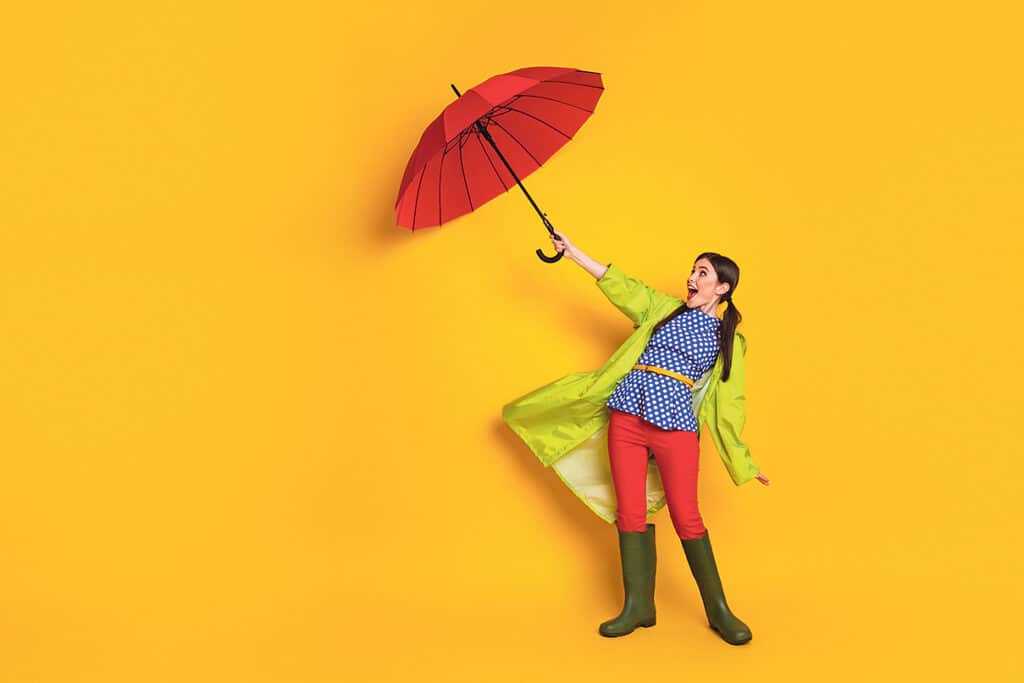 July – the 'outdoor month' closely associated with summer gatherings, glorious sunsets, garden parties, BBQs and hot sun – screams Summer. Like it or not, July is the month where we all bare a little or a lot more skin. For some of us, the idea of stripping off and wearing lighter (and sometimes more revealing) clothes can be a complete head wreck because the winter season allows us to hide away and to cover up. This time of year we can struggle with how to shop, what to wear and, more importantly, how to feel comfortable in what we wear. Chin up, you are not alone.
Living in Ireland, we are never guaranteed consecutive sunny or even dry days so the life-saving and hair-saving pocket umbrella should always be snuggling in the bottom of your summer bag. Like the confidence we have in knicker-elastic, that faithful umbrella will give you the confidence to go about your day, free from the worry that your 'look' will be destroyed, your hair flattened and your fake tan run off! I was invited to a wedding once where, rather than disposable cameras or keepsakes, one of the groomsmen gave out pocket umbrellas at the door of the church…the sun was beaming as we walked in so many guests chose not to take the very clever gift. While the ceremony was on, the heavens opened, in fact we struggled to hear the beautiful music, such was the banging and slamming of the rain against the roof. The scene leaving the church was ever-so-comical with a stampede of frantic women in heels, grabbing and shoving and pushing to get those pocket umbrellas!
Whether you are a simple gal who prefers wearing a perfect pair of denim shorts for the entire summer or a badass fashionista dying for any excuse to wear a bright floral maxi dress, you are a winner. Wide brimmed straw hats add a WOW factor to anything and before you argue that hats don't suit you, they suit absolutely everyone – you just haven't tried on enough of them in different styles and with different degrees of floppiness. Many of us don't feel comfortable looking at ourselves in the mirror, the face in particular (our brain has a negativity bias so will always look for what is wrong), and hats draw attention to the face when you are the one trying it on. However, when you wear a hat, it is the best hair and face camouflage, giving an overall more stylish look from an onlookers perspective.
I love the word 'notions'. 'That one has notions about herself'…we have all heard that phrase or maybe even said it about someone a few times. Life can be so tricky, so difficult and maybe even so heartbreaking for some, that those 'notions' might be all that a person has to keep themselves going! Style can sometimes be a way to express those 'notions' and I think that is such a beautiful thing. There is sincerity, sensitivity, vulnerability and bravery in getting up everyday and choosing the clothes that you wear to identify yourself. What I might wear may be considered outrageous by you and vice versa but, like an armour, it is our second 'thicker' skin that adds confidence and security.
The more I study, the more I see the beauty in the individuality of fashion and style. There is no old-fashioned, only the yearning to cling on to a happier time maybe? There is no punk, only a journey down the exploratory road of how to decompress. Studies show that listening to heavy metal music, rather than stir up people's anger, represents a healthy way to process anger in a productive way.
This July, wear whatever the hell you want. I mean that! Buy everything in sight if it makes you feel better or buy nothing at all. Don't fall for what you should be wearing, wear what makes you feel alive, we get one shot at this life and whether or not you are in style, out of style or feel you have no style, does it really matter? At the end of the day, or the end of your life, will that bag or those shoes that you are now drooling over but can't afford (which makes you feel less than) be a priority? I can't curse here but just imagine a load of curse words followed by NO as the answer to that question!
'It's easy for you', a common phrase thrown out when someone believes that you look better than them or thinner or younger than them. 'You could wear a refuse bag and still look good!'. Let's clear this one up, I have never seen anyone look good in a refuse bag and it's not 'easy' for anyone. This is how your brain tricks you into believing that you are not good enough, it fixates on someone else to compare you to. Learn how to override that rubbish talk that goes on inside your head. We are all as unique as our fingerprints, we come in different shapes and sizes and colours and there are beautiful clothes (expensive and inexpensive) for every single one of us. But it is never anything to do with the clothes, is it? It's all about how you feel about yourself and…get a f**king pocket umbrella!