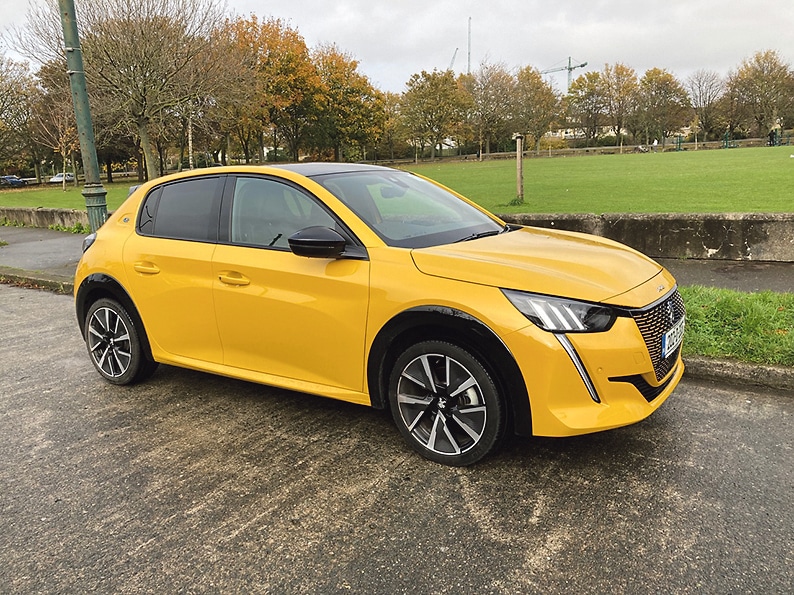 A few weeks back I was very impressed when I drove the new Peugeot 208, which was named European Car of the Year back in March. Sadly this lingering Covid-19 means that the Irish Motor Writers' cannot hold their annual awards dinner this year; if they did I'm sure the 208 might have been among the winners.
Peugeot's Marketing Manager Jana Solovjova tells me that the 208 is Peugeot's first car that has the same spec in petrol, diesel and electric. I haven't driven the diesel yet, but last week I got acquainted with the electric version, which is simply called the e-208.
I drove a top of the range GT version, which came in bright yellow and I certainly got a lot of attention in the various supermarket car parks that I visited, all within the 5K limit of course.
The official colour was Faro yellow. We are told that Yellow is a truly joyous and radiant colour. It exudes warmth, inspiration and vitality. And that's was only the colour of the e-208!
The new 208 is longer, wider and lower than its predecessor, but only in millimetres. In the new version the exterior design embodies the DNA of the brand with 3-claw LED front headlights.
The classy design is replicated inside the car where Peugeot are very proud of their i-Cockpit with its heads-up display and touchscreen. The front is dominated by a neat sporty-looking steering wheel. I can confirm that the Apple Car-Play works very well.
Range Anxiety and slow charging points. They seem to be the two major bugbears for motorists who are thinking about buying an electric car. However, with the Green Party now in Government hopefully we will see a push for more charging points for electric vehicles being installed around the country when we finally get the better of Covid-19.
It's no secret that what happens in England, usually follows here. England's first electric vehicle forecourt is due to open later this month. Located near Braintree in Essex, Gridserve's EV forecourt will be the first of over 100 sites to be built over the next five years, as part of a one billion pound programme. Thirty electric vehicles can be charged simultaneously with high power chargers, enabling drivers to add around 320km of range in 20 minutes.
This has been a turbulent year for the car market globally, particularly in Europe. Although car registrations dropped by 29 per cent during the first nine months of 2020 there are signs that Europe is all set for an electric revolution. According to figures released for September 2020, this revolution has already started. Can Ireland be far behind?
Prices start at €17,995 for the basic Active Petrol version. Diesels start at €19,250, while the electric starts at €26,809. My top of the range G Line version will cost you €30,440.
Peugeot claim that the range of 340km, but I think around 300km is more accurate. Don't let the battery get too low as it can then take a long time to power back up if you do. And of course if you are thinking of buying it's advisable to get a home charger.
Yes, the Peugeot 208 has plenty of French flair and now comes with an electric edge, the e-208.