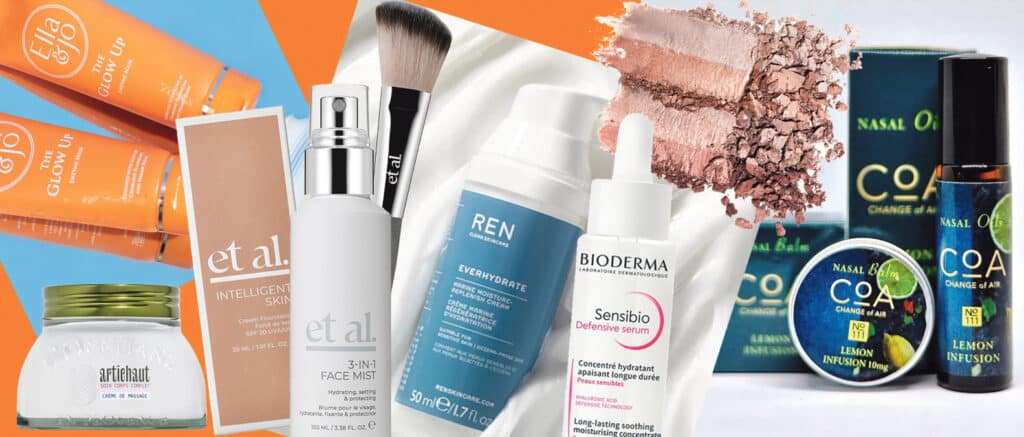 Bioderma Sensibio Defensive Serum
Did you know that sensitive skin affects over 60 per cent of the Irish population? Fortunately, the latest product innovation from Bioderma, the Bioderma Sensibio Defensive Serum, has been specifically formulated to prevent premature skin ageing on sensitive skin caused by external aggressors to the skin barrier. With its unique defensive technology that works to soothe and strengthen the skin's defences, this serum targets the symptoms of sensitivity, as well as the biological causes, increasing the epidermis's ability to defend itself against external stressors, helping to rebalance skin and prevent premature ageing. The serum is enriched with vitamin E, which intensely hydrates and nourishes the skin, while carnosine soothes the skin with powerful antioxidant properties. Additionally, hyaluronic acid draws moisture to the skin and promotes a plumper-looking complexion. Its light texture and rapid absorption works to protect against free radicals, while improving skin radiance and reducing wrinkles and fine lines, €32. Available from online retailers, and pharmacies nationwide.
REN Everhydrate Marine Moisture Replenish Cream
If you're looking for hydration without heaviness, REN's newest addition to the family, Everhydrate Marine Moisture Replenish Cream harnesses thirst-quenching natural actives to deliver dewy, deeply hydrated skin for up to 48 hours. Powered by a moisture-maximising matrix infused with pioneering water-retention technology and sustainably sourced Algae Extracts this lightweight, yet rich, water-locking cream floods skin with moisture, then traps it on the skin's surface to intensively replenish and deliver relief from dehydration deep down when, and where, you need it most. Cellular pectin from hydrating freshwater plant delivers instant and long-lasting hydration to help smooth the appearance of fine dehydration lines. Freshwater microalgae boosts skin's resilience and helps to protect against water loss. Hyaluronic and polyglutamic acid replenish the skin's moisture reserves, while REN's Hydra-Smart Technology locks in moisture for longer. And while this cream is heavy on results — it's surprisingly light on texture for a comfortable finish, even on oily skin types, €37. Available from REN stockists nationwide and online from www.renskincare.ie
et al Beauty Collective
et al. is the makeup that does more – delivering the joy of makeup, blended with the science of skincare whilst being responsible to the planet. The formulas are backed by over 30 years of skin health expertise and are vegan, cruelty-free and powered by a synergy of skincare actives. Among the collection, that also includes hypoallergenic and dermatologically tested makeup brushes (from €23), Intelligent Skin Cream Foundation SPF 20, available in 32 shades, provides a long-lasting, 3D matte glow and is packed with active ingredients to hydrate, protect, and shield – while providing a flawless base for up to 8 hours, €56. Looking to add more than just a healthy glow to your skin Complexion Glow – blush and eye multi-purpose palettes are formulated with soothing aloe vera and antioxidant vitamin E to help protect skin while keeping it feeling hydrated, smooth, and of course glowing! €37.50, while 3-In-1 Face Mist does three jobs in one: hydrating your skin courtesy of moisturising Unitamuron, setting your makeup for a busy day, and protecting your skin from a wave of environmental stressors such as pollution and UV exposure by its antioxidant effect. et al is makeup that looks and feels amazing, but also does amazing. Lots of amazing! Available online from www.etalbeautycollective.co.uk
L'Occitane Artichoke
Collection
Artichokes, rich in polyphenols and inulin, are recognised for their fat-digesting, diuretic, and cholesterol-fighting properties. To turn this detox superfood into a cosmetic extract, L'Occitane turned their focus to the leaves, which are best known for their medicinal properties. Co-developed with Spa therapists, the Artichoke collection has a holistic approach in treating the body, mind, and skin. Made with plant-based formulas, they detoxify the body and improve microcirculation while promoting a moment of well-being. The Artichoke Massage Cream, €54 is an expert body moisturiser that firms-up the skin and helps visibly improve the appearance of cellulite. Combined with massage it also helps reduce swollen and heavy leg sensations. Its melting refreshing texture leaves the skin hydrated for up to 8 hours. The Artichoke Warming Body Scrub, €45 has a jelly like texture that when massaged into the skin, provides a warming sensorial sensation while sugar grains polish away dead surface skin cells and impurities. Perfectly cleansed, skin is smoother, firmer, and detoxified. Legs are feeling lighter. Available in L'Occitane stockists nationwide and online from www.loccitane.ie
Change of Air Nasal and Oil Balms
Protect yourself and the whole family with Change of Air's premium range of nasal oils and balms that offer a naturally powerful first defence in helping to prevent airborne bacterial and viral infections such as cold and flu. Founder and alternative therapist Bernadette Nerwal's grandparents were herbalists, cultivating their own garden of plants to create natural healing remedies "I have mixed this remedy for my family, friends and clients for years" says Bernadette. After two years of sourcing the best quality ingredients and perfecting the formula, I am really excited to be putting an 18th century remedy that will help to protect against sickness into school bags, purses, and pockets." The oils and balms are formulated with the addition of either peppermint, lemon, or grapefruit essential oils – all of which are antimicrobial, natural mood-boosters with evidence to support their use in helping to treat anxiety and banish mental fog. To use, simply apply the balm or oil around and just inside the nasal opening, reapplying every hour. They can also be applied directly onto pulse points whenever you need a reassuring lift, €24.95 each or €39.95 as part of a bundle, and are available to purchase via www.coasences.com.
Ella & Jo The Glow Up
Enzyme Mask
Give your skin the glow-up it deserves with the latest launch from Ella & Jo, The Glow Up Enzyme Mask. Formulated with gentle exfoliating fruit acids; the four powerful P's – a blend of pumpkin,
pomegranate, papaya, and pineapple enzymes accelerate cell renewal for smooth, even skin texture.
Hydrating hyaluronic acid and glycerin plumps fine lines and wrinkles while Vitamin E strengthens skin barrier function and contains nourishing and moisturising benefits. Vitamin C, a superhero ingredient brightens the complexion, stimulates collagen synthesis, increasing skin firmness reducing fine lines and wrinkles and sunflower seed oil, chock full of vitamins and antioxidants supports the skin's natural barrier and promotes hydration. For a fresh-faced, smooth, and naturally radiant complexion, this mask is a skincare must-have, €36. Available from Ella & Jo stockists nationwide and online from www.ellanadjo.ie
For all the latest beauty news follow me on Instagram and Facebook @shernamalone.ie
Book Online for one of my advanced facial treatments or a skincare consultation www.shernamalone.ie
Advanced Facial Treatments | Professional Peels | Medical Microneedling | Byonik Laser | Venus Glow| Dermalux LED Light Therapy |Slimyonik Body Airstyler | Teen Facials