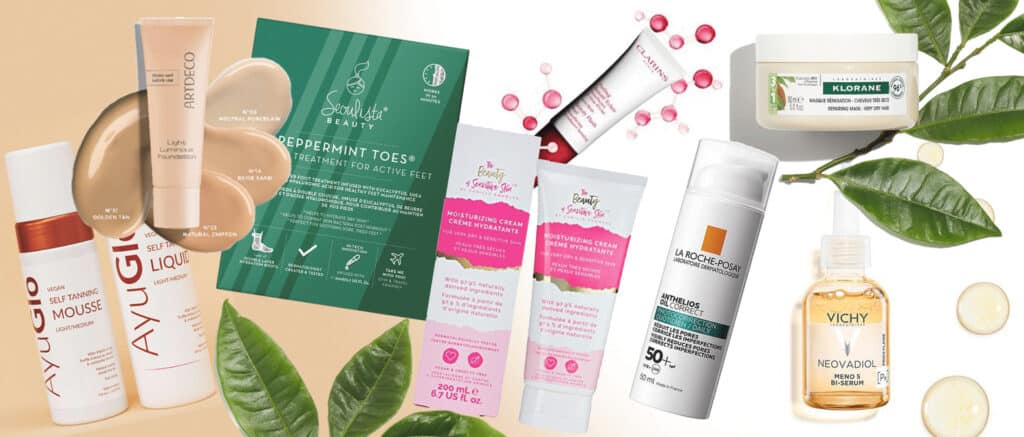 AyuGlo Tan
The multi award-winning cosmetics brand founded by renowned make-up artist Suzie O'Neill has developed a premium tanning range which is set to take the market by storm. With a selection of mousse and liquid products to choose from in light/medium and medium/dark shades, it suits all skin tones and types. Dancing with the Stars winner Nina Carberry has also been unveiled as Brand Ambassador for Ayu and like many ladies nationwide, when she heard that Ayu was developing a tanning range called AyuGlo, she was beyond excited and just knew AyuGlo would be in a different class, and it is. With its unique scent of feminine rose, peony, geranium, iris, and pink fruits paired with sophisticated ginger and patchouli, they smell divine! AyuGlo Mousse (150ml) and AyuGlo Liquid (200ml) €23.50, available online from ayu.ie and Dunnes Stores.
Vichy Neovadiol Meno5 Bi-Serum
During perimenopause and menopause, the skin often bears the visible impacts of hormonal changes, with reduced collagen production and increased dryness. Neovadiol Meno5 Bi-Serum, with a unique synergy of dermatological actives, targets five key visible signs of menopause on the skin, including increased dryness, dullness, uneven skin tone and texture, and loss of firmness, causing skin to wrinkle and sag. Powered by a synergy of active ingredients; proxylane, niacinamide (vitamin B3), Vitamin C and E, glycolic acid, and skin-nourishing omegas 6-9, this lightweight formulation helps to intensely nourish, restore comfort, and reveal a radiant, even looking complexion. Skin texture feels smoother and looks firmer, helping you to feel your best throughout the menopause, €39, available in selected pharmacies nationwide, instore, and online.
Klorane Nourishing and Repairing 3 In 1 Mask with Organic Cupuaçu
French botanical haircare brand, Klorane recently launched their new range of haircare products with Organic Cupuaçu Butter. The 3-in-1 Nourishing and Repairing Mask is a luxurious mask, specially formulated for very dry, damaged, or brittle hair types. Enriched with Organic Cupuaçu, a fatty acid-rich ingredient, the creamy mask deeply nourishes the hair, imparting needed hydration whilst filling in gaps in the hair fibres, increasing the hairs overall strength and improving its appearance. It can be used as a classic mask, an overnight mask for the hair lengths or as a daily styling product to be used on the ends. Hair is left feeling fuller, with enhanced shine and an unbeatably soft finish, €18 Klorane products are available from selected Irish pharmacies nationwide and online from millies.ie.
Clarins Beauty Flash Peel
Recently launched, Clarins Beauty Flash Peel works on all levels of the skin to effectively and visibly target lack of radiance, uneven skin tone and visible wrinkles. With glycolic and salicylic acids to exfoliate the skin to boost skin regeneration and restore radiance and suppleness, this is a quick, convenient, and effective way to renew your skin at home. Simply apply it in the evening, 2-3 times per week in a thin layer to cleansed skin, it has a very handy brush design for easy application. Avoid the area around the eyes and leave it to work for five-10 minutes before applying your night cream, €43 available from selected Clarins stockists nationwide and online from clarins.ie
The Beauty of Sensitive Skin
The award-winning vegan-friendly international sensitive skin range by Camille Knowles is a four-piece range which has been carefully formulated to support and protect sensitive and eczema-prone skin and focuses on fully natural ingredients. Pregnancy-friendly, and baby-friendly too, they contain high-performing ingredients like jojoba oil, which works to protect the skin's barrier as well as BIOECOLIA®: a prebiotic to help balance the microbiota (ecosystem) of the skin, encouraging beneficial skin flora. The Daily Moisturising Cream, 100ml €13.99 for dry and sensitive skin, is packed full of nature's finest ingredients to soothe, calm, and hydrate your delicate skin. Other products in the range include a skin wash, bath oil and bath salts, all available to shop from over 30 Boots Ireland stores nationwide.
ARTDECO Light Luminous Foundation
The new ARTDECO Beautify your Luminous Skin collection provides a naturally beautiful, luminous complexion for the summer months ahead with the combination of a nourishing, light foundation, and delicate setting powders. The vegan Light Luminous Foundation with blue light protection provides a natural, radiant glow. The liquid foundation has a light to medium coverage and contains at least 90% ingredients of natural origin. Its breathable, silky texture melts into the skin. Formulated with Lumesens, to protect the skin from blue light and the resulting premature skin ageing, it can also optically reduce wrinkles and diminish blemishes. Available in five shades, €20.50 available in selected pharmacies and salons nationwide and online from stralabeauty.com
Seoulista Peppermint Toes
Introducing NEW Seoulista Peppermint Toes®, the high-performance treatment for helping sore, over-worked active feet get back on track. Designed for sport-fuelled lifestyles and busy days, this one-step, hydrating foot treatment targets the most common concerns of active feet, including rough, dry skin, and even fungal infection. The serum-infused boots are filled with purifying eucalyptus leaf extract to help fight bacterial build-up, soothing peppermint leaf and shea butter to help combat inflammation, hydrating hyaluronic acid and a cleansing blend of natural botanicals to nourish the feet. This powerhouse of potent ingredients is sealed against the feet for a 30-minute targeted treatment to deliver fast, effective results at home, leaving them smelling fresh, looking fit, and feeling ready for their next adventure, €11 available in selected pharmacies nationwide, Dunnes Stores and online from seoulistabeauty.com
La Roche Posay Anthelios Oil Correct SPF50+
New from La Roche Posay, Anthelios Oil Correct is a daily corrective sunscreen for oily, blemish prone skin. Combining La Roche-Posay's pioneering expertise in sun protection with its dermatologist recommended skincare; Anthelios Oil Correct SPF50+ offers broad spectrum protection against UVA and UVB, pollution and oxidation. This hybrid sun care product is enriched with key dermatological actives for oily skin: Salicylic Acid, Niacinamide and Zinc to unclog pores, correct imperfections, soothe inflammation and helps reduce excess sebum. The gel-cream provides up to 12h mattifying finish and the non-oily texture leaves no white marks and is suitable for use on all skin types. €26, available in pharmacies nationwide, instore, and online.
For all the latest beauty news follow me on Instagram and Facebook @shernamalone.ie
Book Online for one of my advanced facial treatments or a skincare consultation www.shernamalone.ie