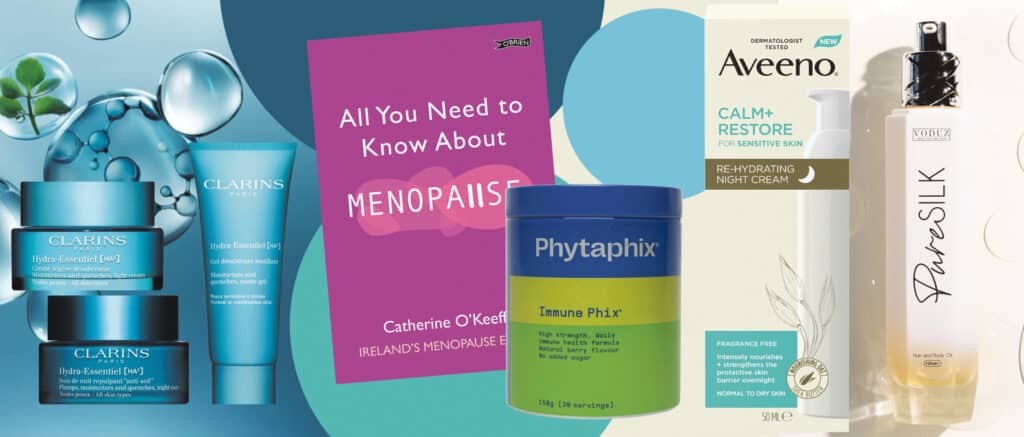 Clarins Hydra-Essentiel [HA2] Matte Gel
Offering inclusive hydration dedicated to all women whatever their age, ethnicity, or skin type; the new Hydra-Essentiel [HA2] range from Clarins, with seven formulas to choose from, delivers a triple plumping and hydrating action in just 60 seconds. At the heart of each formula is Clarins Hyaluronic Power Complex – a powerful blend of high and low molecular weight hyaluronic acids to slow down transepidermal water loss keeping skin hydrated for longer, while extract of organic leaf of life boosts skin's own hyaluronic acid production by 161 per cent, giving skin a great hydration hit, leaving it nourished and plumped day after day. For normal, combination skin types, Hydra-Essentiel [HA2] Matte Gel with its Hyaluronic Acid Complex and organic alpine willow herb has a fresh, mattifying texture that melts instantly into the skin, leaving it plump, luminous, and comfortable, €45 available from Clarins stockists nationwide and online from www.clarins.ie.
Phytaphix Immune Phix
Does your immune system need a #Phix? Developed by Dr Conor Kerley, founder and Chief Science Officer at Phytaphix, Immune Phix contains specific and crucial vitamins, minerals and phytonutrients known to help maintain immune health. Natural plant-based Vitamin C from dried fruit powders, a unique Vitamin D Complex, including vegan Vitamin D, Irish Sea magnesium, antioxidant trace minerals selenium and zinc, Vitamin B12, Polyphenols and Flavonoids, Phytafix is the world's s first and only product to combine these specific nutrients. A powdered product, designed for convenience to be easily added to most foods and drinks with a delicious berry taste, it is formulated for anyone who feels they need support for their immune system, anyone feeling tired or run down, or for anyone who struggles to get the daily recommendations of fruit and veg. Available online from www. phytaphix.com €45.
Aveeno Calm + Restore® Re-Hydrating Night Cream
Aveeno Calm + Restore Re-Hydrating Night Cream comes as a welcomed extension to the existing range of Calm + Restore daily face care products which are clinically proven to nourish the skin, helping it to feel calm, restored, and healthy looking. With research suggesting the skin barrier is more prone to irritation during the night, it is increasingly important to rehydrate skin after a day of exposure and provide it with the right ingredients for it to repair. Dermatologist tested and fragrance-free, Calm + Restore Re-Hydrating Night Cream is made with Prebiotic Oat (known to help soothe and repair skin), Mineral Complex (known to increase the surface skin cell turnover), calming Feverfew (known for its antioxidant and skin calming properties) and rich Shea Butter. The formula's rich and velvety texture provides up to 48-hour moisturisation, replenishing and helping strengthen skin's moisture barrier, €14.99, available from pharmacies nationwide.
'All You Need to Know About Menopause'
Everyone's journey through menopause is different, but we all need support through the challenges it brings. Wellness Warrior Catherine O'Keeffe is on a mission to shatter the taboo around menopause and has already provided life-changing information to thousands. Drawing from the latest research, 'All You Need to Know About Menopause' answers all your questions about gaining control of physical, mental, and emotional symptoms, assessing the pros and cons of HRT and alternative therapies, how to negotiate menopause in the workplace, which supplements are best for you and how nutrition and exercise can help. From hot flushes to mood swings, weight gain to joint ache, brain fog to depression, Catherine's expert help will help you navigate the different stages, from perimenopause onwards, leaving you empowered and informed and feeling like yourself again! Available in bookshops nationwide and online from www.easons.com €19.99.
Voduz Pure Silk Hair and Body Oil
Pure Silk Hair and Body Oil, with its sensual vanilla and bergamot scent, is the latest product to hit the shelves from Irish-owned haircare brand, Voduz. Each protective drop will transform and overhaul your lacklustre locks and lifeless skin. Harnessing the power of argon oils and enriched with Vitamins A and E to nourish and protect, the lightweight and fast-absorbing formula infuses each individual strand of hair and skin with long-lasting hydration and luminance. Fitting right into your haircare (and beauty routine), the ultimate magic of all, it is suitable for all hair types and can even be used with wigs and extensions, €29.95 available online www.voduzhair.com.
For all the latest beauty news follow me on Instagram and Facebook @shernamalone.ie
Book Online for one of my advanced facial treatments or a skincare consultation www.shernamalone.ie
Advanced Facial Treatments | Professional Peels | Medical Microneedling | Byonik Laser | Dermalux LED Light Therapy |Slimyonik Air Bodystyler | Teen Facials