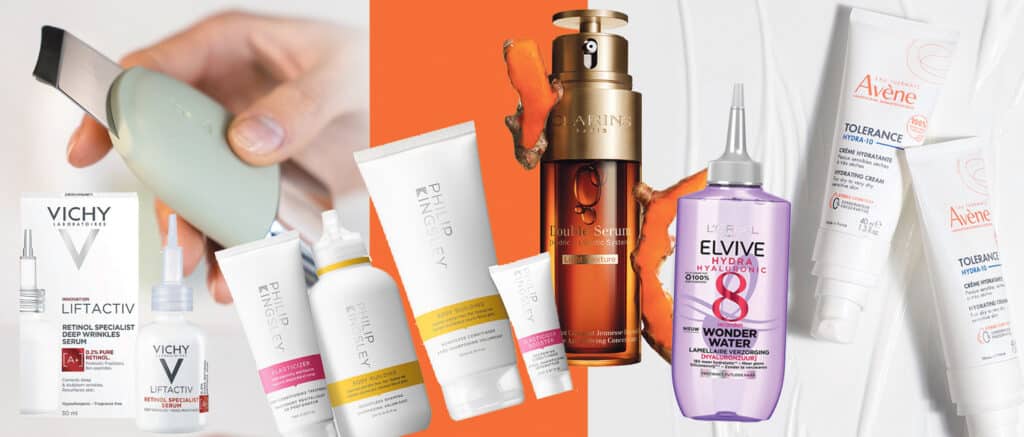 Clarins Double Serum Light Texture
The iconic Clarins Double Serum is now available in a light, imperceptible texture to effectively target fine lines, wrinkles, and uneven skin tone. Its unique dual formula combines 21 powerful plant extracts that help boost the five vital functions of the skin – regeneration, nutrition, oxygenation, hydration and protection. Its dual texture – evanescent oil and fluid gel – has a new 50pc lighter feel, absorbs instantly, and leaves a "barely there" finish leaving skin feeling smooth and silky. With a pleasant fragrance with fruity, floral, fresh and refined notes, the nested bottles contain the two formulas in a technological and eco-designed feat that prioritises responsible materials and limits waste. Double Serum Light Texture is suitable for all skin types and ideal for those who prefer a lighter texture in their skincare products. Use morning and evening for visibly smoother, firmer, and more radiant skin. Available online from www.clarins.ie and selected pharmacies nationwide, €98.00.
Vichy Liftactiv Retinol Specialist Deep Wrinkle Serum
Liftactiv Retinol Specialist Deep Wrinkle Serum is specifically formulated to reduce wrinkles, while improving overall skin tone and radiance for a healthy-looking, youthful complexion. Formulated with Vichy's highest concentration 0.2pc Pure Retinol, combined with 1% Probiotic derived fractions, a cultured bacterial lysate known for their skin repairing properties, this lightweight milky serum is designed to nourish the skin, helps to promote skin renewal and leaves skin feeling more elastic, firmer, and supple. It is one of Vichy's biggest ever clinical studies on a product; tested over five months with more than 15,000 applications and is suitable for all skin types and tones. Clinically proven, fragrance free and suitable for all skin types and tones, apply this serum, at night after cleansing. And remember, when introducing any retinol product into your routine, limit use to two to three times per week, while skin builds up tolerance and SPF is a must when using retinol. Available from online retailers, and pharmacies nationwide, €44.50.
Philip Kingsley Virtual Hair Consultations
Female pattern hair loss, male pattern hair loss, menopausal hair loss or traction alopecia, they can all be highly emotional, distressing, isolating experiences but whatever signs or type of hair loss you may be facing, the Philip Kingsley team of world-renowned Trichologists (hair and scalp experts) are here to help. Leaders in hair and scalp care, Philip Kingsley are delighted to now be offering virtual consultations from the comfort of your own home. Their trichologists are able to provide remote advice, treatment and products for a great many hair and scalp concerns. When you book a Virtual Consultation, you will complete a comprehensive client form to help them gather all the information needed for your appointment (photographs of your hair and scalp will also be requested). You will then meet your personal Trichologist via video call, who will guide you through a thorough consultation, which will last 45-60 minutes giving your Trichologist time to explore all factors affecting your hair and scalp, such as general health, diet and lifestyle, your medical and family history. At the end of your Virtual Consultation, you will receive a personalised, at-home care plan and any products prescribed within your bespoke treatment and wellness plan will be dispatched discreetly to your door. Most importantly, you will be starting your journey to healthy hair without delay. Available Monday to Friday, with prices from £150, if you would like to make an appointment or find out more go to www.philipkingsley.co.uk or email: reception@philipkingsley.co.uk
Haumea Ultrasono Device
The Ultrasono device is the latest facial device from Haumea skincare, a luxury skin tech brand that specialises in facial devices to achieve an 'in salon' experience in the comfort of your own home. Created and developed by skincare professional, Anna Forde, Anna has garnered extensive experience within the field, having created and grown the hugely successful 'The Beauty Suite' salon in Co. Galway for the last fifteen years. The Ultrasono device, which is waterproof and rechargeable, has two settings: clean and tone. The 'clean mode' can be paired with any cleanser, and uses 30,000Hz high-frequency vibrations and positive ions to extract trapped dirt, dead skin cells, blackheads, and oil from pores, giving skin that instant oh so coveted glow. The second setting, 'tone mode', uses high-frequency pulsations and negative ions to promote blood circulation and the production of collagen and elastin. The light tapping vibration enhances the absorption of skincare products while stimulating facial muscles to give the skin a lifted effect, €229.99 available online from www.haumeaskincare.com
L'Oréal Elvive Hydra
Hyaluronic Acid 8 Second Wonder Water
A new addition to the wonder water family, transform dehydrated hair in 8 seconds with Elvive Hydra Hyaluronic 8 Second Wonder Water from L'Oréal Paris. A skincare-inspired rinse-out liquid conditioner with hyaluronic acid, the eight second hydration transformation gives 18x more hydration while hair looks plumped, bouncy and 5 times shinier. The ultra-lightweight, silicone-free formula is powered by breakthrough Lamellar Water Technology and infused with a shot of hyaluronic acid. It forms a film of care around the fibre to smooth hair and maintain a healthy look, leaving hair visibly transformed with an instant and intense feeling of hydration, a glassy shine, and a silky touch. Effective on all hair types, ranging from thin, fine to thick, curly textures, it is scientifically designed for dry, damaged, and dehydrated hair and provides no weigh-down, even for ultra-fine hair. A must-try for anyone looking to add extra hydration to their hair care routine, €15.00 available from online retailers, and pharmacies nationwide.
Avène Tolerance Hydra-10
Did you know, your skin's microbiome is made up of micro-organisms that live on your skin; working to preserve barrier function and protect overall skin health. Your skin's microbiome is affected by everything from skincare, age, and lifestyle to the environment. Winter for example, presents an extra challenge – skin faces extra increased external aggressors, making it weaker, more sensitive, and more prone to breakouts. New from Avène, Tolerance Hydra-10 provides ultra gentle hydration that works in harmony with your skin's microbiome. Rich in hyaluronic acid and Avène Thermal Spring Water, the patented formula of only 10 ingredients is made from a unique biomimetic formulation which replicates the skin – combining natural ingredients found in skin with a simulation of its protective structure, skin is hydrated without disrupting the microbiome – keeping it protected, calm and perfectly balanced. Suitable for adults, babies and children, Tolerance Hydra-10 Fluid €24 – is suitable for normal to combination skin, Tolerance Hydra-10 Cream €24.00 is suitable for dry/very dry skin. Available from online retailers, and pharmacies nationwide.