A new month: Push yourself: Rejuvenate: Inspire others: Laugh lots.
I think that we are all fading a little, a bit like a vase of flowers that you really need to throw out or a shabby tea towel (and we all have a few of those). We all need a boot camp of positivity and motivation. Some have turned into snarly teeth-showing dogs and others have just 'checked out' – you know when the light is on but no one is home – this never-ending lockdown is soul destroying! There, I've said it. It needed to be done. I'm completely finished with 'social distancing'; I'm doing the 'physical distance' thing. We need to be in contact with each other more than ever before, just carefully. We need to look into each other eyes and be reminded that everything will be ok…sometime soon. My other life involves the world of science; neuroscience in particular this last while and, as a result, I am concerned about the long-term effects of a 'lack of joy' and continual disappointment and how this will impact on our mind-set and neuroplasticity moving forward. So, now, more than ever before, it is crucially important that we 'connect' with each other. Be silly, be ridiculous, watch loads of comedies, tell funny stories and remind your brain what it is like to laugh long and hard. A LAUGHING BOOT CAMP, that's exactly what we all need, so I really hope that you have as many funny friends as I do, they are better than any multivitamin tonic.
The lack of a social life and working from home has turned many of us into sweat pants-aholics. Be careful, they might feel really comfortable but they invite you to stretch them…as much as you want, until you realise that there is a whole lot more of you in them than you had hoped! Start off this month of longer evenings by waxing or shaving your legs, belittled to the home kits I know, but we are warriors and warriors battle on and do what is required. Remind whoever else lives with you that, no, you are not being murdered in the bathroom – no need to call the guards, you are just waxing your legs, or trying to. It will be worth it. We have to look forward, those legs will be on show soon, so victorious we must be.
The dreaded subject of fake tan. Dare I even bring it up? Well, it's as simple as this, you either decide to go for the 'pale' look or you learn how to flawlessly put on fake tan. I struggled for years with coverage on my legs; then I found Bondi Sands with a top up of Sally Hansen spray to cover any missed bits. This was the perfect solution until our weather graced us with enough sunshine to naturally tan the skin. Now a 'tan primer' has fallen into my lap and I just can't say enough about it. This is for anyone who exfoliates, moisturises and follows all the instructions but still ends up with blotchy fake tan legs. The rest of our bodies are so much easier to tan, it's always our bloody legs that throw a tantrum because the skin is so different there. Most tan producers remind us that it is after tanning, not before, that you should apply plenty of moisturiser, except for those critical knee, ankle and elbow parts. When the tan has developed, that is when you should lash on moisturiser – otherwise it will hinder tan development.
Similar to a primer that you would use before applying make-up, a body primer creates a base on the skin that not only ensures your tan stays put and develops evenly, it also fills out pores, blurs any imperfections. Hey, it's a win-win and they really work. I have the Lusso Tan Primer and it is fantastic and very cost friendly at about €18. This wonderful product contains Organic Witch Hazel, which refreshes the skin, locks in moisture and cleanses away impurities. I'm 100 per cent recommending, do give it a go! Always remember that the golden rule to applying tan is that 'less is more'…it's easier to add tan than remove it. Get practising now. Grab onto anything and everything that will make you feel better and look better!
This is the best time to take out all of your summer clothes. Have a good look through everything. Be gentle with yourself if your body shape has changed, a woman's body is a work of art, sometimes added to and sometimes there is less! Scattered in among those bits and pieces will be a few items that can be incorporated into your wardrobe now, while you will have to wait a while to wear most of it. Check all of your white shirts, blouses, t-shirts, trousers – and decide if they are still white-white, otherwise they may have to be replaced. When I lived in New York, my friend Martha would put on a 'vinegar white wash' at the start of the summer. The key was to do it on a day that the sun was splitting the stones (and there was no shortage of days like that in New York) and hang them out to dry in the sunshine after. You were guaranteed the 'whitest' of whites for another season.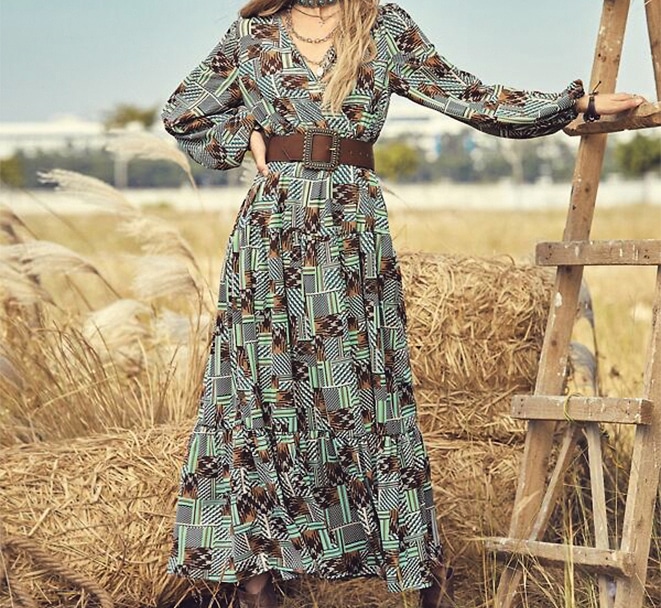 Long paisley dresses, cinched in at the waist with a belt have to be the 'must-have' of the season. They are so easy to wear, no fuss and can be very flattering. Choose a pattern with your favourite colour as the pre-dominant colour. A bright 'illuminating yellow hue' and 'ultimate grey' are the colours of 2021; both represent unity, stability and hope. Mix them together with tan or biscuit and they look sensational. Bold red and fuchsia fedora are hot on their tails, the brighter the better. The brightest of blues, mirroring the Aegean Sea is a wonderful colour to uplift and change your mood…and we need that. Consciously choose to wear the brightest of colours; they do impact on how you feel in a very big way. The trousers are loose, the tops are loose and the cut is asymmetrical at times. Slits are back and high. There are a lot of open backs, lovely on the 'young ones' but the rest of us need to choose a billowing fabric for a more tentative take. Big puffy shoulders and sleeves will bring a big smile to the face of the girl who loves OTT fashion. What I do like about this take on the look is that it cinches in at the elbow so that you are not left drowning in fabric around your wrists. I've fallen in love with the Chanel wide-leg suit trousers in grey – I guess it will have to be a long-distance affair! They are the ultimate in suave.
It is time to start hunting for your favourite Birkenstocks and flip-flops, no matter what is ahead, they are like a 'boo-boo-kiss', making everything feel better before you get married twice! Click and collect to your hearts content.
Good quality eye-catching cloth bags have taken over. I have been gifted a gorgeous black and red Samui canvas tote bag that was specially commissioned with Cork artist Deirdre Breen, with a 20-year anniversary logo and I adore it. So practical, a statement piece and perfect for small shopping trips too. Bags like this make a hell of a lot more sense than a little handbag; they are so perfectly practical while being incredibly stylish at the same time. I also think that it is such an organic way to advertise a shop, your favourite boutique in particular.
So, getting waxing and stripping and painting your toes, soaking in the tub, smothering yourself in moisturiser, deep conditioning your hair and saying beautiful things to that goddess in the mirror; yes, the one looking back at you – this is the agenda for April. We are all miracles, against all the odds we have survived and thrived. Hold up your head, flick back your hair and work that miracle, girl!