Who else believes that we are caught in an episode of Star Trek, moving along at warp speed? How is it September already? Who gave permission to end our summer just like that? This glorious 'back to school' month signifies finishing those uncompleted tasks and rectifying and improving your current situation. I guess this makes complete sense; it's the beginning of a new phase and a somewhat slowing down in preparation of the 'hibernating' months ahead. If you look at the numerology of September, then it brings along the powerful energy of the magnificent number nine, bringing luck, motivation, enthusiasm, and a mystical vibration that encourages you to realise a clear path to making your dreams come true. This might sound ridiculous but there was a time in our not-so-distant past, when the pace of life was much slower, and people pondered the changing of the seasons from an energetic perspective and the direct effect on the psyche. The gemstone connected with the month of September is the resplendent sapphire. The most common colour of the sapphire is a brilliant blue, ranging from a soft pale blue to a deep cobalt blue, although the sapphire is allochromatic – it comes in all colours.
I must admit, after doing a little bit of research into the meaning behind September, I was not one bit surprised to find indigo blue emerging as one of this season's 'must have' colours. It is a distinctive tone that is said to promote high levels of concentration. Find yourself a dress or a puffer in this hypnotic shade because it suits almost any palette or hair colour, especially when you vary the material. Mix it with blue denim for some extra punch. I adore this shade. If I were asked to put a colour to life, then indigo or sapphire blue would most definitely be it. This colour has an energy that is a wonderful mix of serenity and energy, all in one.
I guess I am preaching to the converted announcing that September, undoubtedly, brings along a 'cooling' of temperatures. Whether it is welcomed or not, there is no avoiding the fact that we have to learn to welcome it with perhaps covered arms and legs. Designers are calling this season's version of a warm tan 'clay' and it certainly will warm up your wardrobe, all the while looking sensational when mixed with your existing browns. Have a look for a clay overcoat or sweater dress or perhaps a chunky jumper or a pair of funky trousers. This shade looks wonderful on blondes, brunettes and most especially redheads! If you want a 70s vibe then mix with mustard or green… for an added bit of pzazz. Clay teamed with mint green is an eye-popping look and might turn out to be a much sought after ensemble. You could simply add a mint green belt to a plain clay dress – the look is refreshing and endearing. For the nervous among you, choose an oversized loop bag, pumps or boots in this earthy tone.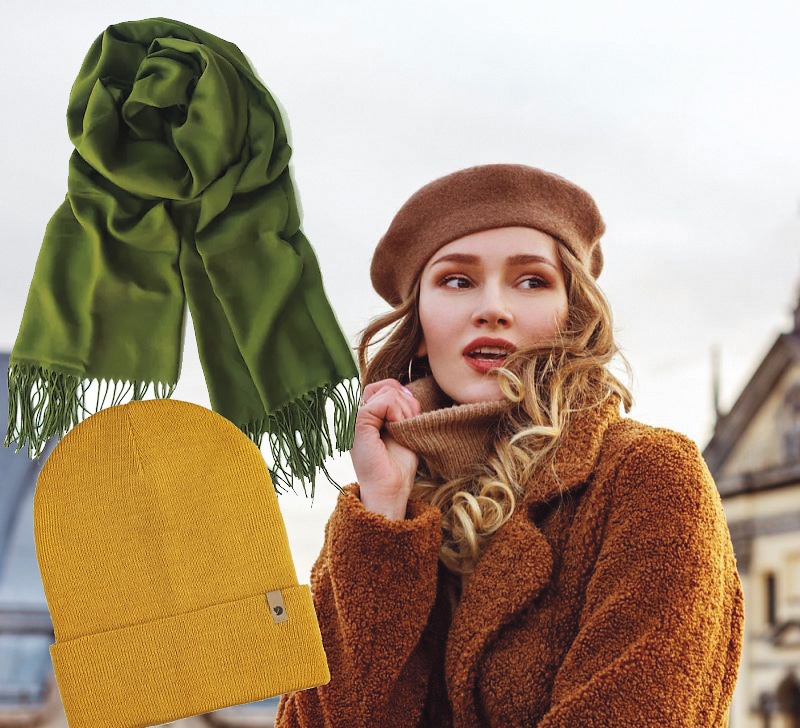 Fuchsia is re-emerging for the bold and confident girl. Scratch that, fuchsia is for everyone, because, like red, it promotes and exudes confidence! Whether you choose a shirt-dress, blazer, cropped knitted cardigan or even a clutch bag, this fabulous hue gives instant 'sensationalism'… This season, we are enticed to wear it more so than anytime before because we are given the new option to tone it down with neutrals, like grey, camel or ivory. Pink and camel would be my firm favourite, a real 'chic' look for an autumnal day or night.
Oftentimes when loud pink is in, vibrant red is out, but not this season, they are both vying for top spot. This means that we are lucky enough to have both available to us, depending on our mood, the weather or the occasion. Red is a maximalist primary colour that can adapt to minimalist wardrobe collections. You can incorporate red into your classically tailored pieces in a big way or just keep it to shoes, totally up to you. A glorious full red skirt, pleated or not, will be a great addition to any wardrobe. Make sure that you have a dramatic red clutch bag ready for lots of going 'Out Out'.
Silver is not just for special occasions, now you can parade this invigorating shade on everyday staples like blazers, pleated skirts and cable knits. Silver and cream is a new mix and I must admit I like it very much. Lilac is emerging as another strong contender for Autumn, and like fuchsia, looks adorable with camel or caramel. Mix and match to your hearts content, be original where you can and enjoy blending these 'feel good 'colours.
Comfort is still key in elevated knitwear and this is the area that you can splurge on colour. It's all about being and looking vibrant. Designers wanted to give us all a well-earned and much-needed lift. Life can and will blindside you every so often. None of us know, from day to day, what the next day might bring. We can be happily plodding along one day and the next consumed with anxiety about our health and the impending doom associated with waiting for results. Sometimes all the positive vibes and mindsets in the world can't and won't ease that pressure. The sleepless nights associated with worrying about a loved one's health can leave you helpless, distracted and weary. Do we ever really know what is going on in the life of another? Perhaps the best way to move forward is to tread carefully with others, you just never know the anguish that might be hidden behind a smile. Compliment everyone that you meet, find something to praise in that person, there is always more than one thing, there is always a multitude of things that deserve recognition and acknowledgement.
As I'm writing this, I am reminded that Leaving Cert results are at the end of the week! Am I worried about my two boys? Not in the slightest, because they, along with the entire Class of 2021, have endured so much already that they all have an emotional intelligence and sense of camaraderie second to none. They have been 'booted' around, had so much cancelled and reorganised, only to be cancelled again, yet they are 'getting on with life'. They had the opportunity to slow down in the middle, of what most would say, are the two most important years of secondary school… they have had time to stop and re-assess what's important, what needs to be stressed about and what doesn't. They have had the opportunity to mature, to grow, and to look at this new world that has emerged in front of them, all the while being expected to focus on an exam that could shape their future. So, here's to supporting them in their celebrations, wherever they might be, or however they might choose to do so. Toast them and wish them well. They are the leaders of our future!
'No one has ever achieved anything truly great without going through extreme adversity.' Lewis Howes