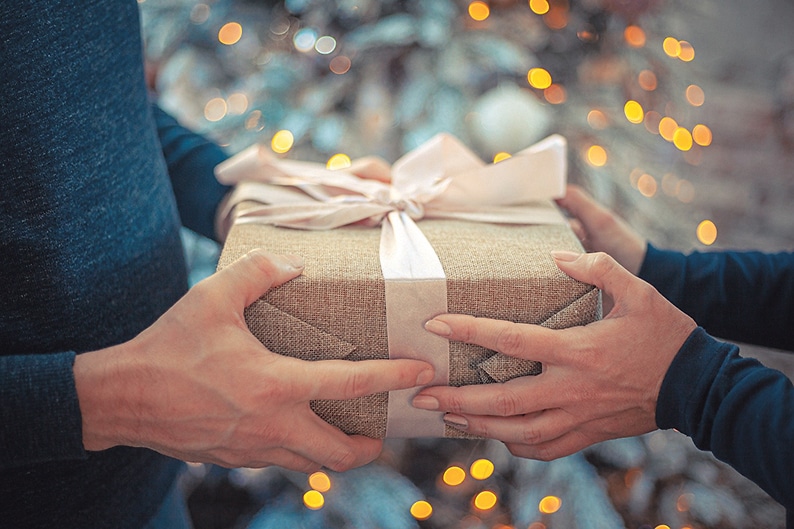 I don't think that any of us can or want to get used to this strange world that we are now living in. My social media memories threw up photos of the Jazz weekend in Cork last year and I stared at them for the longest time. Did we take it for granted? Absolutely. Did we make the most of it? Oh yes we did, every day of it, afternoon and late into the night. I do believe that my feet would go into shock if I put on heels now, but I most definitely refuse to accept that there will not be any opportunities to wear them in the near future. Whatever discomfort or pain they may bring will be surely welcomed.
The part of those happy family pictures that I'm struggling with, that I really don't want to think about, is whether or not my daughter will be able to fly home for Christmas. What is the season really all about if not to spend it with those we hold most dear? If the last few months has revealed anything, then it simply must be that we all need to deal with life on life's terms; we need to hope for the best but also be prepared that what was once done without a second thought is now, at times, forbidden. We are all struggling and we need to allow this to unite us. The kids will still want and deserve their toys but our focus will be elsewhere and rather than believe that we have completely lost control of everything – look again, there is so much that each one of us can do to bring joy to others. Don't look down, look up and look around.
We are warriors now, every one of us. We have battled 'lockdown' once before and come out the other side, some carrying more scars and losses than others, but here we are again, survivors! The 'stuff' that you normally want for Christmas will most certainly take a back seat. This year we need to be proactive, make a plan, make lists, but a different type of list is required. Wherever you live, you are part of a community, a community that desperately needs your help now, so the list that I am asking you to make is one of all of the businesses in your town. Realistically you might not be able to find a present for someone in every single one of those shops, but if you could make a family agreement that all 'present' shopping would be done in your area, that would be fantastic. We can all complain about the price of things and say that online options are cheaper; I can't argue with that, but when you look at how much money the big online companies made during the first lockdown, it seems very unfair. At the same time, some of our own local businesses struggled to try to get their shops online for the first time (at a cost) but they are ready this time around. Now it's our turn to make lists of gifts that our nearest and dearest actually want or need. I'm going to start off by reminding you all that our winters are damp, cold and wet, so rainwear, waterproof jackets, hats and umbrella's (of the highest quality) will never NOT be used. We are all out walking more, so vouchers for any of the above will also be most welcome. Well done you – that should cover a variety of local shops and whether you spend €10 or €200, your business will be greatly appreciated. After all, the expression – Mind the pennies and the pounds will take care of themselves – is now more valid than ever, especially for those trying to keep their business afloat.
Seeing as we don't walk barefoot (even though the health benefits of walking barefoot on grass or the beach are quite remarkable), your local shoe stores have an incredible variety ready and waiting for you and everyone in your family. With a temporary curbing of our social life, we may all be choosing the 'walking around town heel' than going for height right now. Here's to hoping that won't last forever. I don't care how many handbags a woman has; she will always love another one, especially a leather bag or purse, so drop all the hints that you want, someone might be listening!
For many of us, it just wouldn't be the holiday season without a trip to the jeweller for something that sparkles. Jewellery is always a welcome gift; in fact it's a real 'feel spoiled' gift and even with the doors closed, many shops will have a selection in the window for you to peruse while you are strolling around.
Chunky sweaters, jeans, polo necks, jumper dresses and long flowing dresses are this year's must-haves, smothered in patterns and spots makes them all the more lovely, your local boutiques are sure to carry the very finest of lines.
Dare I mention the lack of hairdressers and beauticians at the moment? Agree or disagree with the fact that they have had to close up again, this is the predicament that we find ourselves in (I cannot understand the logic in it). Try not to panic about whether or not you will have 'Christmas' hair or look like a piebald pony – we are all in this together. I do urge you to make sure that you buy hair and beauty vouchers, multiple ones, whether you give as gifts or use yourself for a much-needed boost down the road. All of these businesses have been hit for the second time around and they need you now, just as much as you need them.
Despite the fact that 'lockdown' might give some of us more time to ourselves, time that we were always wishing for, it has proven to be an unsettling experience for many, as they find themselves struggling to relax. Check out some of the top quality aromatherapy relaxing oils, burn in your own home and give as gifts to others. A voucher for your local health food store will win hands down with absolutely everyone, as more of us are reading up on how to boost our immune system in a natural way. I just finished reading an article this morning about how careful you have to be with perfumes, fabric conditioners and scented candles, as the fragrance component, unless completely natural, can cause hormonal imbalances, for men and woman, which can in turn contribute to other illnesses. At the same time, our skin is the largest organ in the body and the most porous, so be careful and make sure to 'google' the ingredients in whatever you smother yourself in, you will be shocked at how advertisers are allowed to use the word 'natural' when so many products are the furthest thing from it. Educate yourself to benefit yourself rather than aimlessly scrolling through social media and then you can pass that information on to your friends.
How lucky are all of us West Corkonians to have so many beaches within our 5km? So many people have taken up the challenge to swim in the sea everyday so your local surf shop will stock their perfect gifts to make sure that they have the very best of accessories to keep them on track.
If you do have an extra bit of time over the next few weeks, rather than just wait to send someone a Christmas card, write a letter to someone. I just had a very old letter framed from my grandmother's cousin (who had moved to Union Hall) to my grandmother (in Rosscarbery), dated 1939. Wouldn't it be a lovely thing for generations to come if we all started writing letters again? We all need to read more books and write more letters or even write in a journal.
I think that it is important to say that this is a bizarre time; we are all struggling. The concept of always having something planned to look forward to has been ripped away from us, all of us. We seem to be in unchartered waters again and this is taking a toll on us. Cry if you must, the tears took me completely by surprise the day that I drove past the post office one Friday morning and I saw our most vulnerable and precious elderly, lined up in the cold to collect their pension. Some of them were leaning against the wall to stay propped up and the ugliness of this separation and lockdown hit me like I was slapped in the face. This story ends well, despite the fact that I felt helpless as to know what to do to help any of these people, that evening, I saw a post on social media from O'Donovans hotel in Clonakilty, reminding people, especially those queuing for their pension, that their toilet facilities were open and that they had take-out soup and so on available. It warmed my heart to see that and I'm telling you because we need reminders that we are all there for each other. So keep an eye out, some people may never ask for help but might need help now.
It's said that the following are the things to do to help you appreciate life in difficult times:
Always get out of bed with a positive attitude; remember every day is a gift and if you can't immediately see it, spend all day looking for it.
Don't drown in confusion and contemplation.
Keep moving.
Appreciate the little things.
Look after one another.
Love unconditionally.
Soften and Simplify.
Act with honour, humility and grace.
I'm going to add on to that…throw on a smile, fix your hair and laugh out loud whenever you can.
This year we need to be proactive, make a plan, make lists, but a different type of list is required. Wherever you live, you are part of a community, a community that desperately needs your help now, so the list that I am asking you to make is one of all of the businesses in your town.