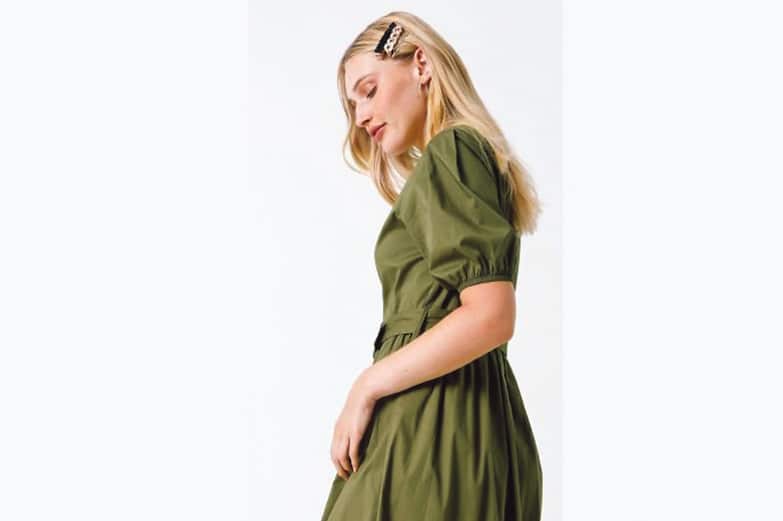 'Life's like ice cream. Enjoy it before it melts' – Em Clarkson.
There are so many ways to describe what being a woman is all about. For some, womanhood is strength, for others it's tenderness. It might also be pushing yourself in your career, at school, or helping to make other women feel better about themselves. You can be a woman wearing a dress and heels or in a pair of work boots or wellies. Womanhood is not defined by jobs, body parts or relationships – it's not defined by anything or anyone but yourself. We need to celebrate all the ways to be a woman, especially celebrating those who have learned what that means in their own way. I'm talking about the women who are taking power over their stories, and speaking their truths rather than allowing society to tell them what and who they should be and how they should look.
We have been tirelessly conditioned to believe that weight gain is synonymous with failure and that to succumb to the aging process – or to age gracefully – is letting go or giving up. Supposed normal thinking has us obsessed with youth, being slim, pucker-free with zero body hair. Does this sound like anything to you? Stop up and think about it? Isn't it comparable to the perfectly created Barbie doll or Cindy (My generation!)? I've been involved in the Image Industry for a very long time and I still think that so-called 'normal thinking' is more than just creepy, it is not attainable. I'm sure that the algorithm on your social media apps knows you very intimately now so if you ever clicked on one weight loss site, you are still seeing adverts for every weight loss package out there. It's all shrink it, conceal it, plump it, anti-aging this, fat-free that – where do I start? Where do I stop? This is the standard against which most of us compare ourselves now. No one mentions the pain, the heartbreak, the embarrassment, the 'not-fitting-in', the pressure, the lack of finances, the trying and failing that is involved in that desperate hunt to fit into these societal standards.
There is nothing but misery to be gained if you pursue youth and beauty according to what our magazines print and what our TVs fill our minds with. Be authentic, be real but most importantly, be yourself.
Move every day, not just because you might lose some weight, but because it will make you feel better. Follow 'realistic' influencers and what I mean by this is if you are 50, follow style influencers that are close enough to your age. You will find yourself feeling less frustrated or soul-destroyed. Embrace aging, dump clothes that no longer fit and find new ones that make you feel like you, not a ridiculous image that you have created in your head. One day you will look at yourself in the mirror and wonder why you wasted so much of your life worrying about losing inches, covering grey hair and depriving yourself of chocolate or cheese or happiness.
Dresses are the ultimate in summer attire, they are easy, feminine, one item, an instant feel good so buy as many as your heart desires. They should be flirty, chic and bold colours that scream life. Cut-out dresses took centre stage on the runways for this summer and are simply gorgeous on the 'younger ones'. The look is cut out and midi length, sophisticated with an edge!
You will find plenty of vintage-inspired dresses or 'frocks' as they were once called, with slinky halter dresses, swirled prints and pieces with bedazzled elements that will shine in the summer sun. Fun floral prints are very much on trend for summer 2022 and they are the kind of dresses that you can wear without having to think about them too much. The floral print also means that you keep accessories to a minimum. Revamping your wardrobe to incorporate the best summer dresses is arguably one of the most exciting parts of warm weather dressing and there is no better time to start clearing some hangers for pieces you'll wear on repeat in the coming weeks and months. Maxi dresses for summer are what boots are for winter…non-negotiable and a no-brainer. It's all about being versatile, no matter what the neckline, you can tie a belt around it, throw on a denim jacket or a vest over it, wear it with flats or wedges or platform sandals. It certainly isn't a problem if the length is too long, there is simply nothing like a floor-kissing-hem to add a wow factor. The clever shopper will be able to carry some of their floral print dresses right through the winter with tights and boots…always a winning combination when you get such value for money out of a dress.
Shirt Dresses are still really big with so many variations available. Some are ruched, some poplin, smock-ed or t-shirt style, whichever you choose, it's an effortless casual look. When it comes to a seasonal stand-out, how about a puff sleeve dress? – A real winner for the wedding guest of 2022, especially in an off-the-shoulder look.
The itty bitty hemlines are causing quite a stir and there is no more agreeable time to wear a mini than in summer. You can wear them everywhere, from brunch to bbq's to a romantic dinner or a weekend away with the girls. The secret to wearing a shorter-than-usual dress is to make sure that you are comfortable. If you find yourself pulling at it as soon as you put it on, then take it off rather than allowing it to upset your entire day or evening feeling self conscious. Some can brave it, others leave mini dresses in the beach wear pile. Find your comfort zone!
Whatever you choose to adorn your body with this summer, wear it lovingly. No one will ever judge you as harshly as you judge yourself. Be your own style guru, take chances, be adventurous and be bold. It's perfectly okay to assess your wardrobe and decide that you do not need a thing. Mindless buying just for the sake of it is silly so be really conscious about what you like, what you actually wear and what you are drawn to keep buying… but never wear.
Keep that ice-cream quote in your head always…go on, get out and keep living, after all life is melting away!