I was on a beautiful walk yesterday, rambling around the hills surrounding Rosscarbery and, despite the over-powering smell of slurry at times; I was lost in the beauty of my surroundings. Laugh all you want but when I reached the top of one hill, standing right next to the electric fencer was a group of cows, and it dawned on me that we have all been like those cows for the last year and a bit desperate to get past the electric fence or our restricted limits. They all just stood there, looking at the tantalising juicy grass just beyond their reach and I totally and completely empathised with those beautiful creatures. We have all been looking and wishing and hoping and praying that we can get to the juicy grass too – whatever that might be – a trip to Penneys, to our favourite beach, to look into the eyes or hold the hand of a loved one because social media video calls just don't cut it anymore. We are almost there, just a breath away, so hang on in there for just a little longer.
I am bubbling with excitement to get inside the doors of a clothes shop and just relish being surrounded by fabrics that will adorn all of us. Yes, we will be catapulted into summer; our bodies might not be quite ready, but time is moving on, and soon we will be soaking up lots of Vitamin D to keep us smiling and healthy. So many have texted me to say that they have had to cast aside most of their summer clothes because they no longer fit. DON'T SWEAT THE SMALL STUFF and this is small stuff…
There are plenty of businesses out there that will gladly help you to replenish your clothes stocks, so as soon as the doors open, 'run' inside and find some new bits. If you are on a tight budget, high street stores will have all the little bits and pieces that will fill up the gaps in your wardrobe but always remember that quality lasts and I would rather have quality any day over piles of clothes. Be clever; jeans and loose or wide-cut trousers can look different every time that you wear them, so pick up lots of block colour tops and invest in a lightweight over-sized suit jacket, without a pattern and in a colour that is not too loud. This will allow you to wear it a lot and get compliments every time. I recommend a taupe/biscuit/grey/cream because these colours go wonderfully with everything.
Fashion is courting a very 'loose and roomy' look and the clothes are not at all restricting or fitted. They are mirroring our newly found added freedom to allow plenty of movement but in a classy way. I'm not so sure about the block or chunky sole sandals but that's just my opinion. I have always felt that footwear should add a little something without causing too much of a distraction. Beware that this style of sandal will dwarf someone who would like to be taller rather than add height, as they pull the eyes down to the feet!
Silk scarves are very much ever-present and it's completely up to you where you wear them – on your head, in your hair or around your neck…the young ones can even wear them as boob-tubes. The 'head-to-toe in neutrals' look is my absolute favourite; it's classy yet under-stated and effortlessly comfortable. Mix cream with white and biscuit or very pale grey, the result is a 'wow' every time; and this year everything is loose and airy, which adds a certain extravagance! Whether you tan easily, like to embrace the pale look, or embrace fake tan, and if you are blonde, dark, red or grey, these colours will look gorgeous on you. And if you want a splash of colour, add some huge bold beads.
Mix prints, stripes and spots and the more colour the better in a flowing dress. Seek out something that is tiered and bright this year and make the most of the fact the look is 'loose'. These dresses are great for anytime, day and evening, especially for all of those barbeques that we will be having and going to. They are also the ideal cover up after a swim!
The biggest 'wow' look on the catwalk was the half pro-half biker look. This might not be for everyone, but I always love a new look and this is very funky. Mix a timeless blazer with a basic white T-shirt and then add your cut-off denim shorts or biker shorts – just add some strappy, wear-everywhere sandals.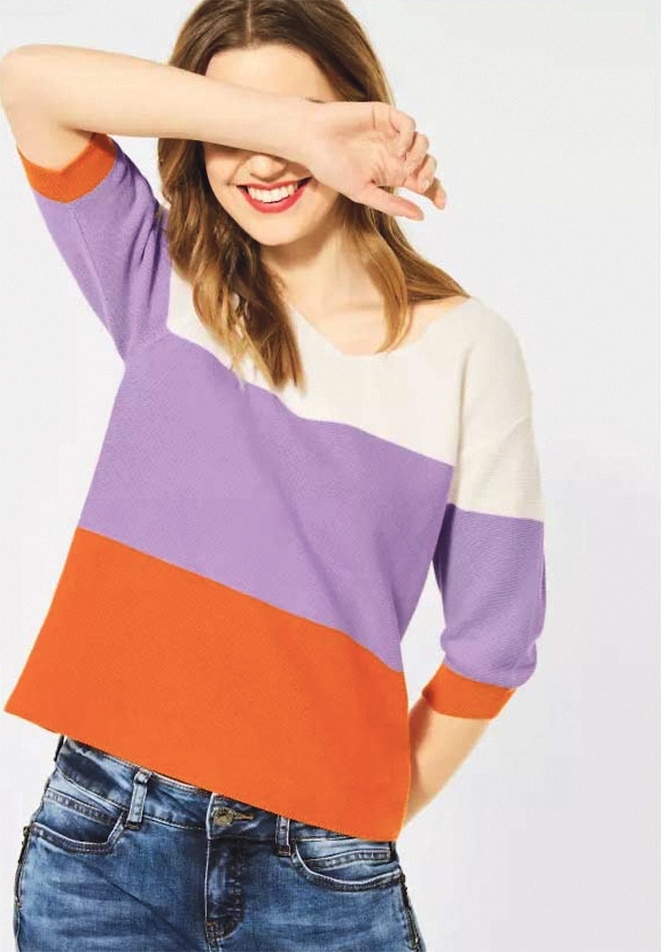 Most of us have been around long enough to know that our summer weather can be quite fickle, so you need to have some summer looks ready for cover-up on chilly days. Little cropped cardi's are back, some with buttons, some with a drawstring tie but both looking just as sweet and pretty. Denim jackets will always be a godsend so make sure that your one still fits and if not, invest in a new one. Lightweight long trousers are perfect on rainy days when you don't want to expose your legs.
Midi skirts and little tank tops are universally sweet and chic. Depending on how much you mix'n match and accessorize, this look can be effortlessly worn morning, noon and night. Add a pair of espadrilles and an over-sized tote bag and you are good to go.
When you don't feel like a neutral day GO BOLD. Bright red is big this year, I adore it and yes, everyone has a shade of red, so take the time to find your perfect shade, even if it is just a bold red silk scarf to wear in your hair or as a belt around your waist. Slip dresses are hovering around too' they are for those really hot days or those nights that you want to get hot on the dance floor. This season's midi slip dress with a high slit is to be worn as many ways as possible, with a little cardi or cropped lightweight sweater over it and flip flops, with an oversized blazer, or simply and beautifully on its own. It's entirely up to you, so if you invest you will most definitely get your money out of this little number.
The last year and a half has taught each of us some different lessons but the most important thing that has been to the forefront is our need for human connection. This summer, I will chase you with a big stick if you say 'no' to an invite anywhere or to anything. Get out, go, do whatever it is, be tired, have sore feet, leave your make up on and stain the pillowcase (the sign of an absolutely brilliant night) but most of all LIVE. Live for the people that we lost. Laugh and smile when you see all the older teenagers having fun – they have a lot of lost time to make up for…maybe sit down and have a chat with them, it will keep you young! Have the courage to do something this summer that you never did before, go on a drive somewhere to see the sun setting, stay up all night so that you can see the sun rise. Here's to all of us being absolutely exhausted at the end of a summer of love, connection, hangovers, painted toes, lots of dresses and great underwear…Just remember the bit about the stick!