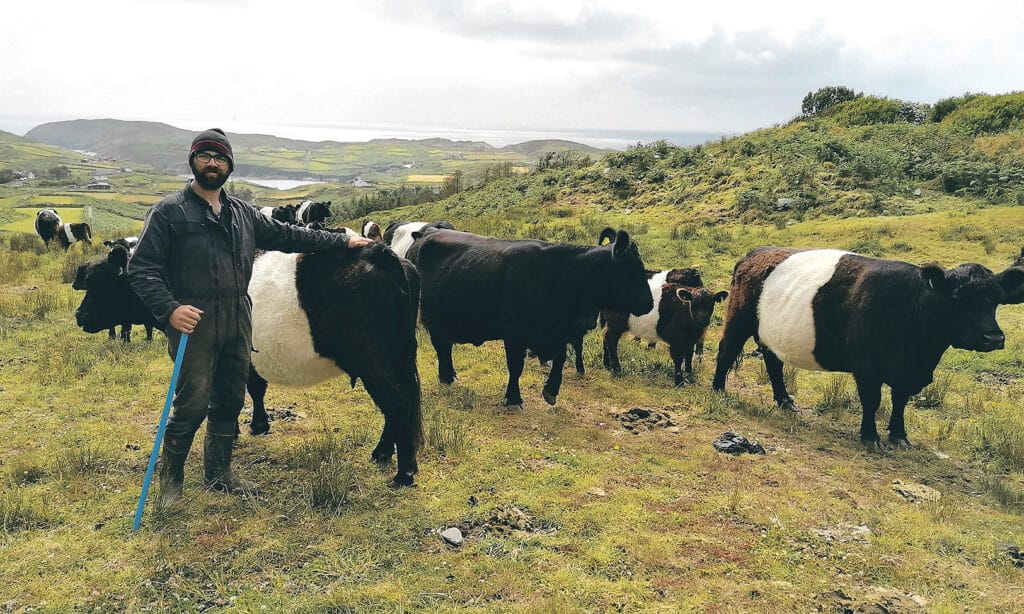 Brennus, describe your farm on Cape Clear Island?
There are 110 acres in total on the farm and it is in three separate divisions. It's all very rough land but suits that suits the cattle we have. It's mainly a suckler herd made up of pedigree belted Galloway cows. When we first started here back in 2008 much of the land was over grown. As we don't have sheds we reseed fields after cattle have been out wintered on them. We use ring feeders for silage and move them regularly so that is our ploughing I suppose and it has worked well so far. While I'm not certified organic, I don't use sprays or fertiliser, I just use lime on the land and it's made a big difference.
What livestock do you have?
We started with Angus, Hereford and some continentals but as I'm pretty new to farming, I wanted something that was easy to manage. So after doing some research I thought Belted Galloways or Belties, a Scottish breed would suit. We then set about importing six heifers from Scotland. They are a milky enough breed, have no horns, are easy to calf and they're out-wintered so easy to manage. There's around 35 animals in total including 14 cows. I only keep heifers if I think they are good enough and every year I keep four bullocks which are fattened and finished under 30 months. So there's about eight bullocks between the one and two-year-olds and I keep them on one of the out farms. I sell the meat from these to local customers including chef Ahmet Dede at the Michelin starred Custom House in Baltimore. I also have a small flock of 20 Llyen sheep made up of 20 ewes. Like the cattle, I wanted something easy to manage and these are kept on a 17-acre out farm and I sell the meat from these too. My fiancée, Samantha, is a bee keeper and has 14 bee hives. Bees can fly up to eight miles so they can cover the whole island. We harvest the honey from July.
How different is farming on an island to the mainland?
Because we're on an island, we've become a jack of all trades. So we have to know a lot about animals and a lot about mechanics. If a machine breaks down and you don't have a part you just have to stop until you get what you need from the mainland. You can't really call the vet. If a vet has to call, it's pretty serious, and if they can't make it, then that's too bad. Going to a call on the island could take up half of their day. Everything comes in on a boat. Even animals and everything takes longer. Like the mart, you have to book ahead for the boat and they can only take two trailers on the boat. It's first come first served and, if it's full, you just have to wait until next week. If the weather is very good, we're able to book the barge and that can take more but it's not always possible to book that.
Island farming has its challenges, but there's a good spirit. When we go at silage everyone helps each other. There would be a few tractors flying around the place. We've to do a bit of everything. I'm a fisherman as well. No one lives off of farming alone on the island. Once a week, I go hauling pots for lobsters and crab with the O'Driscolls. It's the last fishing boat on Cape.
You were a finalist for the Teagasc Student of the year award this year… How did you find that experience?
That was a total surprise to me. I was delighted to get to the final.
I'm from a science background, so was used to college, but I found the practical stuff was very good. To be in a shed with other farmers of my age and be shown how to do things, was very beneficial. Some of the course didn't apply as it was designed for the bigger mainland farms. We have to do things slightly different on the island. We don't have sheds or slurry and there's no AI. We get worse weather too. Nothing grows here until end of April so trying to get animals grazing in February didn't apply. Some of the early grass might be affected by salt blown in from the sea too. Every farm is different it's just we're very different.
The staff in the college were very helpful for me. If there was rough weather and I had to leave early to make the ferry they let me off. The biggest challenge was it was twice as expensive as other students, as I needed accommodation and had to be there the night before. In summer there are more boats and I might get an earlier.