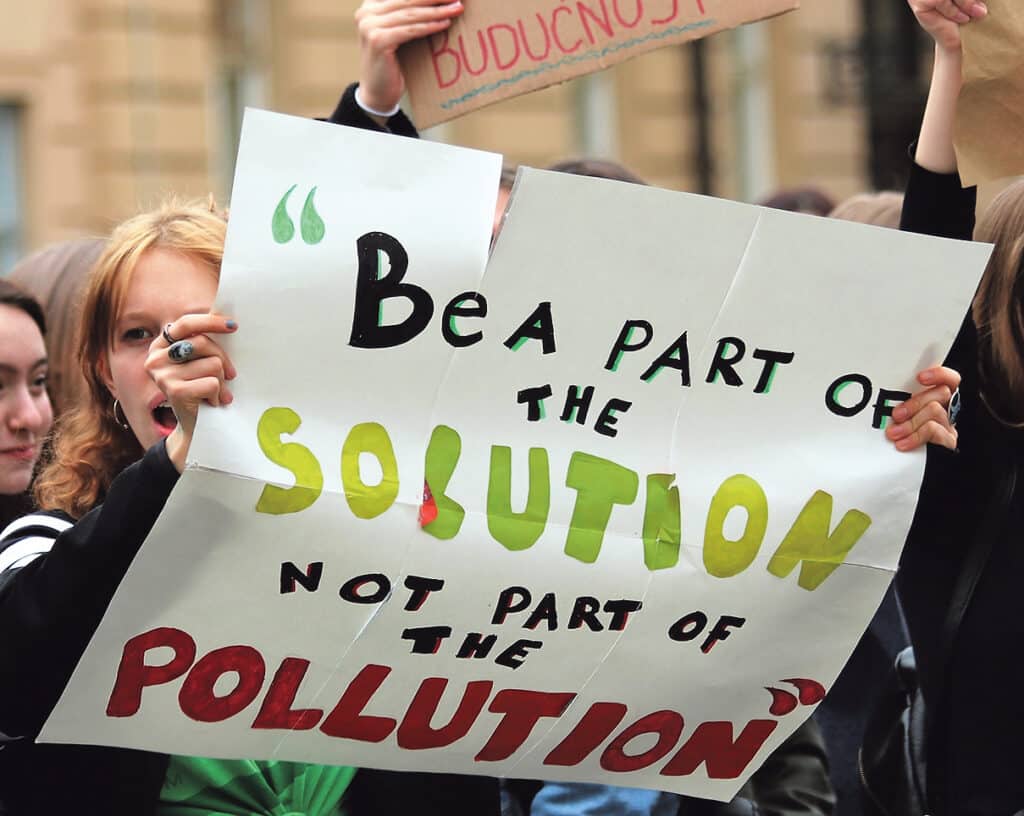 You may have heard of the recent court appearance of 19-year-old climate activists Orla Murphy from Whitechurch, Co Cork and 21-year-old Zachery Lumley, from Cork City.
In March of this year these two young people carried out and live-streamed a graffiti attack at the Department of Foreign Affairs. The Graffiti on the entrance to the Department building read 'no more empty promises'.
They were campaigning to hold the government to its promise to create a path to net-zero emissions no later than 2050, and to a 50 per cent reduction in emissions by the end of this decade. The two student activists felt that governments easily make climate mitigation promises that are then promptly ignored.
Meanwhile at the UN General Assembly 2021, António Guterres the secretary general of the UN, warned of planetary crisis quoting studies that show greater than 60 per cent of our young people feel betrayed by their governments and feel afraid, sad, anxious, angry, powerless, helpless, and/or guilty.
The lead author of the global study, Caroline Hickman from Bath University, states that the study shows eco-anxiety is not just for environmental destruction alone, but inextricably linked to government inaction on climate change.
The young feel that people have failed to care for the planet, that the future is frightening, that governments can't be trusted and are failing young people.
António Guterres states "We are weeks away from #COP26, but seemingly light years away from reaching our #ClimateAction targets. We need more ambition from all countries in three key areas — mitigation, finance and adaptation." He states that the climate alarm bells are ringing at fever pitch, that we must get serious and we must act fast. He urges governments at the UN, "Don't wait for others to make the first move. Do your part."
However, an altogether different side of the Environment Action/Climate Action and National Governments' stories plays out in the corporate world.
Go to tcenergy.com to find out how the company TC Energy, responsible for the Keystone Pipeline is going to great lengths to combat climate change and protect our planet!
It states on their website that "TC Energy supports the goals of the Paris Agreement, and we believe there are substantial opportunities for our company in the shift to a low-carbon future. As we undertake the challenge before us, we remain committed to our long-standing principles of environmental stewardship, protection and performance."
What their website doesn't tell you though, is that TC Energy spent $900,000 in lobbying government to approve the Keystone Pipeline and is now suing the American Government, and thus taxpayers, for $15 billion for the cancellation of the Keystone Pipeline. This legal action coincides with President Joe Biden's announcement to increase international public climate finance to $11.4 billion a year.
How is it that Energy Companies can on the one hand be presenting to the world that they are helping to solve the current climate and environmental crisis and at the same time be suing governments for putting in place vital measures to protect our planet; Measures being called for across the world by the UN summit? It makes no sense!
Suing governments happens not just in the US. German energy companies RWE and Uniper are suing the Netherlands for phasing out coal. Rockhopper, a UK company is suing Italy for banning offshore oil drilling close to the coast. Ascent Resources, also a UK company, is suing Slovenia for requiring an environmental impact assessment on fracking plants, even though EU law requires that an environmental impact assessment be carried out.
These companies don't sue through the regular court system. They use corporate courts formerly known as 'Investors State Dispute Settlement' or ISDS to bring these cases. This is possible because it is written into the rules of trade and investment deals via 'The Energy Charter Treaty (ECT)' that they allow foreign corporations to sue governments outside of the national legal system. The ECT is an international agreement for the energy sector created in 1994. It sets out the investment rules, which currently apply to 53 countries from Western and Eastern Europe, Central, Western and Northern Asia, and Japan, Jordan and Yemen, as well as the European Union.
The ISDS is custom made such that the tribunals are only to look at whether 'investors interests' have been affected by a new law or policy. It matters not in these courts what the reasons are for the new law or policy. They ignore public health, climate action and worker's rights and simply look to determine whether the investors financial interests are being affected. These tribunals can often make much larger financial awards to the company than would be awarded by any other court.
So, on the one hand companies like TC Energy, on their websites, push the claim that they are protecting our planet and creating a sustainable future and on the other hand they lobby governments and take them to court for putting in place responsible measures that will enable future generations to live on this planet.
Many of these case studies are reported on the website Global Justice Now at global justice.org.uk.
The Institute for Economics and Peace (IEP) is a think-tank that produces annual terrorism and peace indexes. It produces an Ecological Threat Register using data from the United Nations and other sources to assess eight ecological threats and predict which countries and regions are most at risk.
It estimates that by 2050 more than one billion people will be displaced by climate change; and this will create mass migration.
One Billion Refugees looking for a home!
It is judged that Pakistan will be the country with the largest number of people at risk of mass migration, followed by Ethiopia and Iran. The IEP states that in such countries "even small ecological threats and natural disasters could result in mass population displacement".
In his opening speech at the UN General Assembly, António Guterres painted a stark picture of unsustainable inequalities, runaway climate change and feckless leadership.
"I'm here to sound the alarm. The world must wake up," he said warning that we are "on the edge of an abyss and moving in the wrong direction".
However, it is impossible for governments to seriously implement climate change policies whilst they are signed up to an Energy Charter Treaty, which protects the fossil fuel industry by blocking governments from even attempting to change public policies, for fear of being sued for millions or even billions in claims that are paid out of taxpayer money.
Meanwhile nearly half of youth studied in a global report state that climate change anxiety affects their lives, 60 per cent stating they feel betrayed; and that their governments are not doing enough to avoid a climate catastrophe, whilst two student climate activists from Cork report every single day to their local Gardai office as part of their conditions of bail, whilst they await their next hearing in court set for October 12.
Will we continue to be horrified that angry and frightened youngsters who see a bleak future, deface a public building in desperation at not being heard, whilst we ignore the real crime in our midst; that of allowing a few corporate bodies to push the world towards Ecological and Climate instability and disaster?
In Europe we will continue to betray our young people for as long as the individual countries in Europe and the European Commission are signed up to the Energy Charter Agreement.
With COP26 fast approaching we can encourage the EU and our own government to pull out of the Energy Charter Treaty and stop its expansion to other countries!
There is a petition at www.tni.org/en/ECTpetition and write to your TD and MEP.