This week many of you parents will have been subjected to disruption with the closures of preschools. More are planned for October and November. This article will attempt to explain why the providers have taken these drastic measures. Most readers will remember a time before formal pre-schooling. It's not that long ago when a preschool amounted to mainly women caring for children in their own homes, in an informal environment. The 21st century heralded in a 'new' type of preschool, where the emphasis was not just caring and wellbeing for the child as before, but their education.  This approach meant there was a huge push for preschool teachers and providers to upskill to degree and diploma level. For the younger cohort of preschool teachers, college beckoned, but for most established preschool teachers, it meant doing your day job and night-owling as a student to get your degree by night. The rewards have not followed.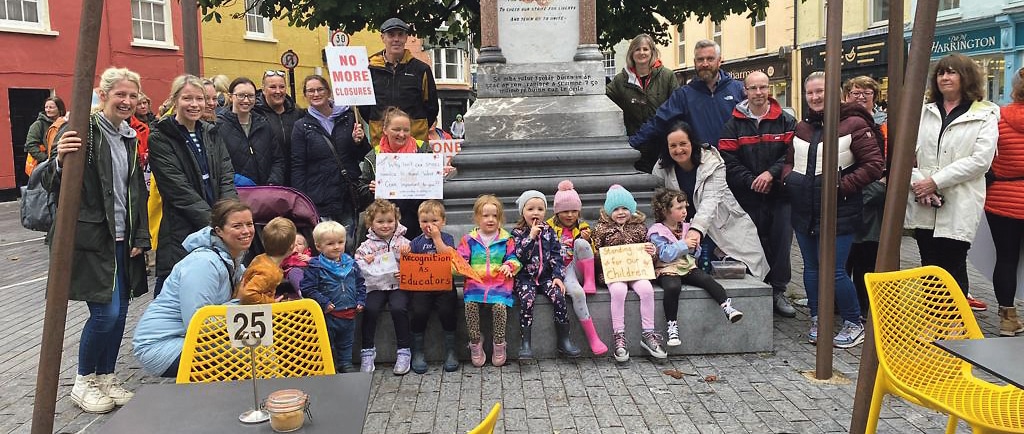 Preschool – an insight
My partner is a preschool teacher and provider, so I am well placed to explain what is going on. She will be in school long after her bell goes that sends the kids home happy after a long day. She must carry out administration work, clean, perhaps go to buy materials or replace broken toys, all out of her own pocket. In contrast, as a secondary school teacher, I get a wage that increases yearly for just being there. I get a pension and, if I'm sick, I get covered. I go home after school and never have to think about the running costs. It's slavery what the preschool providers do. The government want to control and patrol the businesses these providers have built up themselves but they won't go as far as formally bringing preschool into the education system. If they were in the formal education system, it would mean decent wages, security of contract, pensions and protection for the providers. The other three tiers of the education system have those, why not preschool teachers and providers?
So what is the difference between a service provider and a preschool teacher?
In many cases – nothing, especially in rural Ireland. The provider who has set up the school, in most cases, is also a teacher in that school. Labour laws have now correctly enshrined preschool teaching staff wages at a higher rate in line with their qualification.
But in a system which locks providers into set fees per child, the service providers are the forgotten ones. No funding has been allocated to the provider to pay for their staff wage increases, meaning a further decrease in their own earning power, one that was already lean to begin with. Here is the nub of the protest. Without extra funding, the providers are struggling to pay staff and keep their business afloat, with many taking no wage at all. Staff are also entitled to statutory rights, like sick pay and holiday pay, and rightly so it should be stressed. But the providers, who take all the risks, set up the businesses, clean, administrate and so on, get nothing, even if they teach alongside their staff. Your regular secondary, primary and tertiary teacher does not have to sign on in the summer to receive an income. Preschool teachers can avail of that to get keep their heads above water in the summer, yet providers who also teach alongside them, can't. Explain that one? I hope a picture is forming in your minds. How, with all these costs and conditions, are preschools viable business models? The answer is they are not, and dozens are closing each month.
Is it simply about
money?
If only. As day follows night, the more formalised and regulated preschools have become, the more demands government make upon the preschool education system. Minister O'Gorman even conceded on national airwaves, that up to the last decade, governments have failed to invest in, much less care for preschools and are playing 'catch-up'. Isn't it time they did? Preschools are also inspected by three bodies, TULSA, DES and Pobal, in what has become the most regulated strata of our education system. In nearly thirty years of my own teaching, I only have been visited by three inspectors. See how imbalanced our education system is? The providers, who run the schools, must be the teacher, cleaner, secretary, accountant, marketer, and carer. They have upskilled, taken on multiple roles and provided a service that without, modern Ireland with two working parents, could not function?
The parent is happy, but the system is built on sand
In 2010, the government played clever with the electorate. With child costs spiralling and more parents working to make ends meet, they introduced the 'Early Childhood Care and Education scheme (ECCE). A "universal two-year pre-school programme available to children within the eligible age range, and provides their first formal experience of early learning prior to commencing primary school". It was a master stroke, because not only was it much needed, it satisfied the major stakeholder in society – the parent. Yet the people who provide the services have been left behind. Why hasn't the grievances of the provider been a headline act in a country that says it cares so much about education? One of the reasons is that the parent is happy that free education is being provided. The provider who holds up the whole pyramid, is sinking on a preschool education built on sand.
The government has invested in childcare. But where is that money going?
Let's look a bit closer at the ticking time bomb. The government, after years of no investment and unregulated preschools, formal or informal, have belatedly taken a stake into what is probably the most important level of education, the formative years of age three to five. With good reason. It is too vital a stage. It needed to be formalised, with best practise, rules underpinning child safely and recognised as an educational step and not child minding. However, the government are trying to coerce and control the industry by giving providers a no-win scenario to sign up for the ECCE scheme. Simply put; a child who is entitled to two years free preschool education, will only get it through the preschools that sign up to the ECCE scheme. Naturally parents will only send their kids to those schools. Would you honestly send your child elsewhere and pay for something you could get free? Would you survive as a preschool if you didn't sign into the scheme? The Government then introduced the Core Funding scheme. This promised more money for providers, though not much, every penny counted. Once the providers signed up to these schemes, the funny business began. The government locked fees. Providers have not been allowed to raise fees since 2017. So, while weekly, you watch your wage bill grow, your electricity bill explode and your rent shoot up (unlike schools, providers must pay for their premises), providers are stuck in a time warp, seeing an already paltry income, wither away. They are powerless against inflation. In my own sector as a secondary school teacher, all public servants have seen increases in wages. Retailers who face similar costs can put up their prices. With the economy at 'full employment', workers can demand more wages to meet inflation. It seems everyone can attempt to fight inflation and day to day costs except preschool providers. The government will do what they always do, talk big figures and mislead the public. Elaine Dunne, president of the preschool Federation has requested details of where the money is being spent for providers. She has been met with a wall of silence, from Green Party minister Roderic O'Gorman. Yes, money has been allocated to childcare, but in the main put towards decreasing parent's childcare costs, into administration, and the inspectorate bodies that regulate the industry, but not to the providers.
Now we are in a perilous state, where weekly providers are pulling out of the system. 141 preschools closed last year, so far 90 this year. I attended a meeting where many of the women spoke of Credit Union loans to stay afloat or taking financial help from family members. This can't go on because if it does, society will shut down.
History is not kind to
strikers and protestors
Irish people have an ambivalent attitude to strikes. Since Larkin and the strikers of the 1913 Lockout stood up to the evils of manipulative employers, we have seen a growing trade union movement somewhat curtailed in recent decades. Joe and Mary publicly seem to think strikes are okay if they are not inconvenienced by them. Can I ask what is the point of a strike if it doesn't disrupt? I hope the preschool providers and teachers stick to their guns because if the government refuses to listen, then they have in their hands the ability to cripple society. You need them to go to work. You need them to educate your child. You need them to care and provide a safe environment. But if you stay mute on the situation, then don't expect the service to survive. Donogh O'Malley introduced the most important piece of legislation into Ireland when secondary school education became free in 1967. We now need an insightful progressive act that brings preschools online with the rest of our education and build a stronger and equal base for all the stake holders. There is a tide coming that will sweep all the sandy foundations away otherwise. With more protests to come, I hope they will stick at it and parents will support them. Larkin failed in 1913 because the establishment broke them and ultimately, the public grew tired of it. To quote Billy Braggs, a folk singer and socialist, 'There is power in a factory, power in the land, Power in the hand of the worker. But it all amounts to nothing if together we don't stand. There is power in a union'.
Support the preschool teachers and providers, because it means supporting your children.