While we are all in Lockdown two new Electric cars were introduced to the Irish market, the Opel Corsa-e and the Renault Zoe.
Opel Ireland, who had launched a new version of the old reliable Corsa in February, confirmed the pricing for their Corsa-e model. It will be available in two trims, SC and Elite and retails from €27,338 and €30,800, respectively, inclusive of SEAI grant and VRT relief.
James Brooks, Managing Director Opel Ireland, said: "We are celebrating the arrival of the all-new Corsa-e model, as our first full-electric car in Ireland, and it takes its place beside our new Grandland X plug-in hybrid which is also now available.''
"These new models fulfil our strategy of offering customers the option to choose their preferred model, then the powertrain that best suits them and their lifestyle – petrol, diesel, plug-in hybrid or 100 per cent electric, without compromising on space, technology, looks or driving sensations."
"In response to rapidly changing consumer needs, we look forward to the arrival of a host of new all-electric models throughout 2020 and beyond."
Sporting a 50-kwh battery, the Corsa-e offers a range up to 337km making it a true alternative for drivers of regular internal combustion engines. Onboard the new Corsa-e, the interior and boot-space are identical to internal combustion engine (ICE) versions, as the batteries are distributed under the floor pan.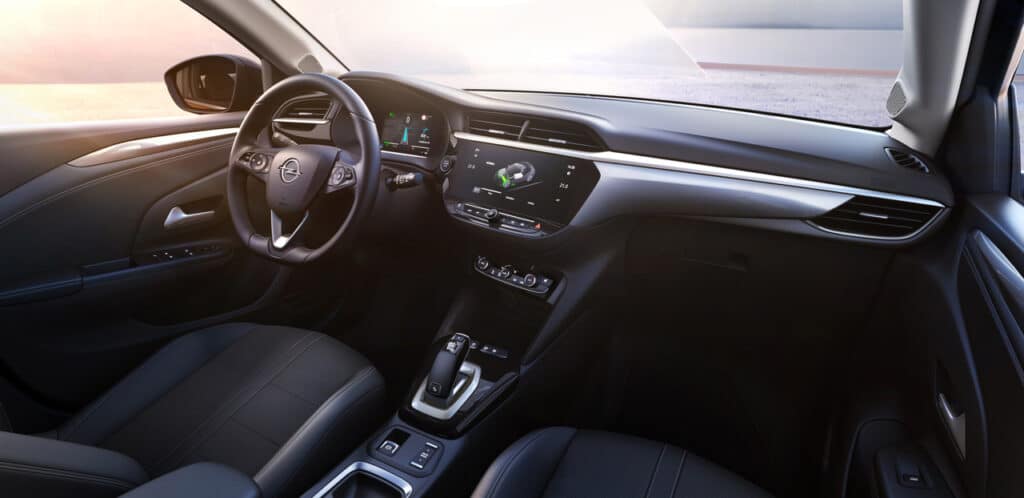 A full battery charge is returned in 7.5 hours from a Wall Box or 80 per cent charge is returned in just 30 minutes at a dedicated public terminal.
The battery is guaranteed for eight years or 160,000 km for up to 70 per cent retention, certifiable by the Opel Dealer Network. Customers are also covered with roadside assistance for eight years or 160,000km.
Meanwhile Renault launched the second version of their electric Zoe which they say is the most affordable electric car in Ireland just now.
At the end of March Renault said their starting price of €26,990 for the Zoe was the cheapest in Ireland, around400 euro cheaper than the Peugeot e-208.
The first thing everybody wants to know regarding electric cars is price and range. Well I have just given you the price and the range is estimated at up to 395km. We all know range depends very much on the weather and how fast you drive the car to get the best results.
What I can definitely say is that while petrol and diesel cars use fuel when you are stuck in city traffic, there is no such problem with electric cars. Indeed I have seen quite a few electric Nissan Leaf cars being used as Taxis in the city.
The exterior of the second version of the Zoe has been re-styled with more dynamic look and new colours.
The battery in the new Zoe is much the same as the Corsa-3, 52 Kw compared to 50Kw in the Corsa and with the Renault you get a few kilometres more in range.
The Zoe now has a more powerful motor, offering 135 brake horse power, compared to the first version which had only 108 brake horse power. It also charges faster than the first model, and should be able to recover 145 km in a 30-minute charge.
I have driven the petrol versions of the new Corsa and it's very neat. Also I drove he first version of the electric Renault Zoe a few years back and that was also very tidy.
However, we will have to wait a few more weeks when this virus passes, before I can test both of the new electric cars on the road to give you a proper review.