West Cork People history columnist Shane Daly is currently working as a schoolteacher in Abu Dhabi in the United Arab Emirates. Back in May, Shane gave us an insight into life under curfew in the UAE during the pandemic. Now all business and schools in Abu Dhabi are operating, albeit with restrictions. A COVID-19 vaccine has been administered in Abu Dhabi since September.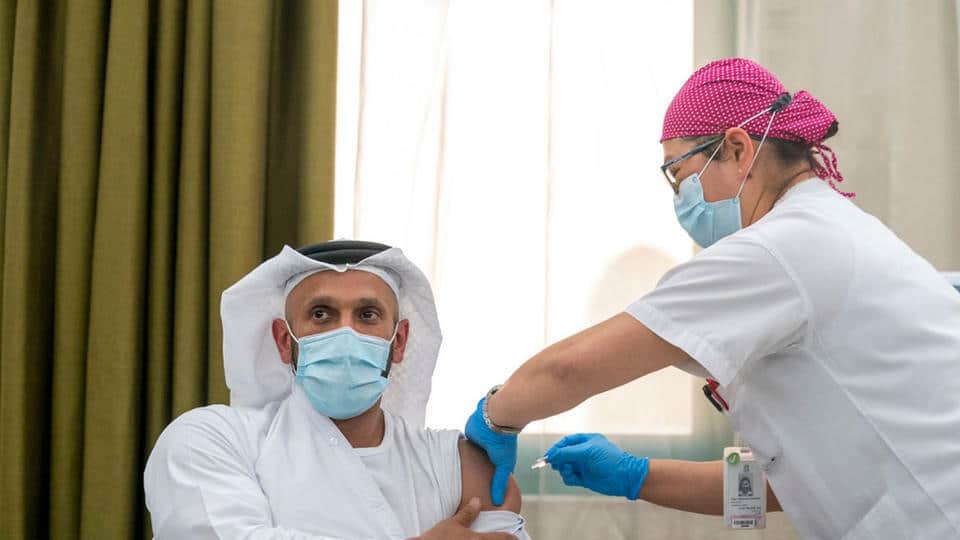 There have been two large changes in the functionality of the Emirates in the UAE since my last post on the topic six months ago. The first being that upon the decision being made to reopen schools in August, the government body ADEK (Abu Dhabi Department of Knowledge); along with MOE (Ministry of Education), have implemented a mandatory Covid-19 PCR swab test for all staff in schools. The second and probably more applicable to life in Ireland at the moment is that in September Abu Dhabi became the first country in the world to begin administering a vaccine to its residents.
The mandatory Covid-19 PCR swab test is administered every two weeks. The working week in the UAE is Sunday to Thursday and at the end of the school day, every second Thursday, we get a PCR swab done in school. The result is returned to us within 48 hours and a negative result must be presented to management before anyone is allowed to return to work or enter campus on the Sunday morning. This is the same for all staff and students. The theatre in the school on Thursdays is turned into a medical testing facility and times for testing are staggered so there is no more than 15 people including nurses in the room at any one time. Precautions are still taken in school for students that are feeling unwell. We have a nursing department on campus and any student that feels sick or is presenting with symptoms is sent to the nurse. If the nurse's recommendation is to send the child home, then all students are removed from class. We also have a sanitisation team on campus; this team is then brought in the spray the room and all surfaces with disinfectant before we are allowed to go back into the classroom. This happened in my class last week; the process takes 15 or 20 minutes.
The Emirati people have been exceptional in adhering to guidelines. Masks are mandatory here and you will not see anyone in public without one. It really is incredible to walk the street in 42-degree heat and everyone, without question, will be wearing a mask. You are not permitted into shops without a mask and your temperature is checked in all shopping centres and grocery stores, where you are also offered both masks and gloves on entry. The border between Abu Dhabi is manned by the Abu Dhabi Police Department on a 24-hour basis. You cannot pass through unless you present an Emirates I.D and negative test result that is no older than 48-hours-old. The collective effort to contain and manage the virus here has been incredible.
However, despite this, within our first four weeks on returning to school we had four teachers test positive for the virus. All teachers are in their mid-twenties and all four were hospitalised for two weeks. Routine tests were carried out on a Thursday evening and within 36 hours those four results returned positive and the school was shut for two weeks. After hospitalisation, all teachers had to return four negative tests before being allowed return to work. All have now returned to work and we have not had any positive result since.
Vaccine
The COVID-19 vaccine administered in Abu Dhabi since September has been developed by Chinese pharmaceutical giant Sinopharm China National Biotec Group. It requires two doses delivered three weeks apart. The UAE kicked off Phase III trials for the vaccine in July. The vaccine has reportedly generated antibodies in volunteers during the first two trial phases in China. The volunteers received two doses about three weeks apart. Preliminary announcements about the Phase III trials in the UAE indicate that the vaccine is effective, and has not generated any major side effects, even in 1,000 people with chronic conditions. Before the UAE's regulatory approval, 31,000 people in the country had volunteered for the vaccine trials. Following encouraging results, the vaccine was granted emergency approval in September for use on frontline workers.
On September 21, teachers of public schools in Abu Dhabi were given the option to register and get the Covid-19 vaccine. Principals received an official circular that confirmed the inclusion of teachers, administrative staff and their immediate family members in the priority categories. A part of the circular said: 'The UAE has announced the emergency use of the vaccine for frontline workers who deal with Covid-19 patients, with the aim of safeguarding these heroes and protecting them from any dangers they may face due to the nature of their work… Teachers and other academic staff have been included among the priority groups for getting the Covid-19 vaccine. This also includes their family members (first degree) who are aged above 18 years. Taking the Covid-19 vaccine is optional for those who are eligible.' Volunteers were intensively monitored for approximately 35 days.
Personally, I made the decision not to take the vaccine. I didn't make the decision lightly, as if you do take the vaccine, there are also benefits that go along with it, such as crossing the border to Dubai. Showing proof that you have been administered the vaccine mitigates you from having to take a Covid-19 test 48 hours prior to crossing; and paying for the test each time, at a cost of 370 dirhams, which is equivalent to €90. My partner lives in Dubai so this would have been a considerable perk. Despite this, I just felt it was too early and have decided to wait until more testing is done and instead be more cautious of my day-to-day behaviour.
After emergency approval was granted, UAE Minister of Health, Abdulrahman Al Owais, also received his first dose. On October 19, Sheikh Saif Bin Zayed Al Nahyan, Deputy Prime Minister and Minister of the Interior, is the latest UAE official to receive the COVID-19 vaccine. Other UAE ministers who have taken the COVID-19 vaccine include Obaid Al Shamsi, director general of the National Emergency Crisis and Disasters Management Authority (NCEMA), and Sheikh Khaled Bin Mohamed Bin Zayed Al Nahyan, Member of the Executive Council and Chairman of the Abu Dhabi Executive Office.
Despite all the precautions and the excellent adherence to guidelines within school. It must be said that since the return of schools cases have gone up exponentially. In the Summer months – June, July and August – the country was reporting between 200 and 400 cases daily. Since the return of schools, this number has risen to over 1500 cases daily. On October 17, we had 1538 positive cases here and it's been sometime since that figure was below 1000 cases. What the next step is, I do not know. Everything is open, we do not have a lockdown, curfew has been lifted, and all business and schools are operating albeit with restrictions.
It is easy to dwell on the negatives in regard to the situation we have all been experiencing since our lives drastically changed in March. However, we do not have to look very far to see the many positives. That is true for life here in the UAE, as well as at home in Ireland. The adherence to guidelines here truly is remarkable, and the scale of effort in implementing government issues has been immense. The widespread availability of testing as well as a 48-hour turnaround for results is incredible.
At home, the resilience of the Irish has been very apparent. The willingness to accept change and adapt by the majority is a wonderful sign of the good nature of the Irish people. The online fundraising campaigns for various different causes, as well as people wanting to support local business rather than the bigger conglomerates, is heart-warming. Even more recently, the community effort in Cork after the flooding, at a time when the country has a Level 5 lockdown to contend with, is truly beautiful.
We're all in this together. Ní neart go cur le chéile. Éire Abú.