From the reputed invention of the bicycle in 1817 by the German Baron, Karl Von Drais to West Cork's most famous cyclist Michael Collins to this year's Clonakilty Bike Festival going online due to Covid-19, Kieran Doyle takes us on a very interesting journey through the history of the bicycle.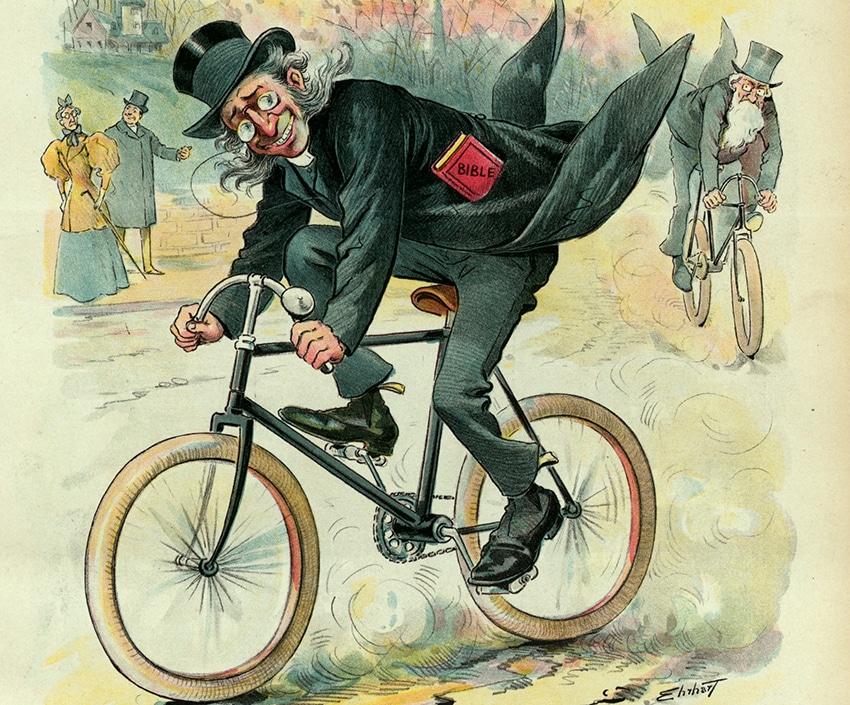 The bicycles go by in twos and threes –
There's a dance in Billy Brennan's barn tonight,
And there's the half-talk code of mysteries
And the wink-and-elbow language of delight.

Patrick Kavanagh, 1936
The humble bike has changed so much since its reputed invention in 1817 by the German Baron, Karl Von Drais and I don't just mean its shape. Today there are many social, ethical and fashionable associations of having a bicycle. Who would have thought thirty years ago, when the likes of Charles Haughey and Gareth Fitzgerald were fighting each other in a continuum of civil war politics, that today their parties would be working to form a government together under the proviso that they agree to put more cycle lanes in the cities of Ireland, by virtue of their courtship with the Green Party?
Never before has cycling had so much political capital in our ever-increasing need to drive down deadly carbon emissions. What's more, cycling now has become en vogue – one can't simply go for a cycle now without looking like Lance Armstrong on speed. Older readers will remember those who cycled to work, would arrive in their work clothes and that was that. As a friend once quipped to me, 'when did we all start dressing like the Tour de France to get to work?' Guilty – I'm afraid! Can anyone tell me why the worlds great fashion designers have never got hold of the cycling gear market? Everyone these days looks like disco on wheels as the gaudiest yellows, vile greens, and dazzling pinks are deemed okay to wear on a bike but faux pas in every other context. I couldn't imagine it every becoming acceptable workplace clothing. Imagine if I had to stand at the front of the classroom and tell Murphy and Smith to get serious about their schooling, as they gaze up at me dressed in luminous tight lycra, with shorts that resemble something like the Hitler youth were forced to wear. Double the pain, when you consider my exposed legs resemble a man who just got off a horse after riding it for ten straight days.
Compare all the above to Patrick Kavanagh's day when biking was simply a means of transport. When we consider how dependant we have become on cars, in Kavanagh's time it was a cortege of bicycles in 'twos and threes' that made their way to dances and everywhere else, wind, shine or rain. When cars were a rare commodity and a horse and cart an expensive alternative, the bicycle gave untold freedom and the ability to go beyond the parish boundaries for thousands of people. It was about the 1860s that cycling took off in Ireland, which was then seen as a middle class Victorian pursuit – no doubt the cost was a prohibitive factor to a nation only 15 years out of famine conditions. One of the craziest ideas that emerged in the 1860s was the invention of the vélo-douche. This combination of a bicycle and shower bath, meant the user would be able to pump water by driving a rotator pump with their own peddle power. This invention proved very popular in the Paris Exhibition of 1897. Imagine – getting fit and clean at the same time as saving a bundle of money on electricity bills! What's not to like?
The human condition usually finds a way to be competitive and soon enough people began to race on bikes too. While athletics was up and running with many course already marked out, some bicycle enthusiasts were soon trying to double up on the running courses and race. There was one episode at Kilmallock Limerick in the 1870s, where they attempted to stage a two-mile bike ride on a running course. Not being ideally suited for wheels, one local reporter commented that he had time to go home and eat his dinner during the race and be back before it finished! There is a suggestion that this type of event may have been run across a four mile 'old fashioned course' near Clonakilty, around that period.
It wasn't until the 1890s with worldwide demand for bikes and more competition between manufactures, that bicycles became an item that was affordable for all classes. What's more, the humble bicycle had a major impact on the perception of woman. The cycling fever of the 1890s saw many women take up the sport, which no doubt gave them a new freedom, as they raced towards the twentieth century. What is even more audacious than the aforementioned modern clothes that cyclist wear today, is that women were seen in something even more strange and outrageous – trousers!
Perhaps the most famous cyclist in West Cork is Michael Collins. (Though many would dispute this claiming Clonakilty bike repair man – 'Murph' – deserves this accolade). Collins is known for many things including his intelligence gathering. His opposite number in the British administration – failed miserable to identify Collins, which famously, allowed Collins the freedom to cycle around Dublin, whizzing in and out of soldiers and members of the DMP unmolested. There is a replica of that bike in the Collins House Museum in Clonakilty, such is its association with Collins identity.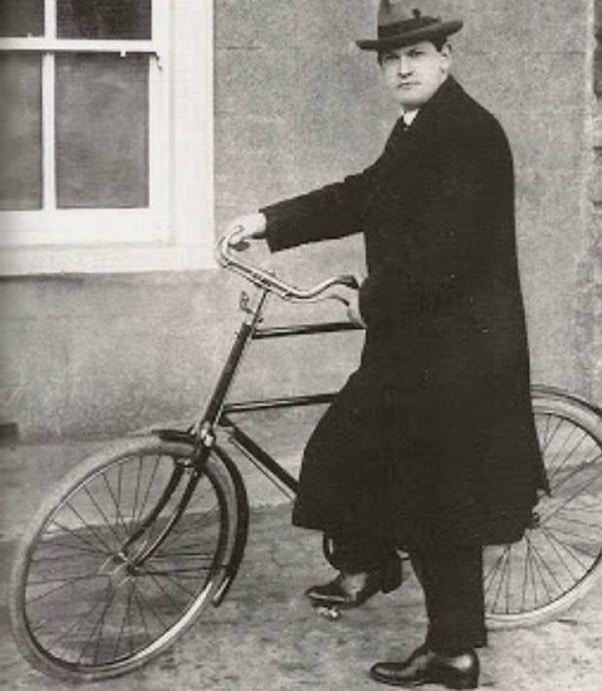 It was during the revolutionary period 1916-21, that bikes became a vital tool in the campaign to over-thrown British rule in Ireland. In the week of the 1916 Rising, men travelled on bikes from Cork City to Macroom to rendezvous with the county wide companies that were assembling there, in the hope of travelling onto Banna strand in Tralee to collect guns from the Aud. The Eyeries battalion, cut off from what was going on elsewhere and devoid of any communication, sent bike riders over the Beara peninsula into Kerry to find out whether to advance or not. The Bureau of Military History has many examples of members of Cumann ná mBán who would risk their lives cycling with dispatches and sometimes arms hidden on their persons. What might seem quaint now, the RIC would often ride out on the bicycles on reconnaissance missions or other duties. This somewhat endearing image might be somewhat overshadowed when one considers that on one such biking outing, three RIC men were ambushed and killed by the IRA and killed just outside Timoleague in May 1920.
There have of course been internationally recognised Irish cyclists. Stephen Roche still remains Ireland's only winner of the Tour De France, which he won in 1987. To illustrate the difference between professional cycling today and in the 1980s, Roche wrote in his autobiography that he was earning £400 a month in a factory in Ireland and switched to professional cycling in 1981 when he was offered a whopping £500 a month to join a French team! Of course Sean Kelly would dominate the world number one rankings for nearly a decade in Ireland's golden cycling era of the 1980s. But before these two were strutting their stuff around the mountains of France, clothed in gear that resembled a Renoir painting on acid, Dervla Murphy was cycling around the world on her bicycle – before tourism became mainstream. It wasn't just cool that she took to the road in Europe, but she ventured into parts of Asia and Africa on bike, that these days would require an armoured escort and a four-wheel drive to get to. If that's not exhausting, she captured all her adventures in a series of bike travel literature that still to this day, are the best collection one could read if they ever want to be inspired to follow her crazy trails. Perhaps Murphy' most famous biking experience was penned in 1965 about her cycle from Ireland to India – 'Full Tilt: Ireland to India with a Bicycle'. It has inspired many cyclist-writers in the modern era.
More recent history was made when Clonakilty inaugurated Ireland's first ever rural community bike rental scheme that one usually associates with big urban centres. Sadly, the long tentacles of the menacing insurance companies have suffocated many a bright enterprise in this country. Alas, it looks like this wonderful bike scheme could be endangered by spiralling insurance costs now.  The Clonakilty Bike Festival, which is in its ninth year, is still travelling though and into unchartered waters. With Covid-19 putting a stop to many events globally, the Clon Bike Festival, run by Allison Roberts and her team, this year will be done virtually, beginning on June 3.  Check it out on http://www.clonakiltybicyclefestival.org/bikefest2020.
What would Paddy Kavanagh have made of it all? He probably would have written a poem about it.