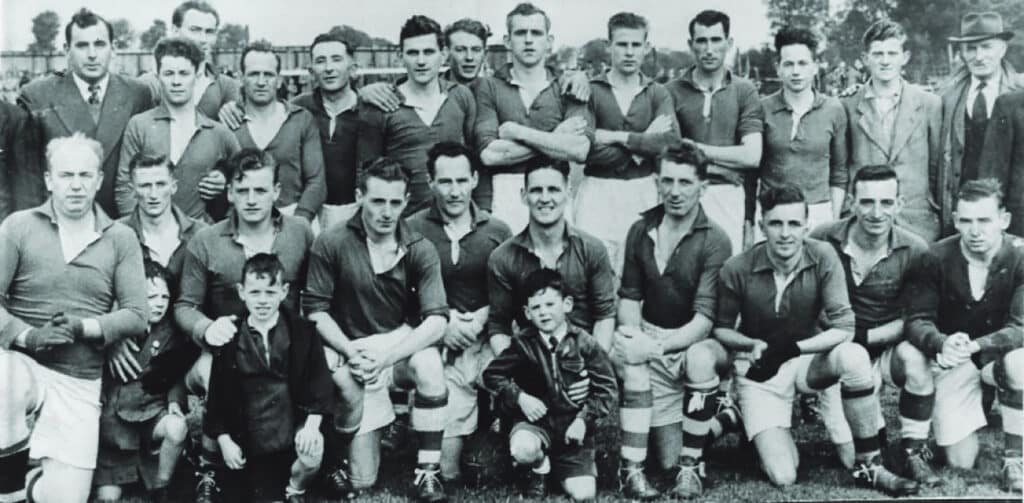 I recently happened upon a number of references to two now defunct Gaelic Football clubs based in Cork City called Nils and Lees. Although no longer in existence, both teams were dominant forces on the club scene from the late 1800s until the 1950s with a total of 18 senior titles between them. (Lees are in second place in the Cork Senior Football Championship roll of honour with 12 titles despite folding in the late 1950s) The fact that the majority of their players were West Cork men living and working in the city served to greatly pique my interest. Today, when driving through any town or townland in West Cork it becomes immediately apparent that Gaelic Football dominates our sporting landscape. Whilst many (myself included) view West Cork as the spiritual home of Gaelic Football in the county, I felt compelled to prove that West Cork's contribution to football goes beyond delivering 18 county titles to the city division!
West Cork men have been central figures in six out of Cork's seven All Ireland Senior Football victories. The only exception was the 1890 All Ireland Final win which occurred when the county champions (Midleton) represented Cork. In 1911, Cork's 6-6 to 1-2 annihilation of Antrim featured a significant Macroom contingent in corner back John Lynch, midfielder Sean Lehane, and forwards Bill Lehane, John O'Neill, and Con Kelleher. They were ably assisted by Mick Mehigan from Clonakilty and Clondrohid's Jack O'Driscoll. Although Adrigole's Murt O'Shea and Dunmanway's Jack Young were playing with Cork City outfits Lees and Nils respectively, they added to a rather sizable West Cork presence on the team.
Cork had to wait until 1945 before getting their hands on the Sam Maguire Cup for the third time. By this time, Jack Young's son Eamonn had left his native Doheny's and played his club football with the Army side in Cork City. This move did his intercounty prospects no harm, and he starred at midfield in a 2-5 to 0-7 win over a Cavan team that would end the decade winning three championships in a row. Legendary Clonakilty centre back Tadhgo Murphy captained the rebels, and he was joined by club mates Fachtna O'Donovan and Humphrey O'Neill. Goalkeeper Moll O'Driscoll and substitute Jim Ahern rounded off a sizable Clonakilty contingent. Although a Lees player, Bere Island native and Veterinary Surgeon, Patrick 'Weeshie' Murphy marshalled the defence from the full back position. It is also worth noting that influential wing back, Paddy Cronin who played his club football with Fermoy, was a native of Ballingeary.
In 1973, a talented Cork team finally made the break and defeated a Liam Sammon led Galway side by 3-17 to 2-13. Adrigole's Kevin Jer O'Sullivan, and Declan Barron of Bantry Blues were pivotal figures in this win. Over the course of their storied intercounty careers, both men won two All Star's apiece, and were named in Cork's Gaelic Football Team Of The Century. Clonakilty's Dave McCarthy excelled in the left half forward berth, whilst Bantry's Donal Hunt and Naomh Abán's Mick Scannell made substitute appearances on the day.
In 1989 and 1990, Cork managed to win two championships in a row. The first victory saw Cork defeat Mayo by 0-17 to 1-11, and the second saw Cork overcome their long time rivals Meath on a scoreline of 0-11 to 0-9. Castlehaven's Niall Cahalane, Larry Tompkins, and John Cleary were among Cork's key men at this time. As were Ballingeary's John O'Driscoll, and O'Donovan Rossa pairing Tony Davis and Mick McCarthy RIP (rightly lauded for his big impact from the bench in the 89 final, and starting at corner forward in the 1990 final). Although Paddy Hayes played his club football with St. Finbarrs, it is worth noting that he originally hailed from Skibbereen. Paddy started the 1989 final, and made a substitute appearance in the 1990 final, as did a young Mark O'Connor from Bantry.
It will be eleven years this year since Cork last secured the Sam Maguire trophy. In 2010, a talented Cork side managed to secure championship silverware, having lost finals in 2007 and 2009. Alan Quirke from Valley Rovers was a rock between the sticks for this Cork team while Noel O'Leary (Cill na Martra), Alan O'Connor (St. Columns), and Graham Canty (Bantry Blues) further cemented their legendary status within Cork football circles with a series of stellar performances throughout the campaign. John Hayes from Carbery Rangers saw action from the bench in the final, and he was joined on the panel by Anthony Lynch (Naomh Abán), Kevin McMahon (Carbery Rangers), Fiachra Lynch (Valley Rovers) and Fintan Gould (Macroom).
In the ladies game, legendary players such as Nollaig Cleary (Gabriel Rangers), Orla Finn (Kinsale) and Emma Spillane (Bantry Blues) have five All Stars and multiple All Irelands between them. Twenty of Cork's 74 ladies football clubs are located in West Cork. There are a few further key points that illustrate the sheer importance of West Cork's contribution to Cork football. Twenty-nine per cent of all active clubs in Cork are located in West Cork despite the fact that hurling is not overly prevalent in the area. The Cork Senior Football Championship has been brought back to West Cork on 41 occasions over the last 134 years. 27 of Cork's 69 Football All Stars hail from West Cork. Intercounty greats such as Con O'Sullivan (Urhan), Kevin Kehily (Newcestown), John Evans (O'Donovan Rossa), Kevin O'Dwyer (O'Donovan Rossa), Ciaran O'Sullivan (Urhan), and Phillip Clifford (Bantry) all managed to win All Stars without getting their hands on a coveted Celtic Cross. It is also worth noting that eight members of Cork's Gaelic Football Team Of The Millenium, and six members of Cork's Gaelic Football Team Of The Century hail from West Cork. Cork players have been included in the Irish Compromise Rules panel on 36 occasions over the last 25 years; 15 of these players have hailed from West Cork (including Graham Canty who was Player Of The Series in 2008).
I think the assertion that West Cork is the homestead of football in our county is well founded. The remarkable nature of West Cork's contribution to Cork football's greatest days is heightened when you consider the impact of a largely sparse or seasonal population. Additional challenges such as historically high levels of emigration, poor infrastructure and a disproportionately high concentration of smaller clubs and local rivalries has made the continued success of West Cork football all the more impressive.