Lisa Brinkmann is a Clinical Psychologist and Psychotherapist working in private practice in Clonakilty and is one of the core members of BROD.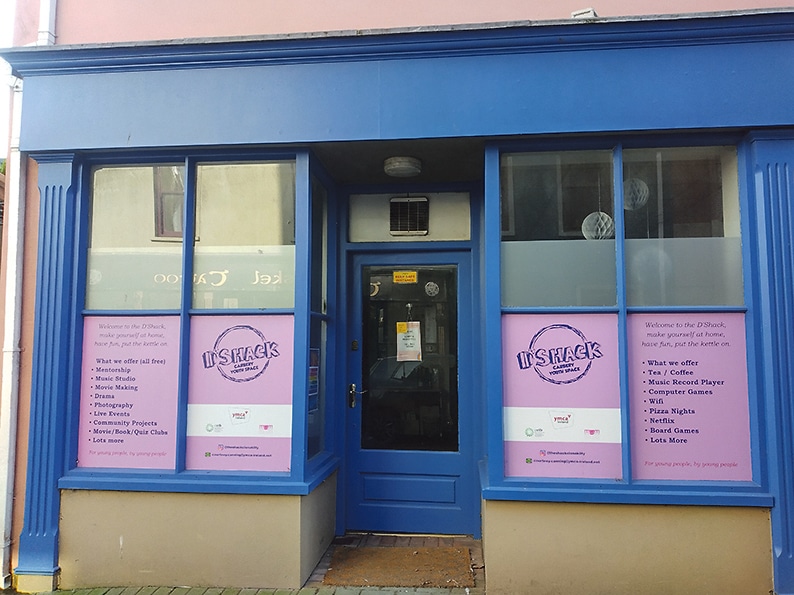 In the midst of a global pandemic and different stages of lockdown, BROD has been very limited in the ability to create, facilitate or share events and initiatives for the LGBTI+ community. However, we have been actively working in the background on different projects, one of them being the creation of a youth service for young LGBTQI+ people and their allies. 
Together with the YMCA Carbery Youth Service we applied for funding for a LGBTI+ specific youth service and we are very happy to announce that our application was successful and initial funding has been granted. This has allowed 'Rainbow Folx'' to come alive, a social and befriending support group for LGBTI+ young people and allies in Clonakilty. Rainbow Folx runs Tuesdays from 3-7pm in 'The Shack' (YMCA), 10 Astna Street in Clonakilty. Carbery Youth Service are working closely with Skibbereen's Community and Family Resource Center to develop further supports for young people in Skibbereen.
Rainbow Folx aims to provide a safe, social and relaxed environment for the young LGBTI+ community and is aimed at people between 15 and 20 years of age. It is run by youth workers from the YMCA Carbery Youth Service with the support of BRÓD.
In this month's column we speak to April Tambling, the youth worker who facilitates the Rainbow Folx meetings in Clonakilty every Tuesday.
April, you have been running the Rainbow Folx space for the last few weeks in Clonakilty. Can you tell us a little more about this space and what young people can expect when attending?
RainbowFolx is a project very close to my heart, and I'm so delighted that I've been given the opportunity to facilitate the project in Clonakilty. The idea behind the project is to create a safe space for young people, where they can engage in peer to peer support – a relaxed social environment for the LGBTI+ community in the area. I also like to encourage people to ask questions, so we can explore the answers together in a judgement-free zone. For the past few weeks in the group, we've been doing some artwork to hang up in the space, while learning about different labels and sharing our stories!
Is it ok for allies (non-LGBTQI+) friends to come along to RainbowFolx?
Of course! Everyone is welcome in the space. It's a gender and sexuality alliance, the space is for people of the LGBTI+ community and allies, to learn about and support each other. I will say however that the age group we are currently working with falls between ages 15-20.
It is great to finally have a LGBTQI+ space for young people in Clonakilty. It is such an important resource. Can you let us know what else goes on in 'The Shack' in Clonakilty and what services are available to all young people, independent of their sexual or gender identity?
From my experience, the YMCA Carbery Youth Services is very much a youth space that can adapt based on the needs of the young people that are using the space at any given time. There's a Friday youth group that uses the space at the moment and there's been a game of Monopoly going on for the past few weeks! We offer a studio space for recording music, board games, playstation games, record player, art and crafts… When a young person comes into a YMCA Carbery Youth Services space, they should feel free to explore and make the space their own. The most recent project the Shack got involved in was the scarecrow competition. The young people got together to come up with concept ideas – and while we didn't win the competition, it was a lot of fun building the scarecrow together!
Young people in The Hive, which is the youth space in the Skibbereen Family Resource Centre, which runs every Thursday evening, are working on a film project and young people from both The Shack and The Hive were involved in creating a podcast called Cork Brave's Youth, which featured brave stories from young people, showcasing their creativity and connecting communities and young people in Cork. There has been lots of sport and physical activity happening as well including soccer with young people in Dunmanway, outdoor gyms and kayaking trips. And of course, like every good Irish establishment, we also offer a cuppa and a chat!
As a Psychologist, I am often working with young LGBTQI+ people who feel very shy and apprehensive about going to a social group like Rainbow Folx. They do really want to join and make new friends, but feel very insecure and overwhelmed in regards to taking the first step into a new space full of strangers. Do you have any advice or suggestions that might be reassuring or helpful to them?
This is so normal, I sometimes get anxious going into new groups! The Rainbowfolx space is so chill and friendly, there's no pressure to join in on any activities when you do show up. On a Tuesday, I'm free in the space from 12PM onwards, so they can feel free to pop in before the group really kicks off at 4PM, and get to know me first. I know it can be easier to just meet one new person at a time.
What do you enjoy most when working with young people from the LGBTQI+ community?
As a youth worker, I really enjoy knowing I'm facilitating a space that young people from the community can safely engage in, and get the peer to peer support they need. It's so important young people of the LGBTI+ community feel they have a space. Because of homophobia, transphobia, biphobia, etc, it can often be scary to come out, and that can be lonely. As someone who identifies with the LGBTI+ community myself, I enjoy meeting new people that bring a different perspective of the community to my attention. Even as someone within the community, I'm still learning!
Is there anything else you would like people from West Cork to know about the work you are doing?
I'd like to reassure the people of West Cork that Rainbowfolx is a safe, non judgemental, non-directive space for young LGBTI+ people and their allies. Peer to peer support is, in my opinion, the best support we can offer a young person when questioning their sexuality or gender identity. We never tell a young person who they are, just support them in becoming who they want to be. As youth workers we can offer empathy and a listening ear as well as practical support with education, employment and future direction and of course opportunities to connect with other young people and have fun together. I'd also love to get more involved in the local community, so if someone could point me to the best coffee shop, that would be great!