Menorrhagia is the medical term for abnormally heavy periods. If you are unfortunate enough to suffer from this, you will be unable to carry on with your daily activities as bleeding is heavy, you are passing blood clots and cramping is severe. Also, if you have menorrhagia you will need extra sanitary protection to cope with the flow, which will have to be changed every few hours and during the night. To add to this litany of misery your period may last longer than a week and you may also have symptoms of anaemia such as tiredness and fatigue. On a scale of one to ten, menorrhagia is at the top, but very heavy menstrual periods can hit the scale at the upper end also. Many women suffer from these and cope in silence thinking this is normal. It is not. 
Before I look at some ways of relieving heavy menstrual bleeding it is important to know there may be underlying factors causing it and these need to be addressed if present. Also, if the pattern of monthly blood loss has changed, it needs to be investigated, as does any bleeding between periods and after the menopause. The underlying factors that may cause menorrhagia, or very heavy menstrual loss, include, uterine fibroids, hormone imbalance, anovulation, polyps, adenomyosis, an intrauterine form of contraceptive, inherited bleeding disorders and cancer. However, in approximately 50 per cent of women with heavy menstrual bleeding no underlying cause can be found; so what helps to relieve the bleeding and cramping?
One study from the South African Institute for Medical Research in Johannesburg found that low levels of vitamin A was found to be an important cause of menorrhagia, and a statistically significant difference between the fasting serum vitamin A values of healthy controls and patients with menorrhagia was noted. Other studies have also found that taking bioflavonoids and increasing vitamin C intake can reduce menstrual loss in many cases. Quercetin is a highly concentrated form of bioflavonoids and is found in broccoli, citrus fruits, and red and yellow onions, so incorporating these vegetables into your diet may help.
Turning to herbs, the more well-known ones are chaste tree (Vitex agnus castus), shepherd's purse (Capsella bursa pastoris), yarrow (Achillea millefolium) and cranesbill (Geranium maculatum). Yarrow is in flower currently, even though it has got a battering from the recent bad weather so is looking fairly shook. It can be found in stony ground. Make tea from it and drink two to three cups per day. These herbs are also available in your local health food store or pharmacy if unsure how to identify them. Apart from chaste tree, the other herbs are astringent and will help reduce blood loss. Chaste tree, on the other hand, acts upon the hypothalamus and pituitary gland causing a shift in the ratio of oestrogen and progesterone, which oftentimes is all that is needed to bring the hormonal profile back into balance.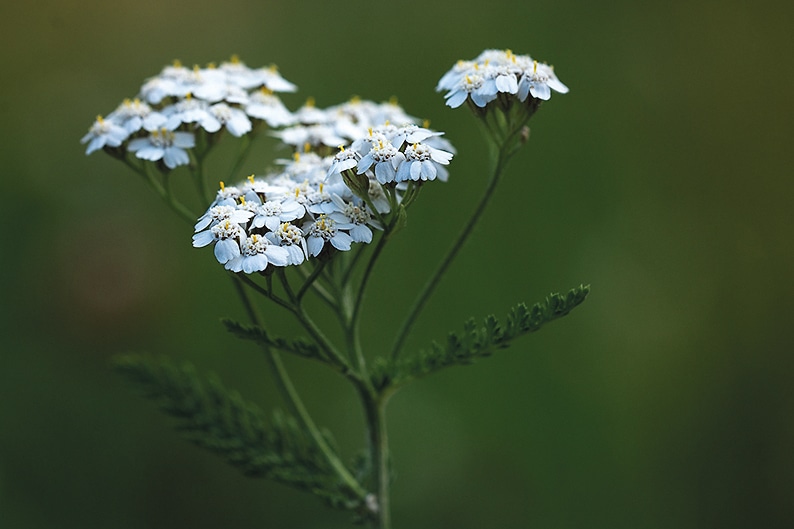 Yarrow will also help with cramping as will meadowsweet (Filipendula), chamomile (Matricaria recutitia) tea, marigold (Calendula) tea and Ginger (Zingiber officinale) as they are all anti-inflammatory.
Another interesting, and recent, clinical trial from Iran has shown that the traditional treatment of using pomegranate peel for menorrhagia is beneficial. The results of this triple-blind randomised controlled trial showed that the pomegranate peel extract reduced bleeding, improved quality of life, and increased the blood Hb in women with menorrhagia.
Finally, regular aerobic exercise over an eight-week period has been found to reduce painful periods so this may be helpful also in reducing the cramping accompanying heavy menstrual bleeding.