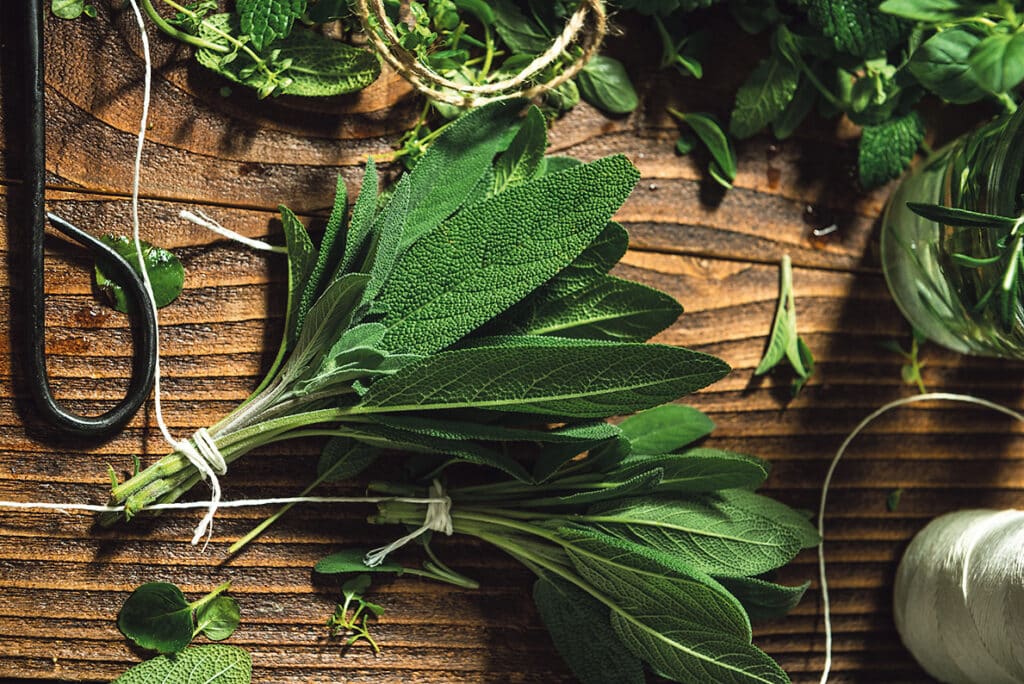 This is a good month to decide if you want to have herbs growing in your garden as the seed catalogues and gardening advertisements whet our interest. So many of the ones used therapeutically may be obtained from the wild but some, such as marshmallow, elecampane and lovage need to be planted to ensure supply.
Culinary herbs need to be planted near the kitchen, as they are best picked fresh. A large tub or a variety of pots will give a sufficient supply for most people. The main herbs here are rosemary, sage, parsley, thyme, garlic, oregano, marjoram, chives, and bay. I have discovered that it is advisable to keep bay in a pot unless you want a 30ft tree in a few years. On the other hand, plant it as a hedge and it will form a dense screen very quickly. However, I am aware that some people have a lot of trouble trying to get bay to grow so it probably depends on soil and shelter.
Rosemary needs dry, gravelly soil and most of the above herbs thrive in soil that drains freely. The edge of a driveway may often be the perfect place for these herbs that need free drainage. Also, parsley is ideal planted along borders as its bright green leaf contrasts beautifully with bedding plants. Parsley is a biennial and though it normally seeds itself, it may also die. If this happens on a regular basis for you, be prepared to plant parsley every year to ensure a continuous supply. Parsley is rich in vitamin K (good for blood clotting and bone health), vitamin A (good for vision and immune system) and C (necessary for the growth, development, and repair of all tissue). Parsley will overwinter in West Cork, but if your garden is rather windswept it may be better to bring a pot or two indoors for the winter. Parsley is such a beneficial herb; it should always be used in cooking, both fresh and cooked. Onions and garlic are also needed on a daily basis because they are so beneficial to our health, but time constraints may often prevent this during the busy working week. To offset a busy schedule, a good quantity of onions, parsley and garlic can be sautéed at the weekend and placed in a container in the fridge. A portion from this container can then be added to potatoes, pasta or stir-fry during the week thus saving time.
Herbs like marshmallow, mullein, and elecampane need rich, deep soil but they are useful herbs for respiratory infections so deserve a place in the garden.
The one herb I am enthusiastic about planting is Calendula officinalis or the common marigold. Once it is planted it will self-seed and return year after year. Its bright orange flower is so uplifting, and it is especially useful as a home remedy. It is full of antioxidants and is anti-inflammatory. It is especially useful to soothe sun burn and is very good for healing wounds. Anybody who is prone to leg ulcers should use a calendula wash daily. It is anti-microbial and anti-fungal with one test tube study showing it being effective against twenty-three strains of candida.
It is better to start with a few familiar herbs such as the ubiquitous parsley and thyme. Thyme is effective against e coli but more importantly, salmonella. Salmonella is the hidden danger in undercooked chicken so stuffing the cavity with thyme before cooking will prevent this particular danger.
The use of herbs in the home to maintain health is one way of ensuring a healthy lifestyle. In my 12-month class on plant studies you learn about 12 plants in detail and how they can be used safely at home for minor ailments and conditions. If interested in this 12-month online course, purchase it at www.drrosarikingston.com