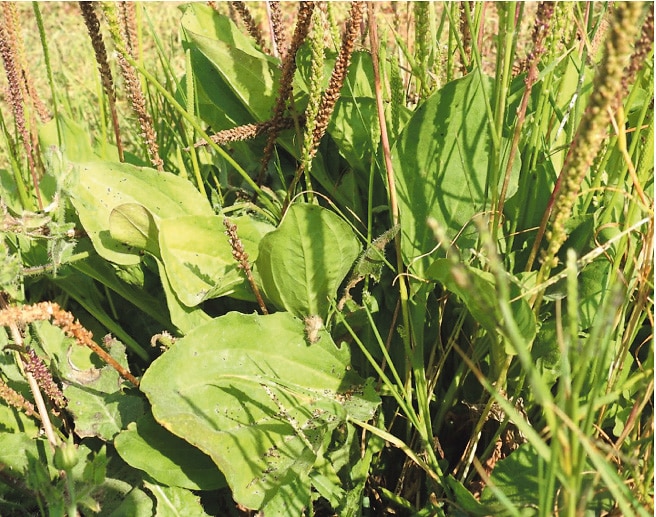 Among the different types of  plantain growing  in Ireland the most well-known are Plantago major or broad-leaved plantain, and  Plantago lanceolata or narrow leaved plantain, also known as  ribwort. 
Broadleaf plantain (BP; Plantago major, Plantaginaceae), also known as great plantain, is a flowering perennial, which often grows in disturbed soils, in fields and along roadsides. Wind-pollination can distribute around 20,000 small bitter, orange to black seeds from one plant which is why it is so widespread.
The leaves are nutritious, containing calcium as well as vitamins A, C, and K, and chemical compounds such as flavonoids, polysaccharides, terpenoids, and lipids. Young leaves can be eaten raw in salads, while the older leaves can be boiled in stews.
This plant has been used therapeutically for centuries and the earliest recorded medicinal use is to be found in the Materia Medica of Dioscorides (40-90AD). Greek medicine was developed by Persian physicians in later centuries, and they used, and continue to use, broadleaf plantain for wound healing, gastrointestinal and dermatological problems. It is also effective in stopping bleeding.
Broadleaf plantain also known as St Patrick's leaf or Cró Padraig is used for wound healing in Ireland and is mentioned in the National folklore Schools Collection (NFCS). The following accounts are quite specific in how to treat wounds and cuts.
"Small cuts and such injuries may be successfully treated by gathering a handful of plantain leaves washing them well put into a jug add half a pint of boiling water. Let it become tepid, stir occasionally then bathe cut or sore with infusion."
"The 'healing Leaf' or Greater Plantain is used for both drawing wounds and healing them. The leaf is plucked fresh, and the underneath part is applied to the wound when we wish to draw the matter from it. A fresh leaf is applied every day until all the matter is drawn out. When we wish to heal a wound the upper part of the leaf is applied. The leaf is held in position by means of a small bandage."
Current research indicates that eating plantain leaves may be effective in treating non-alcoholic fatty liver disease. In this instance patients who ate two grams of broadleaf plantain seeds twice daily for 12 weeks had more improved serum levels of triglycerides, aspartate aminotransferase, and alanine aminotransferase than those patients taking a placebo. An added bonus was a reduced waist circumference.
Staying with the liver we also have an account in the NFSC of broadleaf plantain being used to treat jaundice, "Plantain Leaf used for healing cuts or wounds and also for jaundice."
A broadleaf plantain infusion is also effective against the herpes virus, but I consider prunella vulgaris or selfheal to be better for this. Plantain is however effective for treating asthma and allergies. In one study a commercial cough syrup containing broadleaf plantain, common mallow (Malva sylvestris), elecampane (Inula helenium) and shrubby everlasting (Helichrysum stoechas) decreased the night-time coughing bouts significantly, for children aged three to six, compared to the control group. Also, the treatment group had better outcomes by day four and eight than the control group.
Narrow leaved plantain or ribwort is preferred for healing cuts as we can see from this advice, "apply Slánlus (Plantain) to a cut, it will stop the bleeding and cure it." From my experience, it needs to be chewed or pulverised in some way first and this is supported by another account from the NFCS. "The Common Plantain known as 'cocks and hens' is a cure for cuts, The leaves are plucked and chewed in the mouth. They are then taken and placed on the wound which is cured in about twenty minutes".
All in all, these two weeds deserve our respect and can be useful in the home herbal medicine chest.