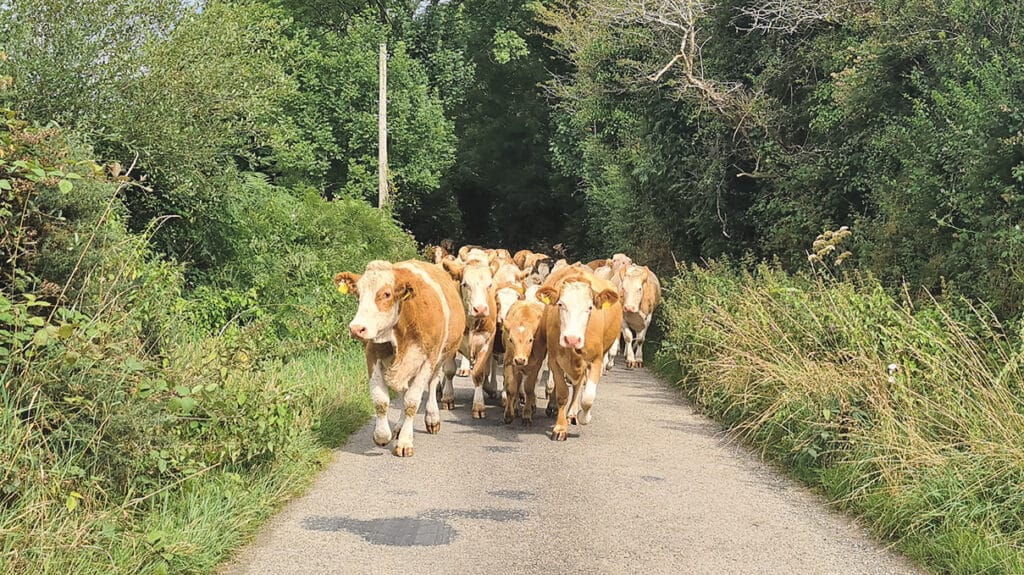 The sun has returned and grain farmers have had a decent run to get crops harvested. Most sectors need a bit of good fortune when it comes to cashing in on a crop so it's good to see those farmers get a settled spell after a few difficult harvests in recent years. The last month has been an absolute information overload in terms of farm policy: CAP consultations, compulsory EID tagging for cattle, Food Vision 2030 and draft nitrates proposals. Much of it is in line to have a relatively immediate impact on the lives of Irish farmers too. 
Suckler Carbon Efficiency Programme
One of the proposed schemes, the Suckler Carbon Efficiency Programme has created some controversy, as it includes a measure to limit and reduce the number of cows a farmer can be paid on. I should clarify this is just a proposal but it is one that has unwittingly placed suckler farmers at loggerheads with dairy farmers.
Since the abolition of dairy quota in 2015 there has been a steady decline in the size of the suckler herd. Smaller families, better education opportunities and increased income expectation in parts of the country are all factors in the beef cow herd's reduction and will remain so. According to the ICBF statistics, the suckler herd decreased by about 144,000 head between 2013 and 2020. Over the same period, dairy cow numbers grew by 378,000 resulting in an overall increase of roughly 234,000 head in breeding cow numbers in Ireland.
The news of capping the suckler herd is a major own goal in my view, as it has become a distraction and pitted both sides of the bovine herd against each other. Suckler farmers are seeing the shackles put on them, even though numbers are decreasing, while at the same time dairy numbers are allowed to rise. That's how it may appear from the outside but new nitrates directive proposals will act in a similar manner to the dairy herd. That is where there could be a greater challenge for agriculture in West Cork.
Similar to the new CAP, the nitrate proposals are of concern to farmers too. New measures include a shorter time frame for spreading slurry and increased storage requirements.
You have to wonder how successful these will be given the proposed new rules have to be introduced because of haphazard adherence and enforcement of the old ones.
EID tags
While those big-ticket items were being digested by farmers, an announcement was made that Electronic Identification (EID) tags will become compulsory in all bovines born after July 1, 2022. The tags fit all current applicators and cost €1 more than the standard ear tags. These will speed things up in mart and factory lairages and for vets at testing but most farmers will see them as a cost rather than a benefit. In my opinion DNA tagging of all calves at birth should take precedence over the introduction of EID tags. Genotyping to identify sires has potential for more environmental efficiency gains if that's what we're looking for, especially with dairy beef predicted to increase.
Grass growth
It's taken until August for grass growth to fall into its usual routine this year or at least it seems that way. Spring was too wet; it was too cold until the middle of May, which was followed by a soaking in June before a sense of normality prevailed albeit late in the day. Even in comparison to 2018 where we had to deal with a blizzard and a drought, this year has proved to be a trickery year in terms of grass growth. Only in the last few weeks has growth been what you would expect it to be.
From a farmer perspective you just have to adapt to the conditions as best you can and ensure there is enough feed ahead of stock. While the demand for grass is relatively static on a dairy farm during the grazing season, it's a different ball game for beef farms. As the year progresses, calves and year old stock increase in size and so does their demand for grass. It might sound simple but it's overlooked on some farms. That means it's critical to build up grass covers from late July, in an effort to keep them out longer. The topsy-turvy nature of grass growth this year meant that I had to feed silage bales to one group to allow grass covers to build up. It's a farming version of pressing pause on the Sky TV remote. Growth picked up, but in an effort to extend my grass supply, I brought forward the scanning day for the larger bunch of cows. They were subsequently split into two groups: one consisting of those with heifer calves and the bull calves in the other group. This is to reduce the risk of what we refer to as a teenage pregnancy. The rest of the cows and heifers will be scanned between now and the end of October.
Outside of policy, it's not all doom and gloom. Prices are continuing to hold well across all sectors, which makes for a pleasant change.
The arrival of an Arctic walrus proved to be a welcome distraction from the policy pile on. He arrived at Dunnycove on the eastern end of the headland the farm is located on. He was resting up before a journey back to colder shores after completing a tour of the Irish south coast and Bay of Biscay since first spotted in Valentia Island, Co Kerry, back in March. I wonder are we in line to see more ventures south from Wally and his ilk due to climate change.