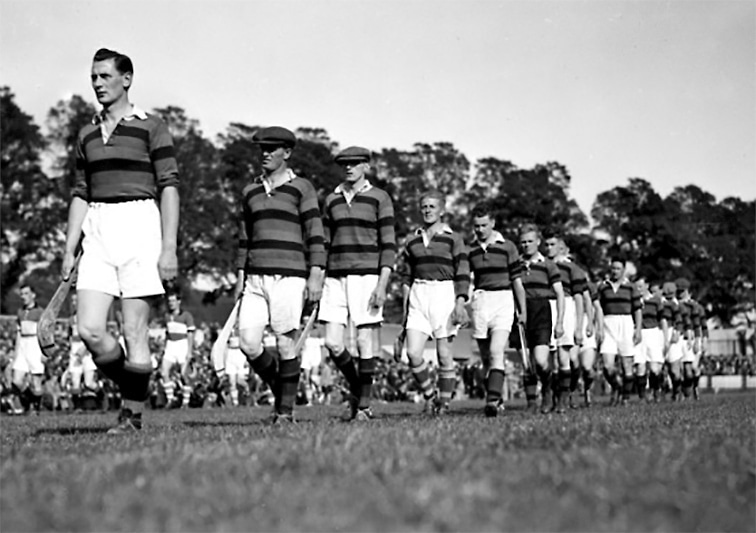 In evaluating the successes and pitfalls of West Cork's sporting story, hurling is not a discipline that usually springs to mind when discussing past greats and events. In recent times the valiant efforts of Kilbrittain's Ross Cashman, Bandon's Michael Cahalane, and Doheny's Darren Sweetnam (rightly lamented as a huge loss to Cork hurling), have done a lot to put West Cork hurling on the map. On the West Cork side of the South East (Carrigdhoun) division, Valley Rovers also deserve an honourable mention for consistently producing intercounty hurlers throughout their storied history. Kevin Canty, Con Cottrell, Chris O'Leary, Eamonn Collins, Brendan O'Sullivan, and Con Murphy served both Valley Rovers and Cork with distinction. However, there are a rapidly dwindling number of observers who can recall the key contributions of a proud West Cork man to the Cork's golden era of hurling.
Dr. Jim Young was born in Dunmanway in 1915. Part of a Gaelic football dynasty, Jim's father, Jack Young, and his brother Eamonn Young represented Dohenys of Dunmanway and the Cork senior footballers. Both Jack and Eamonn won All Ireland Football medals with Cork, and many regard the latter as one of the greatest players to wear the fabled red shirt. Amazingly, despite having a two year inter county career, Jack played at midfield in the victorious 1911 football decider against Antrim. Eamonn experienced success in the same position during the 1945 final win over an all-conquering Cavan side. Jim also played his club football for Doheny's and represented the Cork footballers at senior level. Although he lined out at full forward for Cork from 1939 until 1943, football silverware eluded him. However, he was able to console himself by playing a pivotal role in capturing the All Ireland Senior Hurling Championship on five occasions between 1941 and 1946! However, it is unlikely that this success would have been allowed to go to his head. Of their late father, Jim's brother Eamonn would later state "I was lucky to play in one All Ireland and to win it, and I think he was more pleased about the one football All Ireland – and Jim will hate me for saying this – than the five hurling All Ireland".
Having moved from Dunmanway to Cork City to commence his studies in Medicine at University College Cork, a young Jim Young turned his hand to hurling with Glen Rovers in 1938. Although a Cork minor player in 1932 and 1933, he excelled in the company of star players, such as the immortal Christy Ring and future Taoiseach and member of the 'Hurling Team of the Millenium', Jack Lynch. The fact that Young managed to quickly break into a team that was in the hunt for a fifth successive championship is a major testament to his ability. While operating in the service of Glen Rovers, Young himself won a whopping eight Cork County Senior Hurling Championship titles over an eleven year period.
Young's assimilation into Cork's most successful club hurling half back line of all time, coincided with his emergence on to the Cork senior hurling panel in 1938. Strangely, it can be argued that the most famous of his eight All Ireland final appearances ended in defeat in 1939. Jim Young played in hellish conditions in a half back line that also contained Johnny Quirke and Willie Campbell. The aptly named Thunder and Lightning Final, saw Kilkenny pip Cork by the narrowest of margins on a scoreline of 2-7 to 3-3. However, victory in the 1940 final would start an incredible run of five All Ireland championship successes in six seasons. Young would also represent Munster, featuring in five Railway Cup victories in a row between 1942 and 1946. He served The Rebels with distinction in a variety of positions across the half back and half forward lines over the coming seasons, before retiring from all forms of hurling after a Munster Championship Quarter Final defeat to Tipperary in 1949.
In retirement, Dr. Jim Young continued to practice medicine in Cork City, and maintained a keen interest in other sports. He became a Munster squash champion, and was appointed as a non-playing captain of the Irish Davis Cup tennis team in 1967. He also served as the President of the Irish Rifle Association for a number of years. Despite being a blow in from West Cork, Jim's commitment to his adopted club was all encompassing. He served as chairman in 1948, while still an inter-county player. He also endeared himself to subsequent generations of club members by frequenting the Glen field, and taking an active interest in club affairs until his death in 1992.
Dr. Jim Young was a key figure in the most successful club and intercounty teams in Cork's hurling history. Through his exploits, West Cork can lay claim to making a pivotal contribution to an era of unparalleled success that shaped the future of hurling in Cork.